April 9/14 10:34 am - Pitt Meadows to Host Roubaix Cycling Race this Weekend

Posted by Editoress on 04/9/14

Barry's Roubaix and Airport TT to Kick Off Bike Racing Season in Pitt Meadows

It's that time of year again. The Barry's Roubaix road cycling race presented by Local Ride Racing is hitting the scenic rural roads and dyke network of Pitt Meadows this Sunday, April 13, and the Airport Time Trial takes place on Saturday, April 12th.

Registration for both events closes at 11:45 p.m. on Wednesday, April 9. Riders can sign up at www.karelo.com.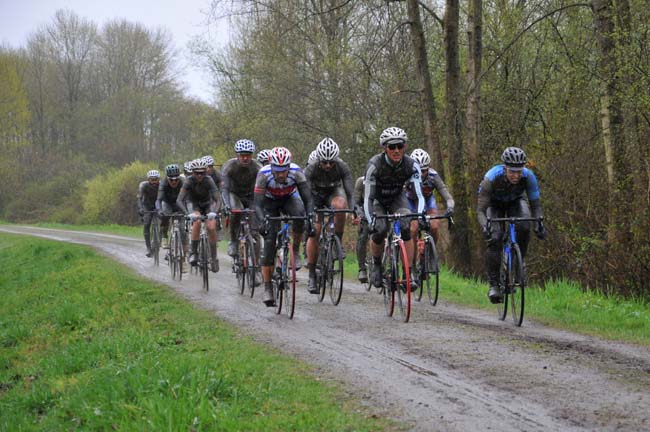 The Cat 3 Men's field battles in the 2013 edition of Barry's Roubaix. Photo: Paul Craig

"Roubaix is a chance for BC racers to participate in a tradition that has been established in the cycling community worldwide," said Local Ride Racing event organizer Barry Lyster of Maple Ridge, as he explained the race pays homage to a historic spring classic in France that will see its 112th edition happen on the same day as its Pitt Meadows tribute.

So far, the weather forecast looks mild and favourable for race day, but anything can happen in Pitt Meadows in April. Last year's event featured dirt-caked riders as they fought rain, wind, and each other in the race to the finish line.

"This course is unrelenting, with a long, rough gravel section on the dyke and a good chance of wind," said Lyster. "Even though there isn't any climbing, it definitely takes its toll on the legs." Riders will power around a 9.16-kilometre loop, with the number of laps depending on category, with options ranging from novice to elite, including various youth categories.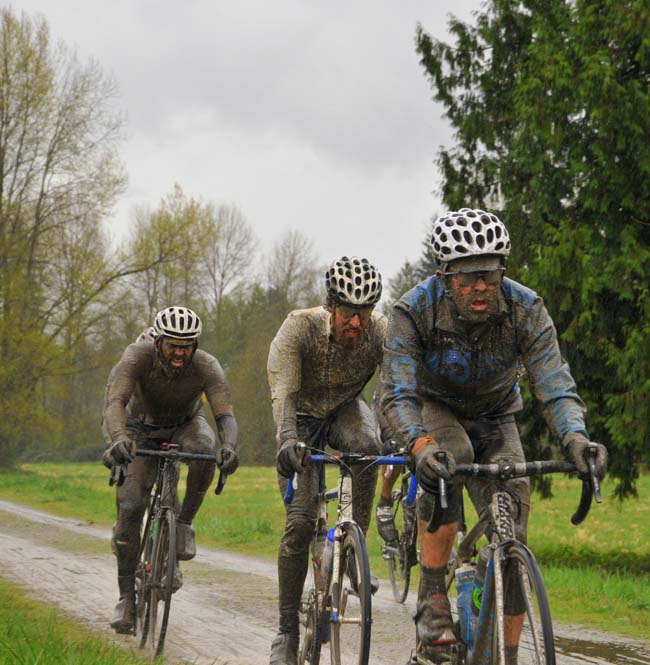 Local Ride Racing's Brett Wakefield of Maple Ridge leads a group of muddy racers in 2013. Photo: Paul Craig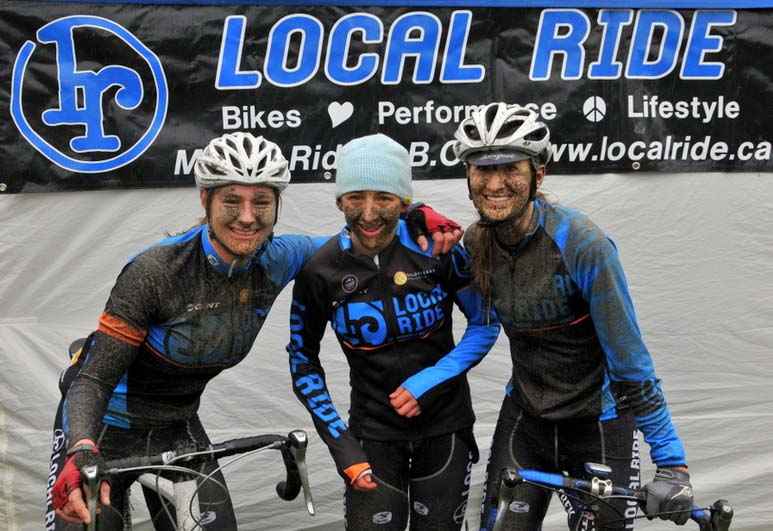 (l-r): Local Ride Racing's Kelsey MacDonald (Pitt Meadows), Maggie Coles-Lyster (Maple Ridge), and Meghan Grant (Tsawwassen) don't mind a bit of dirt. Photo: Paul Craig

In 2013, Lyster offered an individual time trial the day before Barry's Roubaix for the first time, giving racers a chance to make a weekend of it in Pitt Meadows and discover the community's fantastic cycling opportunities. Due to popular demand, he is offering a pre-Roubaix time trial again this Saturday. Having a second event will also allow BC's competitive cyclists to hone their time trial skills and gear up for big target races to take place later in the season.

"We have moved the time trial farther south this year to allow for better logistics," said Lyster of the newly named Airport Time Trial. "The Ridge Meadows BMX Club is once again generously offering to host our race hub at their facility for the weekend."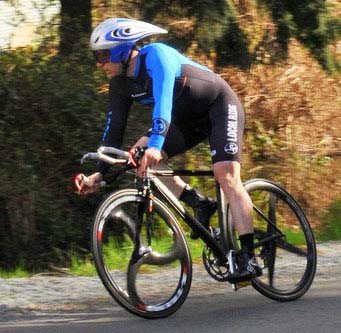 Local Ride Racing's Julian Base (Vancouver) in last year's individual time trial. Photo: Paul Craig.

As the name suggests, the Airport Time Trial heads south towards the Pitt Meadows airport from its start on Kennedy Road, near the entrance to the BMX track. It follows a flat 12.5-kilometre out-and-back course along some of the area's popular rural cycling roads.

More info about the Airport Time Trial on April 12: www.localride.ca
More info about Barry's Roubaix on April 13: www.localride.ca
Press release
---
Related Photo Galleries
---