April 10/16 17:54 pm - Smith Second & Iles Top Junior at DH World Cup #1

Posted by Editor on 04/10/16

Canada had a strong day on Sunday, at the opening round of the Downhill World Cup, in Lourdes, France. Canada's Finnley Iles (Specialized Gravity) won the Junior Men's category, while Steve Smith (Devinci Global Racing) and Mark Wallace (Devinci Global Racing) took second and eighth respectively in the Elite Men. Defending World Cup champions Rachel Atherton (Trek Factory) and Aaron Gwin (The YT Mob) successfully held on to their Number 1 plates in the elite categories.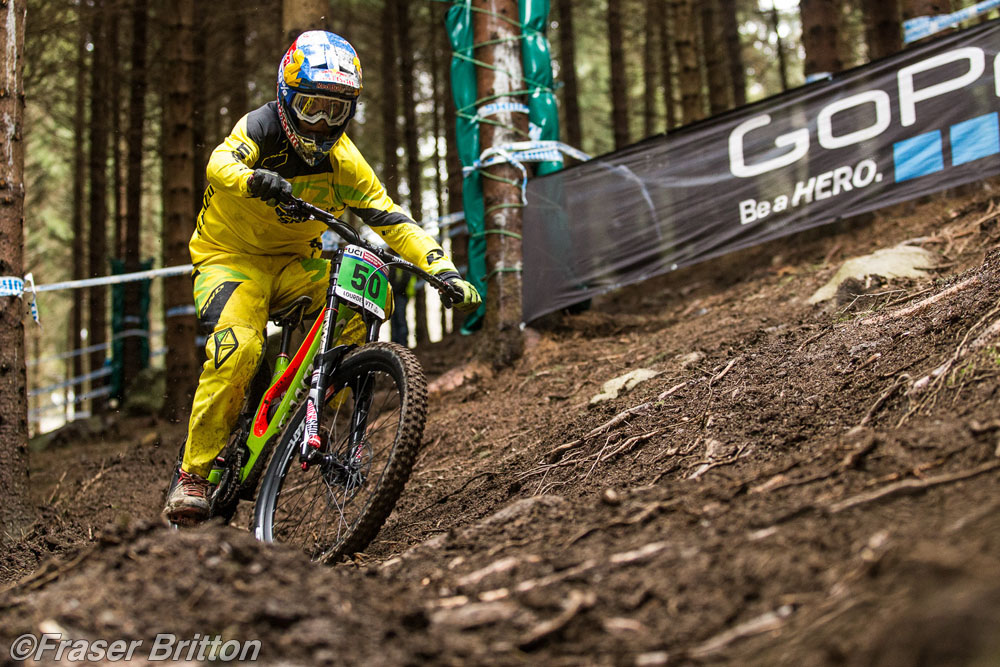 Finnley Iles took the Junior win in his first World Cup
The track at Lourdes is short at 2100m, but steep, dropping 477 metres for an average of 22.7%. It features a combination of rock gardens and rooty wooded sections. Rain through the preceding days kept the track very muddy and slick, but race day was sunny and the track began to dry quickly. This meant riders were facing conditions completely different from training and qualifying, and that the fastest lines were changing through the day, especially during the men's race.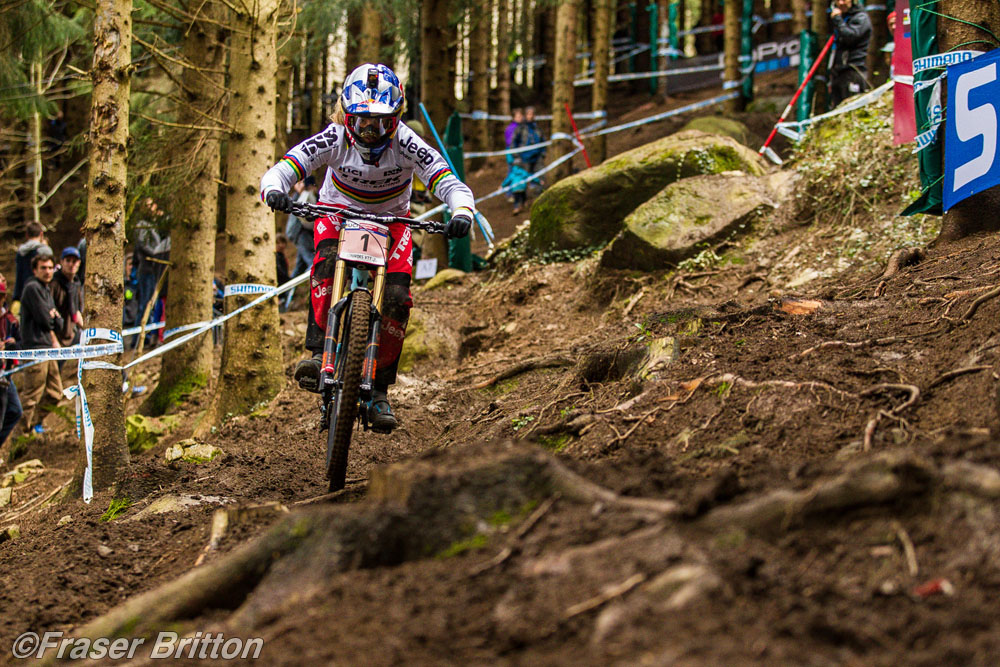 Atherton holds onto the Number 1 plate after starting the new season the way she finished the last one - first
Tracey Hannah (Polygon UR) was the first woman to go under 4:30 in the women, recording a 4:03.974 time. Hannah had started fairly early after crashing in qualifying, and her time in the Final was good enough, in fact, to hold up until the last three riders started. Manon Carpenter (Madison Saracen) started third from last, and knocked 3.333 seconds off the leading time. Atherton went next, and completely demolished Carpenter's time, going below four minutes by almost ten seconds to record 3:50.383.

The big revelation of the men's race was French rider Amaury Pierron (Lac Blanc Commencal). With 30 riders still to go, including the big names, Pierron took the top spot with the first sub-3:15 time of 3:13.440. His time would hold up through rider after rider as the top-20 wound down, and it wasn't until Danny Hart (MS Mondraker) came through with 12 to go that he was finally displaced by six-tenths of a second. One rider later and Gwin became the first to go under 3:10, with a time of 3:09.131. Gwin's time held up as the final ten riders came down the hill. Smith, fourth from the end, came closest, bumping Hart to third by two-tenths of a second, but Gwin still held the lead by 2.471 seconds.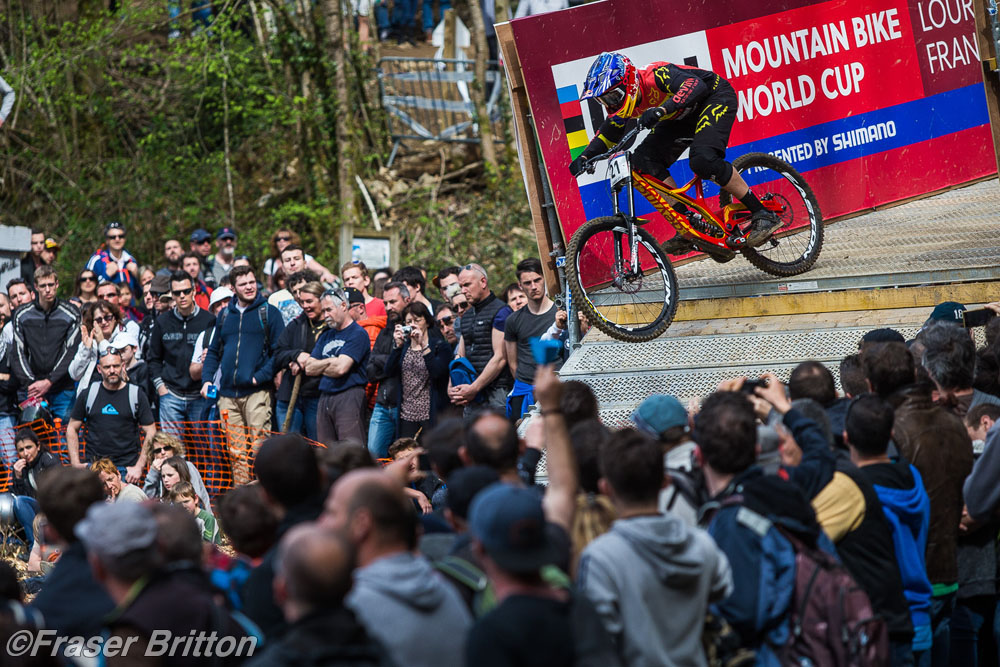 He's baaaack ... Stevie Smith, the 2013 World Cup champion, finishes second after two frustrating seasons of injury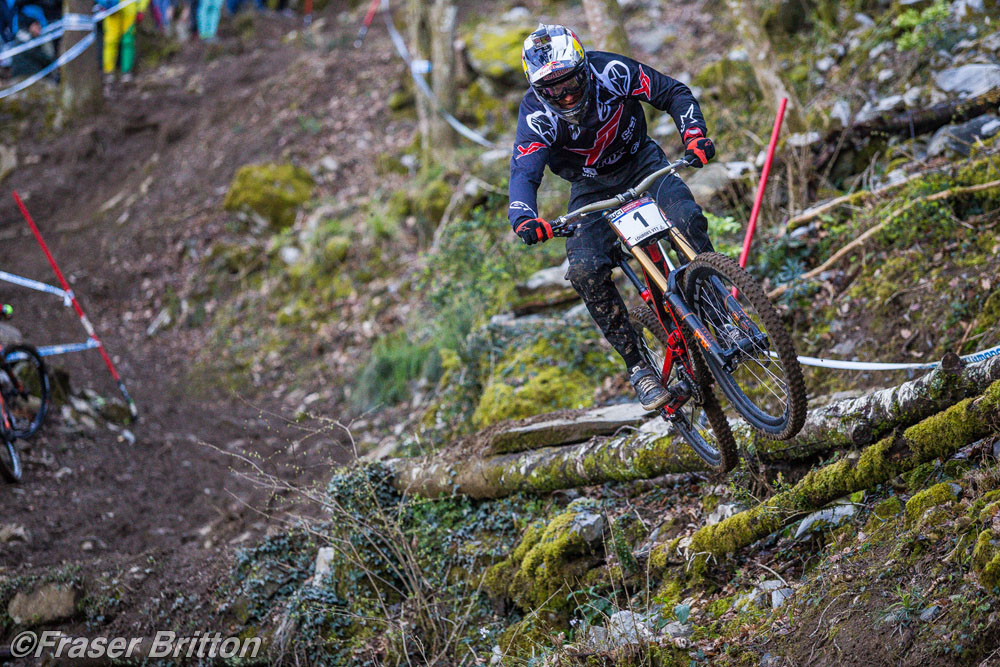 New bike and new kit for Aaron Gwin, but the same winning ways
Finally, it was the only fastest qualifier left, world champion Loic Bruni (Specialized Gravity), racing before a home crowd. Bruni immediately launched into the lead at the first split, and continued to extend his lead through the following splits, nearly two and a half seconds up at the final intermediate split. It looked like Bruni would finally win the first World Cup of his career, until he lost control with less then 500 metres to go, crashing to the right side of the course. He was back up quickly, but the damage had been done and he would finish 14th.

Post race, Gwin was quick to say that Bruni was clearly going to win, and then commented "I'm so stoked to win the first round of the year with the new team. This week was especially challenging for everyone on the mountain due to the changing weather conditions, nearly every run was different, so to have it all come together on race day is really cool."
"It is a good start to the season, for sure," said Smith. "I've never ridden in a place that is so slippery. Every day I went up there thinking 'it shouldn't be too bad', but it was so slippery. It was fun to ride and it dried up so much for the race run, that it was kind of weird out there. You had to go balls out and you had no idea how grippy it was going to be. It turned out to be real grippy, and the course was just sick."
Results
---
Related Photo Galleries

World Cup DH #1 Lourdes April 9/16 - April 10/16, Lourdes, France


Women, Elite and Jr Men
---