April 23/16 6:06 am - Canadians Suffer Misfortune at Cairns DH World Cup

Posted by Editoress on 04/23/16

It was a hard day for Canada on Saturday at Round 2 of the Downhill Mountain Bike World Cup in Cairns, Australia. Steve Smith (Devinci Global Racing), second in the first round of the World Cup for Elite Men and fifth in qualifying at Cairns, front flatted high on the course during the Final, ruining his chances of a podium. Finnley Iles (Specialized Gravity), the winner of the first round in Junior Men, crashed heavily in qualifying, injuring his right arm, and did not start the Final. Canada did not have any women competing.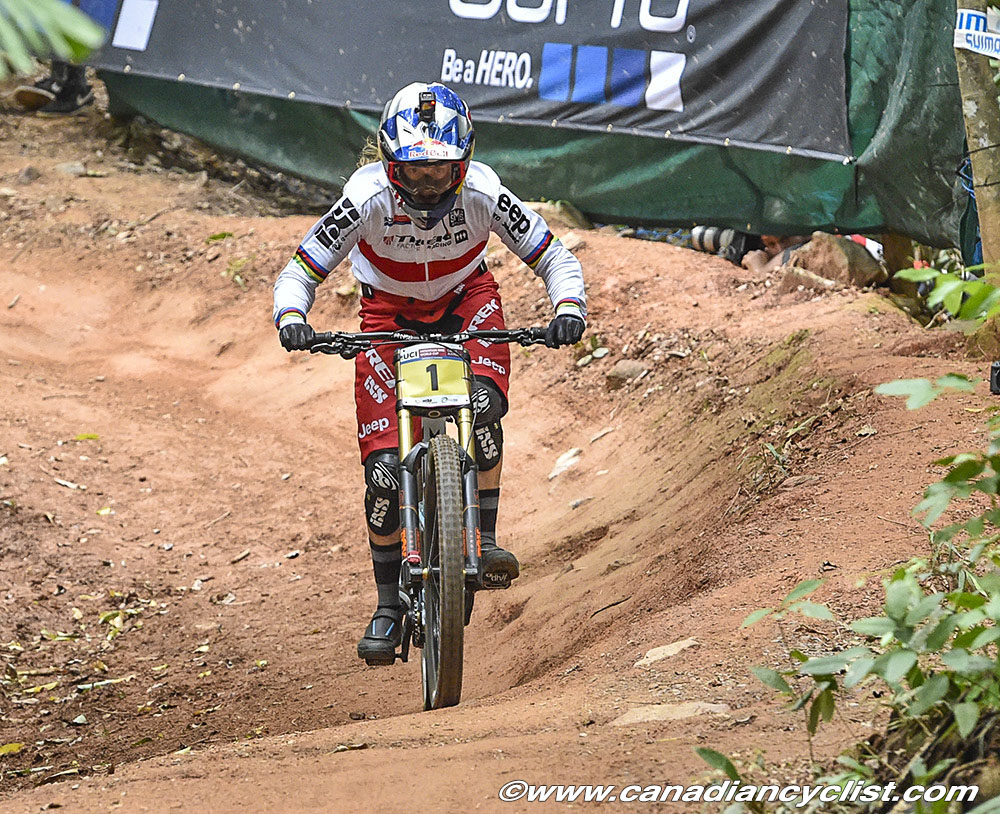 Rachel Atherton (Trek Factory Racing)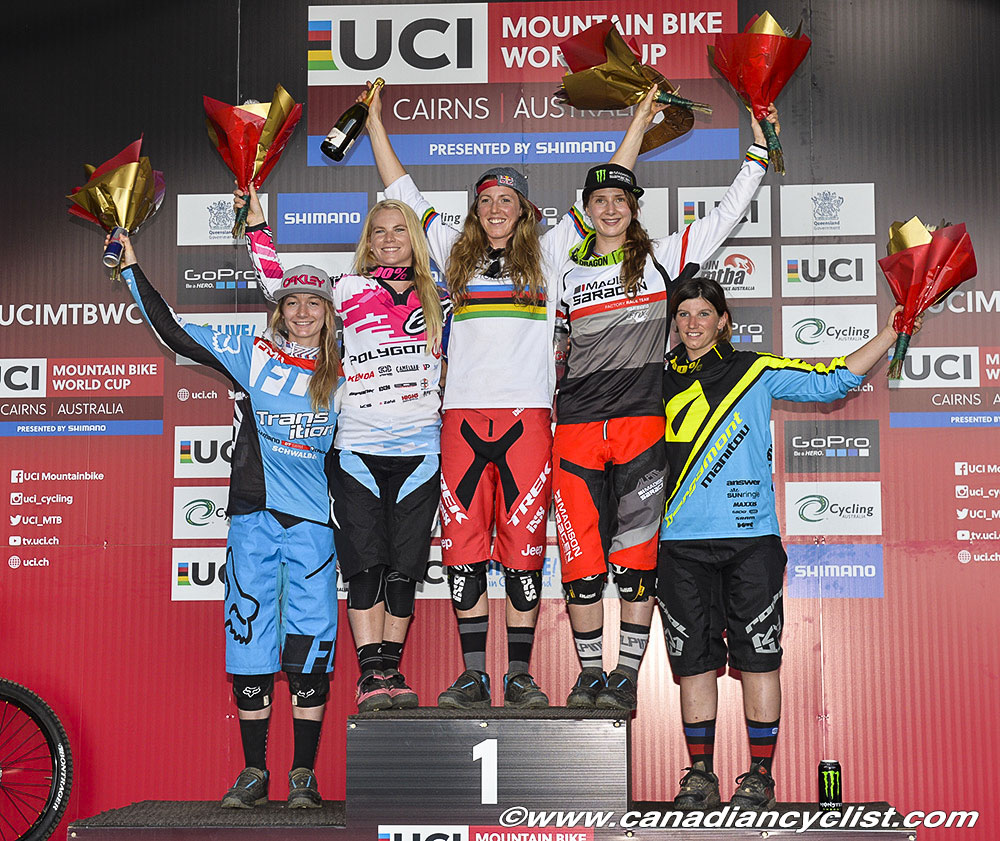 The women's race saw local Cairns pro Tracey Hannah (Polygon UR) set the first sub-4 minute time of 3:55.664, which held up against second fastest qualifier Manon Carpenter (Madison Saracen). The only rider left was world champion and World Cup leader Rachel Atherton (Trek Factory Racing), and she obliterated Hannah's time by over seven seconds to take her second consecutive win, and solidify her lead in the standings. Behind Tahnee Seagrave (Transition Factory/FMD), Carpenter and Hannah are in a tight battle for second place in the points standings. Australia's Sian A'Hern was the top Junior women.

"I am absolutely exhausted; that final pedal was a real killer," commented Atherton. "As I was coming into it [the finish] I heard the commentator say 'Seven and a half seconds down' and I was thinking, 'Oh dear, that's a shame cuz I had a good run'. And then I looked back as I crossed the line and realized that I had won and Tracey was 7 seconds back. I wanted Tracey to win, I really did, but then, a race is a race. Everyone rode well. I know what it's like to win [at home] like at Fort William and I'm sort of gutted for Tracey but I've got some bills to pay..."

The men's race saw unheralded Joshua Button (Australia National) come close to pulling off an upset. Button started outside of the top-20, but set a blazing fast 3:27.480, a time that would hold up until the final four riders came down the track.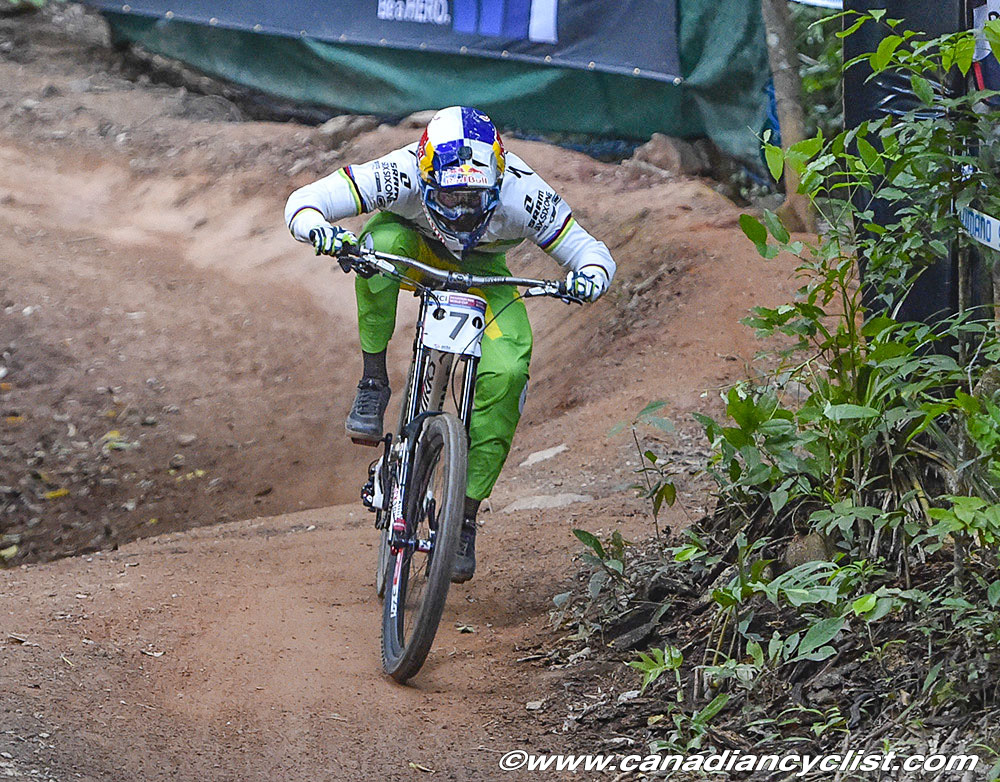 Loic Bruni (Specialized Gravity)
It wasn't until world champion Loic Bruni (Specialized Gravity), fourth from last, powered across the finish line that Button was bumped out of the top spot, by 3.784 seconds. Bruni's time would prove to be the winning one, as World Cup leader Aaron Gwin (The YT Mob), local favourite Mick Hannah (Polygon UR) and fastest qualifier Troy Brosnan (Specialized Racing) all failed to surpass the Frenchman.

Brosnan would slot in second, Hannah third and Gwin fourth, meaning Button would end up fifth; his first World Cup podium. It was also Bruni's first World Cup win.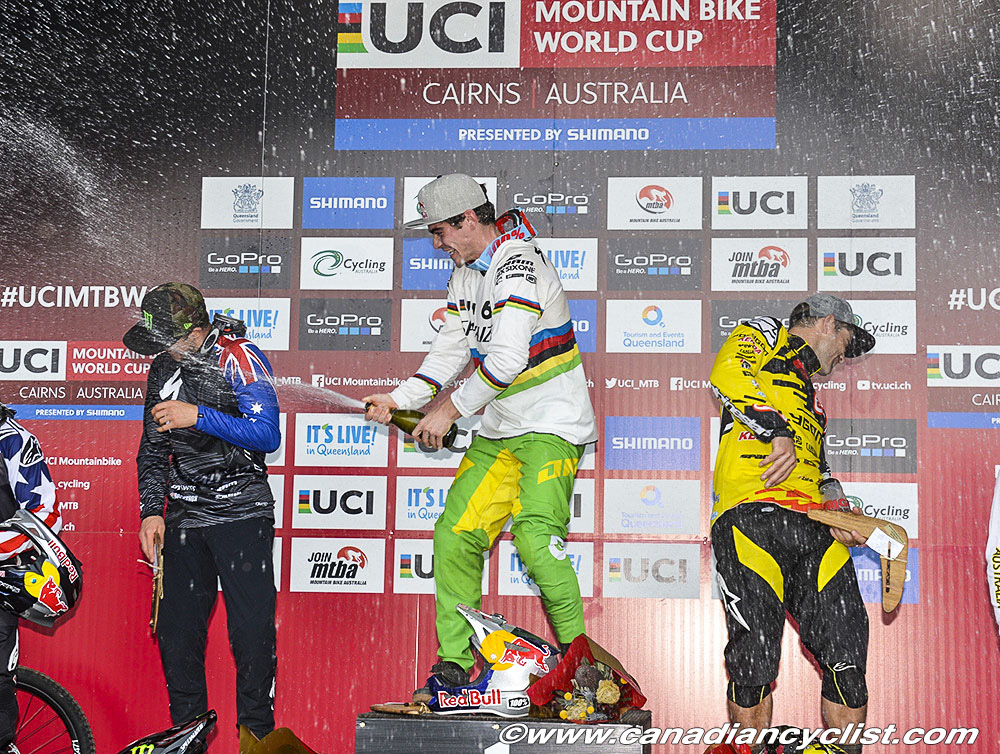 Loic Bruni celebrates his first World Cup win
"Yeah it's been a long long time [getting a World Cup win]," agreed Bruni, "and I couldn't find, you know, the thing to make it before. Today was really really tight, Troy was just behind me and I thought he had it. I just never gave up on the flat and now I'm so stoked. I wish it was in France but, well, it's Australia and you know I'll take it."

"To be honest, it's pretty heartbreaking," admitted Brosnan. "I wanted to win so bad. I knew after qualifying I had it in me. I had a really good run and, well, Loic was just better on the day. But I'm just excited to get on the podium in the home country; it's awesome racing at home."

Two Canadians did finish the Elite Men's race, with Mark Wallace (Devinci Global Racing) finishing 26th, 8.622 seconds behind Bruni. Forrest Riesco was 44th, 12.955 seconds behind Bruni.

Gwin continues to lead the standings, but Brosnan and Bruni are both within 30 points. Smith drops from second to sixth in the Elite Men's overall standings after two rounds, having scored no points in Cairns. Mark Wallace fell two spots in the standings, to 13th, while Riesco is 63rd.

In the Junior men, Great Britain's Matt Walker (Madison Saracen) took the win ahead of four Australian riders, with Remy Morton taking silver and Harry Bush bronze. Henry Fitzgerald (Steve Peat Syndicate) was the only Canadian the Junior Men's Final, finishing 13th.

Iles drops from first to second in the overall standings, behind Walker, with Fitzgerald 19th in the standings.
Results
---
Related Photo Galleries

Cairns MTB World Cup April 22/16 - April 24/16, Carns, Australia


DH Qualifying
Course Walk & XC training
Jr Men DH Final
Women DH Final
Elite Men DH FInal
Elite Women XC
Elite Women XC
U23 Men XC
U23 Women XC
Elite Men XC
---