April 15/17 9:23 am - Track Worlds - Day 4 report

Posted by Editoress on 04/15/17

Two Canadian riders competed on Saturday, Day 4 of the Track Cycling World Championships in Hong Kong. Neither Kirsti Lay nor Annie Foreman-Mackey finished in the top-4 in qualifying for the Individual Pursuit, and therefore did not advance to the medal round.

Aidan Caves was scheduled to compete in the Men's Omnium but had to withdraw after breaking his collarbone in the Team Pursuit crash Canada suffered on Wednesday. Similarly, Canada has had to withdraw from Saturday's Women's Madison after Steph Roorda suffered a separated shoulder in a crash on Friday evening in the Women's Omnium.

Kirsti Lay, competing in her first individual pursuit in a couple of years, finished seventh, beating her previous best time by eight seconds.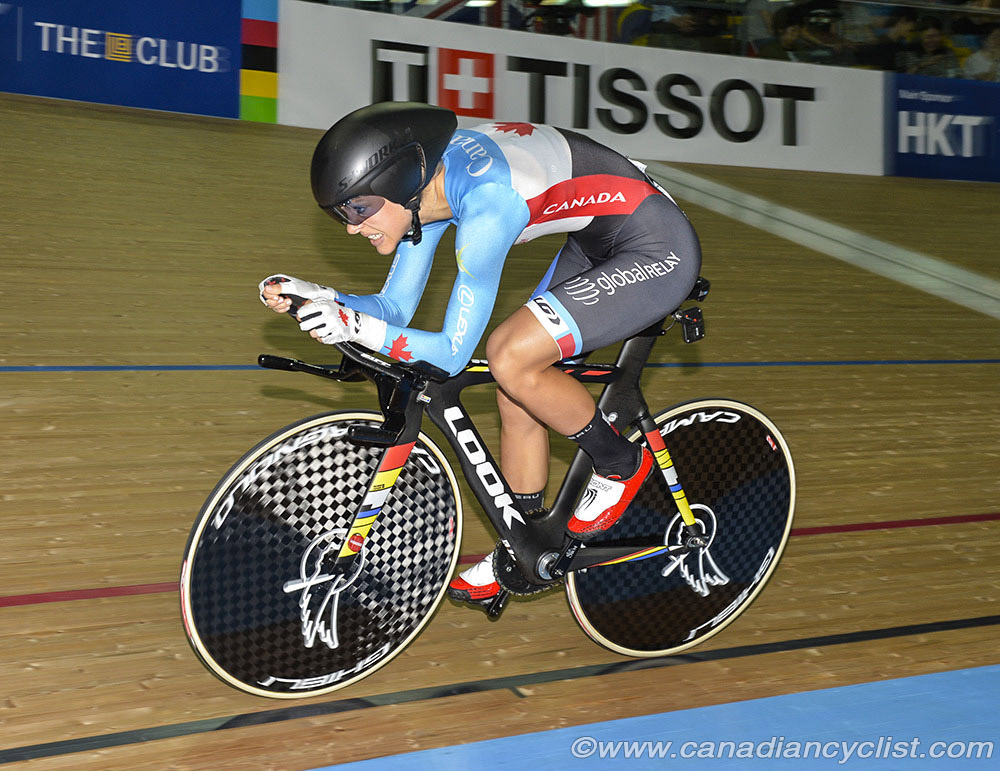 Kirsti Lay
"I haven't really had a chance to do an IP since Chile [Pan Am Championships] two years ago," admitted Lay. "I knew what I was capable of from training, but it was nice to do it in competition and confirm it."

"Definitely, it has been a disappointing Worlds for us. We trained hard, even though we weren't together for it. But we know what we are capable of and so we just have to get back to work and focussed on the TP. There's a lot of teams coming up and that will just push us more. I think the depth in women's cycling has increased ten-fold ... everything counts, you can't make mistakes, you can't give 80%, it has to be 100% and the execution matters. It's a great reminder at the beginning [the Olympic cycle] that we have to put our heads down and focus for our goal of a medal in Tokyo."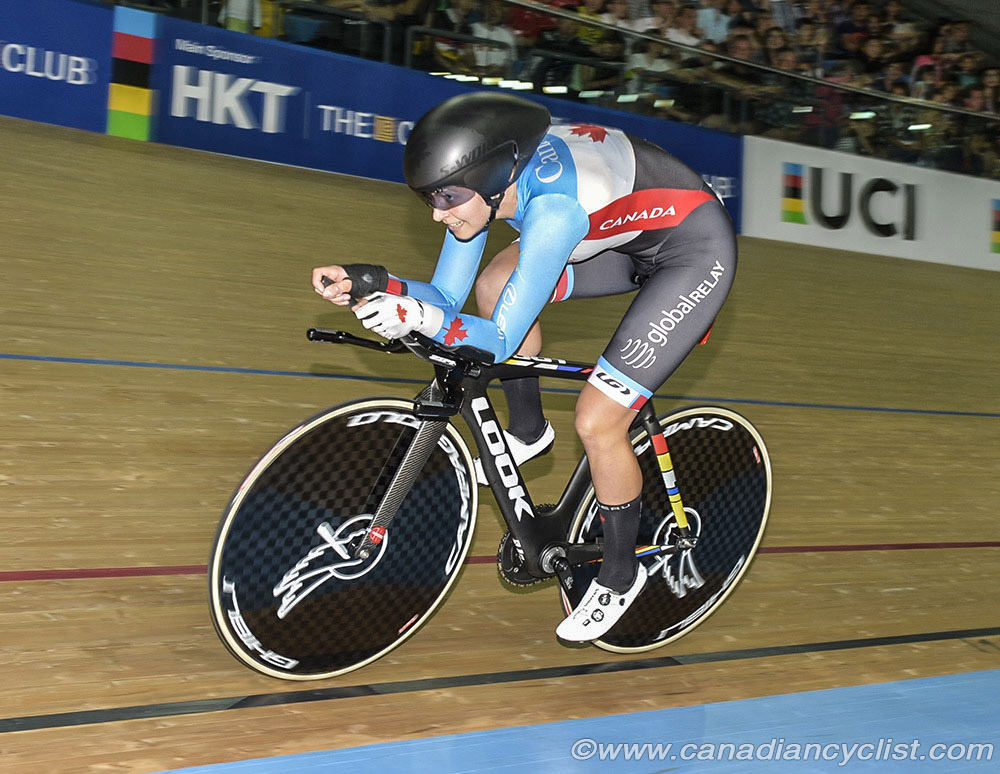 Annie Foreman-Mackey
Photo Galleries
Annie Foreman-Mackey is racing with a broken wrist suffered when a car turned into her while training a few weeks earlier. She is still wearing a brace on her right arm and dealing with a related shoulder injury. Foreman-Mackey, a bronze medalist last year, still managed to finish tenth and set a personal best time.

"It was a pretty good ride and I saw some improvement," said Foreman-Mackey. "Obviously I want to be in the Finals ride and win a medal for Canada. But it's been less than ideal preparation for me with the crash and a broken wrist, so I'm happy to be able to lay down a best time and use it as motivation moving forward."
Russia Wins Second & Third Titles on Saturday

Russia topped the medal table on Saturday, the penultimate day of the 2017 UCI Track Cycling World Championships presented by Tissot, in Hong Kong, winning two world titles and a bronze medal. Three other world titles were awarded, to France, Belgium and the United States.

After winning the Women's Team Sprint on the opening day of competition, the Russian duo both appeared on the podium again for the 500 metre Time Trial. Daria Shmeleva won the gold medal with a time of 33.282 seconds, with her team mate Anastasiia Voinova taking the bronze. Miriam Welte of Germany won the silver medal.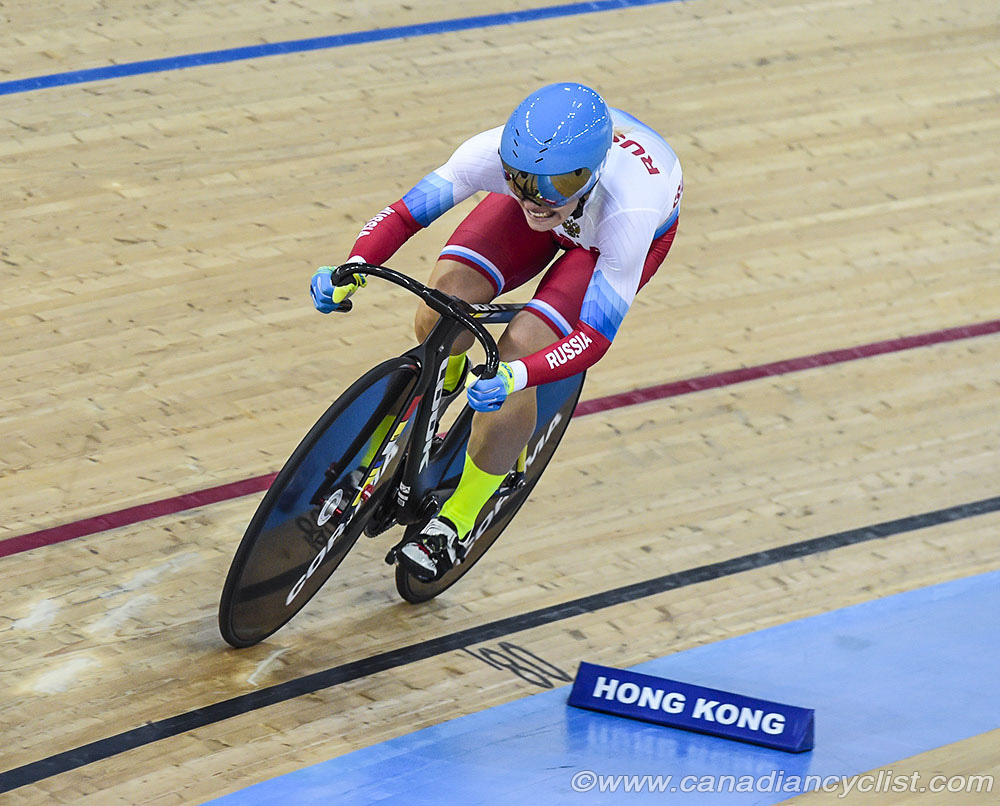 Daria Shmeleva
The first ever world championship for the Women's Madison saw a close battle for the first half of the race between three teams - Belgium, Great Britain and Australia. Two crashes put Australia out of contention for gold or silver, but they battled back to take the bronze medal. Belgium and Great Britain were within a point of each other until the final ten kilometres, when Belgium pulled away by winning the last two sprints.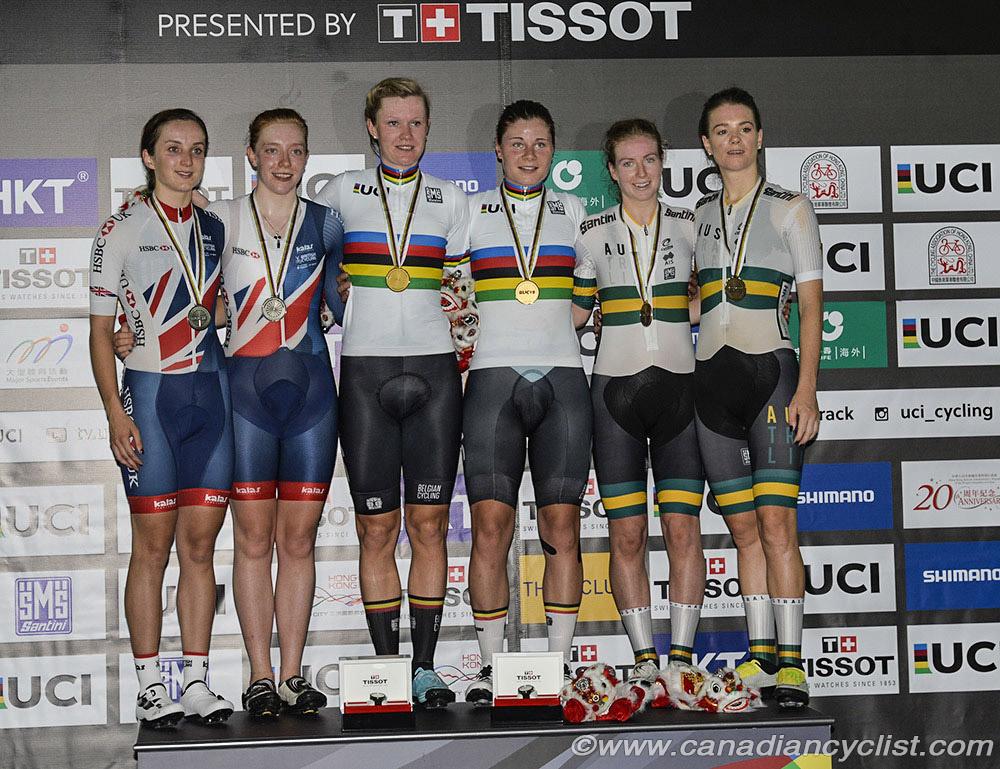 Women's Madison podium
The focus then shifted to the Women's Individual Pursuit, where American Chloe Dygert won her second world title of the Championships, after anchoring the U.S. team in their Team Pursuit victory. In qualifying, Dygert was only seven-tenths of a second off the world record, and she decisively won the final against Ashlee Ankudinoff of Australia. The 21 year old Dygert now holds five world titles - three on the track and two on the road. Dygert's team mate, Kelly Caitlin, took the bronze.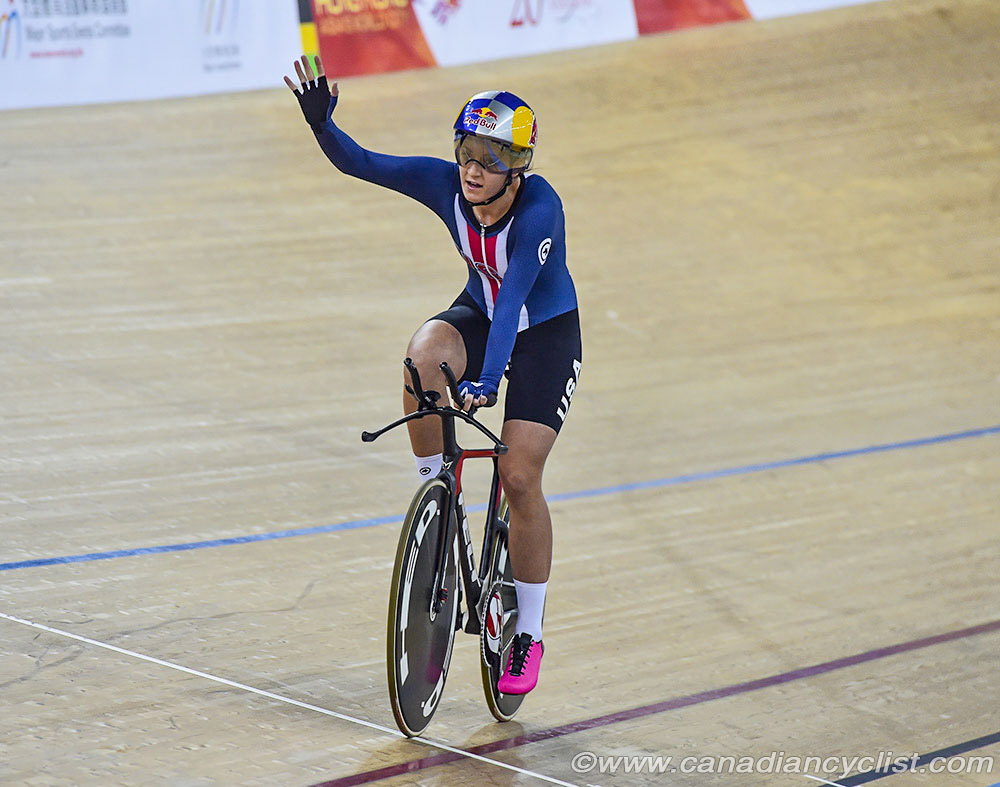 Chloe Dygert
Photo Galleries
In the four event Men's Omnium, Spain's Albert Torres led going into the final Points Race, but constant attacks in the Points Race from New Zealand's Aaron Gates put Torres into difficulty, as the Kiwi rider took two laps on the field. However, Gates was closely shadowed by Benjamin Thomas of France on his second lap, and the French rider proved to be faster in the intermediate sprints. The pair went into the final double-point sprint tied at 145 points apiece, but Thomas was able to finish one spot ahead of Gates in that last sprint to take the title.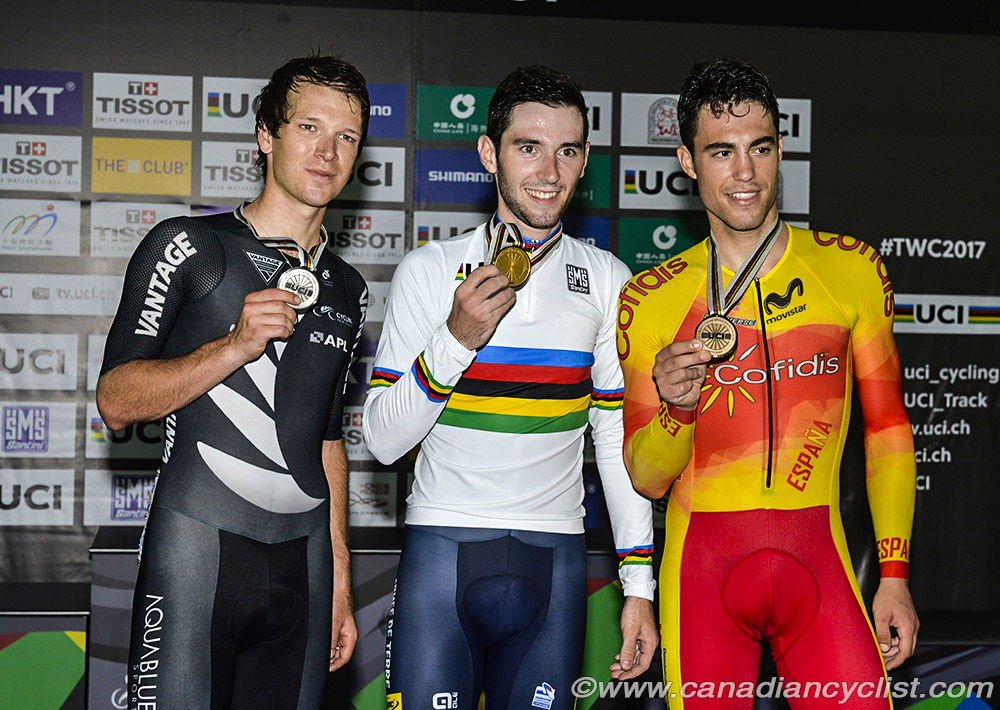 Men's Omnium podium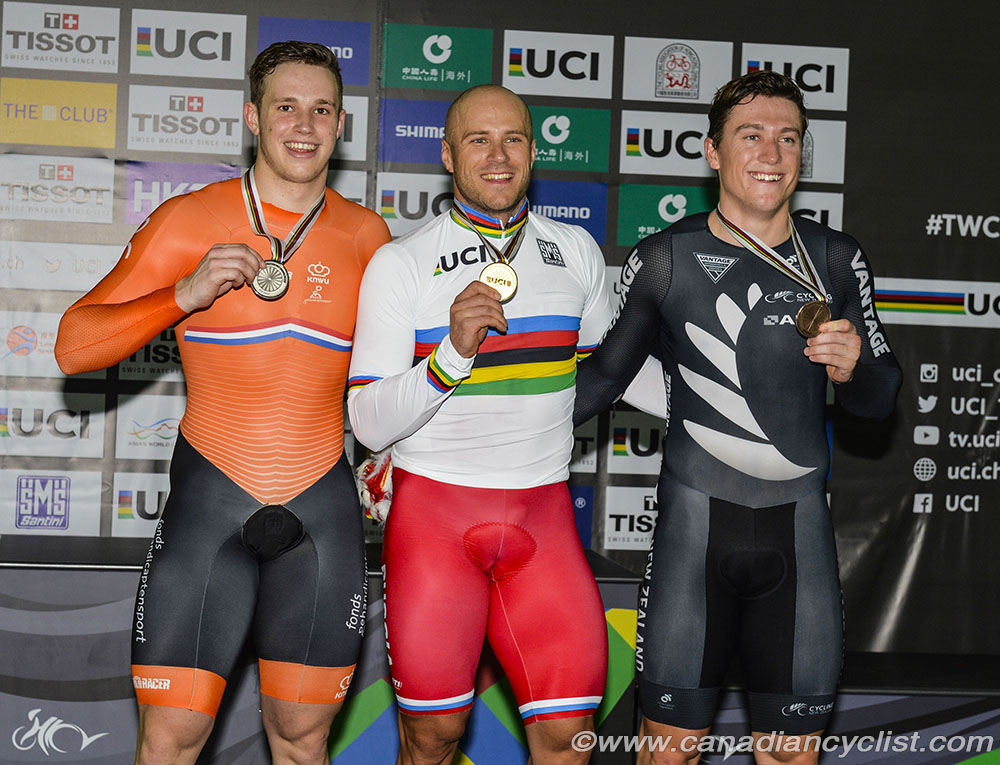 Men's Sprint podium
Racing concluded with the Men's Sprint, where Russia's Denis Dmitriev proved to be the dominant rider. Dmitriev came into the 2017 world championships with two silver medals and two bronzes in the past four years. He efficiently dispatched all rivals in straight rides, setting up a final against newcomer Harrie Lavreysen of the Netherlands. Dmitriev showed impressive power against Lavreysen to win his first title. Ethan Mitchell of New Zealand won the bronze medal.
---
Related Photo Galleries
---