December 2/18 21:04 pm - NBX Gran Prix of Cyclocross: Day 2, West 2nd

Posted by Editoress on 12/2/18

Keough and Hyde Repeat Wins on Soggy Day 2 of NBX Gran Prix of Cyclocross

Known for a long beach run along Greenwich Bay and a rugged New England coastal landscape, the second and final day of racing at NBX Gran Prix of Cyclocross also featured umbrellas as part of the soggy landscape on Sunday. A weekend of racing at Goddard Memorial State Park in West Warwick, R.I. concluded with repeat wins by Cannondale presented by Cyclocrossworld.com teammates, Kaitlin Keough and Stephen Hyde.

Winners of the Vittoria Northeast Cyclocross Series presented by Clif Bar and Cycle-Smart were crowned on Sunday in the elite races. Rebecca Fahringer (Kona Maxxis Shimano) would take the Verge Sport champion's jersey for women and Curtis White (Cannondale p/b cyclocrossworld.com) would earn the jersey and title for elite men.

It was the 14th year of cyclocross races in Warwick, with elite races this weekend being part of the USA Cycling Pro Cyclocross Calendar (ProCX). Saturday featured UCI sanctioned Category 1 (C1) races. There is one more weekend of ProCX racing on the schedule, Dec. 10-11 in North Carolina and Oklahoma. Then athletes travel to Louisville, Ky. for the USA Cycling Cyclocross National Championships, Dec. 11-16.

Women
Sunday's C2 races in Rhode Island took place for the Elite Women in rainy conditions. While it was unusual for temperatures to rise throughout the 50-minute contest, from 50 degrees Fahrenheit to 55 degrees, it was business as usual for Keough to sizzle for a second consecutive day on the course. She would take the holeshot and keep contenders at bay for all five laps.

The rain created havoc for most of the 37 women in the field, especially at the start before learning how to manage the new direction of the course and manage Mother Nature's challenges.

"I know the course changed from yesterday. I can't pick out the changes, because it was just muddy,"said Rebecca Fahringer (Concord, N.H./Kona Maxxis Shimano) about trying to reach the podium for a second day in a row. "We were contending equally with the course as with the conditions of the course. It's tricky in this situation, because parts were slick mud. Nobody expected the sandy ground here to get slick, but it was. This slick mud like we've never seen it, in combination with the tough roots. This was an NBX like anyone has ever seen."

On the first lap, Keough was followed by Regina Legge (Salem, N.H./Trek Cyclocross Collective) for part of the twists and turns, then joined at the front by Ruby West (Hamilton, Ont./Specialized-Tenspeed Hero). Legge would drop back to 10th after the first lap and West would also succumb to the mud and have to work her way back into contention for a podium finish.

"I actually had a horrible start. I slipped my pedal at the start, and really missed it. So I was pretty far back, but then made my way back through the first few corners. So I was like fifth, or sixth, wheel. As soon as we made the first hard right everyone kind of panicked and Kaitie was pulling away, so I knew I had to stay with her for as long as possible today. That was the goal to just try to get some distance between everyone else."

After the second lap, Keough had gained an 11-second advantage over West. There was more ground for Fahringer to cover, as she was on the ground with a fall, then worked into third place after two laps.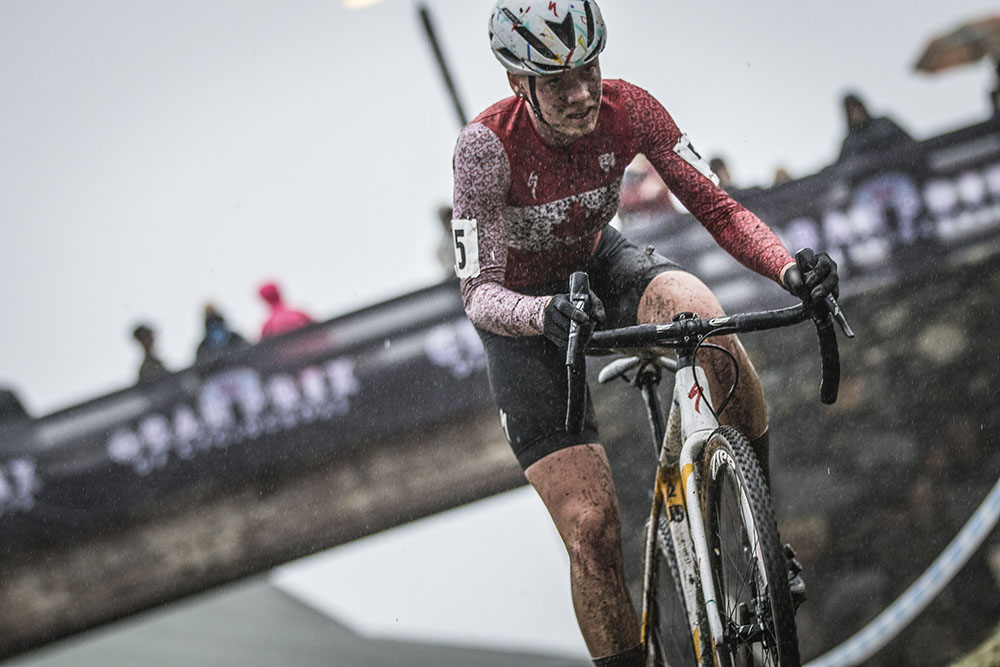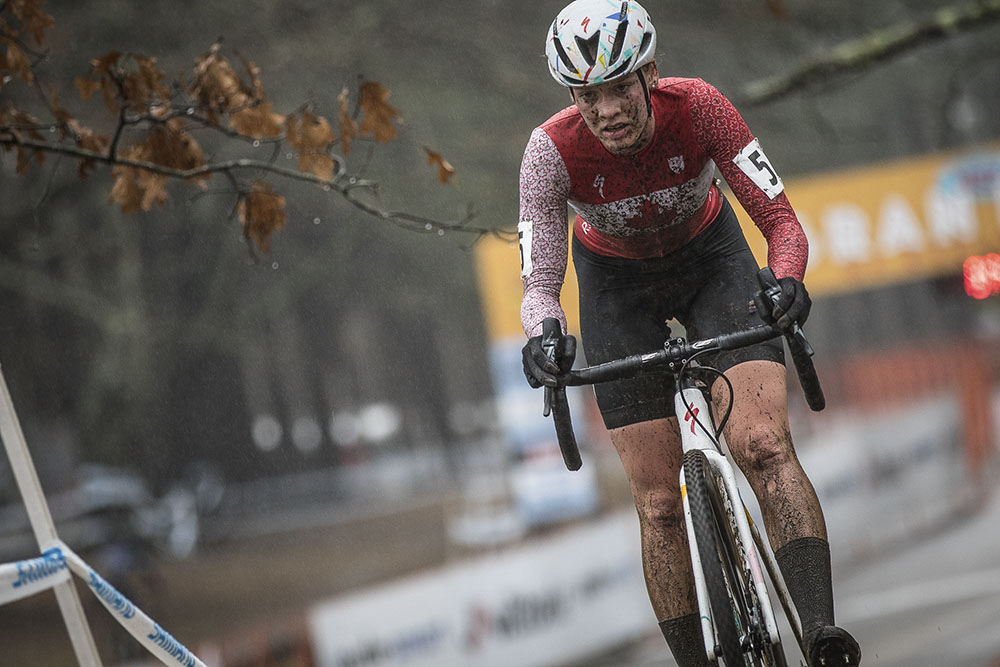 Ruby West - photos by Angelica Dixon
"I tapped my brakes at the wrong time, lost my bike,"said Fahringer about her mishap on the first lap. "I was down on the ground, hunkered down, and yelled, 'please, nobody hit me,' as the field goes on either side. Luckily, nobody hit my bike. Nobody hit me. So I was up and clear, so that's good, not quite last. Fought through the field, and honestly, was just thinking it's going to be good to finish. Somehow, I managed to stay on the podium despite a pretty big mistake at the start. I was pretty happy about that."

With one lap to go, Keough had as much as 34 seconds on West. The young Canadian never relented, and pushed through the rain and mud. Keough did not make any noticeable mistakes, and carried the lead across the line for a win, 9 seconds ahead of West.

"I just tried to follow her for as long as possible, to see the lines she was taking, figure out the course a little better than yesterday,"said West. "I think I was being pretty smooth out there. I think I had only one or two close calls. So I'm really happy with how I was riding today. I'm thrilled with second place."

Fahringer finished third, 1 minute, 42 seconds off the wining time. She earned enough points to take the Vittoria Series title for elite women.

"My first race of the Series would have been Northampton (Nov. 10-11). Then Supercross and then this, NBX,"said Fahringer, who did not race the first event of the Vittoria Series, the CRAFT Sportswear Gran Prix of Gloucester, in October. "Honestly, because I took Gloucester off, I wasn't expecting to have contention for the overall. But when Ellen (Noble) took a day off from Northampton, that's when the tide started to swing and I was able to come into the overall and clinch it in Supercross. Because she didn't race this weekend (at NBX), it was pretty much locked down as long as I finished the races. I was really, really happy to be able to stand on that top step. It's really great to be able to represent my sponsors across the Series, as well as individual races."

Rounding out the Top 5 for women were Magdeleine Vallieres (Quebecor-Stingray) and Crystal Anthony (Liv Cycling). Both were more than 2 minutes back. Legge did not finish.


Men
The rain stopped for the Elite Men's race, but left its mark. The course was very slippery, with mud covering roots and creating ruts. Hyde would take back-to-back wins at NBX Gran Prix of Cyclocross, but not without fighting off top contenders as well as the course.

"Today was a much different course. The course was really heavy. It was very technical, with all the roots, ups, downs,"said Hyde after taking his fourth ProCX win of the year. His other two wins were in September at Rochester Cyclocross. "It's a difficult course. And it's a big mix of really flowy turns and difficult terrain. Today's course was more driving, big slow accelerations. I was just trying to really focus on finding the good lines, and staying really consistent, so that I could just keep my heart rate down a little bit more than it could be."

Forty-five men took the start line for seven laps of racing, led out by Jeremy Powers (Southampton, Mass./Pactimo / Fuji / SRAM) from the holeshot. Jostling at the front early would be Hyde, White and ProCX points leader Kerry Werner (Birdsboro, Penn./Kona Maxxis Shimano), with Powers dropping back a little and riding with Spencer Petrov (McKinney, Texas/Cannondale p/b cyclocrossworld.com).

"The first couple of laps, there was a group of four of us,"Werner said. "We went out with Stephen (Hyde). Then it just split. Stephen and I were trading turns at the front early. That kind of separated Powers first, then Curtis. Later on in the race I just got a little gassed. Maybe a little bit of fatigue from the last training block, or Stephen just coming on really strong going into Nationals. The last two laps he just got away from me. That was all she wrote."

On the third lap, Hyde and Werner created separation from White, gaining a four-second advantage that would continue to grow with each lap. The duo of Powers and Petrov would linger about 15 seconds behind White for most of the race.

"When we came through the up-down section after the barriers, which is difficult to ride, I came into it with a little tiny bit of a gap,"Hyde said about making a winning move with two laps to go. "I just happened to nail it on that ride. No forced acceleration or anything, I just happened to nail it. I got good speed out of it and I was able to hold that gap."

Hyde would cross the line solo, covered in mud, in a time of 59 minutes, 49 seconds. Werner held on for second, finishing 28 seconds behind. In third rolled White, 57 seconds back.

"Hyde and Kerry were riding really well today. I tried to stay with them, but I wasn't on the best form today. I don't think I recovered as well as I could have from yesterday. But one bad day out of the entire Series, I'm not too disappointed in the grand scheme of things,"said White, who led the Vittoria Series competition for elite men from start to finish in all eight events.

Petrov and Powers would close to within 9 seconds of White with two laps to go, but not get any closer. Petrov would finish 16 seconds behind White for fourth place. He pushed across the line 10 seconds ahead of Powers, who would finish fifth.

"I think the Vittoria Series is something special,"said White. "They do a wonderful job for this sport in this area with the development and focus towards the elites. I just tried to bring my best to the start line. You know, this weekend with it being a C1, there were a lot of fast guys bringing their A games and getting ready for Nationals. I think it was a treat to race at that level."

The Vittoria Series began in Gloucester, Mass., in mid October, followed by events in Northampton, Mass. and Suffern, N.Y. in November. With a total of eight events in the Northeast, the Vittoria Series is the longest standing, UCI cyclocross series in the United States.

"It was a good, old-fashioned mudder today,"Werner added about the concluding race for the Vittoria Series.

Report by Jackie Tyson, Media Operations Director, USA Cycling Pro Cyclocross


Results from Day 2 of NBX Gran Prix of Cyclocross in Warwick, RI USA
Pro Women, 5 laps

1 Kaitlin Keough (USA) Cannondale Cyclocrossworld.com
0:49:56.
2 Ruby West (Can) Specialized - Tenspeed Hero
at 0:59
3 Rebecca Fahringer (USA) Kona Maxxis Shimano
1:42
4 Magdeleine Vallieres Mill (Can) Quebecor-Stingray
2:06
5 Crystal Anthony (USA) Liv Cycling
2:44
6 Caroline Mani (Fra) vandessel factory
2:57
7 Cassandra Maximenko (USA) Van Dessel Factory Team
2:59
8 Caroline Nolan (USA) Voler / Easton/ HRS/ Rock Lobst
3:36
9 Natasha Elliott (Can) Van Dessel p/b HyperThreads
4:23
10 Erica Zaveta (USA) Garneau-Easton p/b TLC
4:54
11 Jennifer Malik (USA) Red Kite Fund
5:01
12 Arley Kemmerer (USA) Fearless Femme Racing
5:17
13 Jane Rossi (USA) Rhode Island School of Design
5:32
14 Caitlin Bernstein (USA) Vive La Tarte
5:56
15 Emily Curley (USA) Corner Cycle
6:01
16 Rachel Rubino (USA) Fearless Femme Racing
6:15
17 Clio Dinan (USA) Independent
6:20
18 Erin Faccone (USA) Velocio NECX
6:45
19 Meghan Owens (USA) Hands-On Cycling p/b Guerciotti
7:00
20 Allison Mrugal (USA) Amy D Grassroots
7:28
21 Taryn Mudge (USA) Fearless Femme Racing
7:47
22 Elizabeth Huuki (USA) Army West Point Cycling
-1 Lap
23 Kayla Brannen (USA) Cowbell Racing p/b World Bicycl
-1 Lap
24 Heather Richard (USA) Ladies First Cycling
-1 Lap
25 Brittlee Bowman (USA) RSCX - House Ind - DWR - HM
-1 Lap
26 Aliza Tobias (USA) Killington Mountain School/BMB
-1 Lap
27 Anja Meichsner (USA) Bikeway Source/ Bell Lap Racing
-1 Lap
28 Taylor Kuyk-White (USA) Philly Bike Expo
-1 Lap
29 Holly Neckermann (USA) No. 22 Racing
-1 Lap
30 Shane Ferro (USA) Independent
-2 Laps
31 Anna Savage (USA) JAM Fund / NCC
-2 Laps
32 Alix Norris (USA) Cowbell Racing p/b World Bicycl
-2 Laps
33 Sara Melikian (USA) Competitive Edge Racing
-2 Laps
DNF Regina Legge (USA) Trek Cyclocross Collective
DNF Christin Reuter (USA) Mad Alchemy | Zanconato
DNF Natalie Tapias (USA) JAM / NCC
DNF Jenny Wojewoda (USA) pedalpowertraining.com
DNS Alex Carlson (USA) Cycle-Smart
DNS Leslie Lupien (USA) Velocio NECX
DNS Jauron (Roni) Vetter (USA) Mad Alchemy | Zanconato
Pro Men, 7 laps

1 Stephen Hyde (USA) Cannondale p/b Cyclocrossworld.com
0:59:49
2 Kerry Werner (USA) Kona Maxxis Shimano
at 0:28
3 Curtis White (USA) Cannondale p/b Cyclocrossworld.com
0:57
4 Spencer Petrov (USA) Cannondale p/b Cyclocrossworld.com
1:13
5 Jeremy Powers (USA) Pactimo / Fuji / SRAM
1:23
6 Jack Kisseberth (USA) Garneau Easton p/b Transitions
2:32
7 Justin Lindine (USA) Hyperthreads/Apex Pro Cycling
2:56
8 Scott Smith (USA) Dirt League
4:13
9 Samuel Kieffer (USA) Red Kite Fund
4:15
10 Sam Noel (USA) Cannondale p/b Cyclocrossworld.com
4:37
11 Merwin Davis (USA) Cycle-Smart
4:57
12 Allan Schroeder (USA) High Desert Hustle
5:04
13 Travis Livermon (USA) The Endurance Collective
5:34
14 Daniel Chabanov (USA) RSCX - House Ind - DWR - HM
5:48
15 Nicholas Lando (USA) UVM Cycling / Comp Edge Racing
6:05
16 Ben Frederick (USA) Independent
6:21
17 Kevin Bouchard-Hall (USA) Velocio Northeast
6:23
18 Patrick Collins (USA) kb PHOTO cx / A-D Bikes
6:28
19 Andrew Borden (USA) Castleton Universit
7:05
20 Adam Myerson (USA) Cycle-Smart
7:26
21 Derrick St John (Can) Independent
7:31
22 Breeze Keller (USA) Velocio Northeast
8:05
23 Ian Gielar (USA) JAM / NCC
8:21
24 Jacob Leblanc (USA) Comp Edge Racing
8:39
25 Kale Wenczel (USA) JAM / NCC
8:59
26 Josh Bauer (USA) Donke Label
9:10
27 Michael Owens (USA) RSCX - House Ind - DWR - HM
-2 Laps
28 Geno Villafano (USA) Storrs Center Cycle Racing
-2 Laps
29 Andrew Nicholas (USA) Independent
-2 Laps
30 Niles Gagnon (USA) Grey Ghost Bicycles
-2 Laps
31 Peter Bradshaw (USA) Mad Alchemy | Zanconato
-2 Laps
32 Clyde Sebastian Logue (USA) Dartmouth College
-2 Laps
33 Daniel Vaughn (USA) JAM / NCC
-2 Laps
34 Daniel Fitzgibbons (USA) GREEN LINE VELO driven b Zipca
-2 Laps
35 Sean Curran (USA) Bicycle Express Racing
-2 Laps
36 Erik Carlson (USA) Hyperthreads/Apex
-3 Laps
37 Trent Blackburn (USA) JAM / NCC
-3 Laps
38 James Norris (USA) Cowbell Racing p/b World Bic cl
-3 Laps
39 Addison Minott (USA) Daedalus & Allstonvelo
-3 Laps
40 Daniel Mccabe (USA) Plant Power Racing p/b Vegan At
-3 Laps
41 Christian Norvold (USA) JAM / NCC
-3 Laps
42 Matthew Owens (USA) UVM Cycling / Hands On
-3 Laps
DNF Ethan Call (USA) Dartmouth College
DNF Mark Hewitt (USA) JAM / NCC
DNS Zachary Curtis (USA) BMB Racing
DNS Alec Donahue (USA) JAM / NCC
DNS Dylan Mcnicholas (USA) POLARTEC
DNS Robert Nash (USA) Team Spark
DNS Christopher Niesen (USA) JAM / NCC
DNS Finnegan O'connor (USA) UVM Cycling / Comp Edge Racing
DNS Doug Thorp (USA) Colonial Bicycle Company
DNS Nick Weigel (USA) pedalpowertraining.com

NBX Gran Prix of Cyclocross: Day 1, West 3rd
---
Related Photo Galleries
---