February 24/19 10:13 am - Greek Road Trip with Norco Factory Team

Posted by Editoress on 02/24/19

By Andrew L'Esperance with words from Haley Smith and Peter Disera.

Norco Factory Team is a World Cup team, that is the primary focus and that is where we want to be at our best. If you only tuned in for those seven races a year you would be missing a big part of what we are doing as a team and what we are doing as athletes. There is so much that goes into those one day performances at the World Cup for the athletes; physical training, mental preparation, technical practice, taking care of our bodies, equipment testing, bike development, suspension setup, and the list goes on. Each and every piece of the performance is important, and they all need to come together on the day.

So, when an opportunity arises to work on every part of the performance, early in the season, in Greece of all places, you jump at the opportunity. That is exactly what Peter, Haley and I did, and what an experience it was!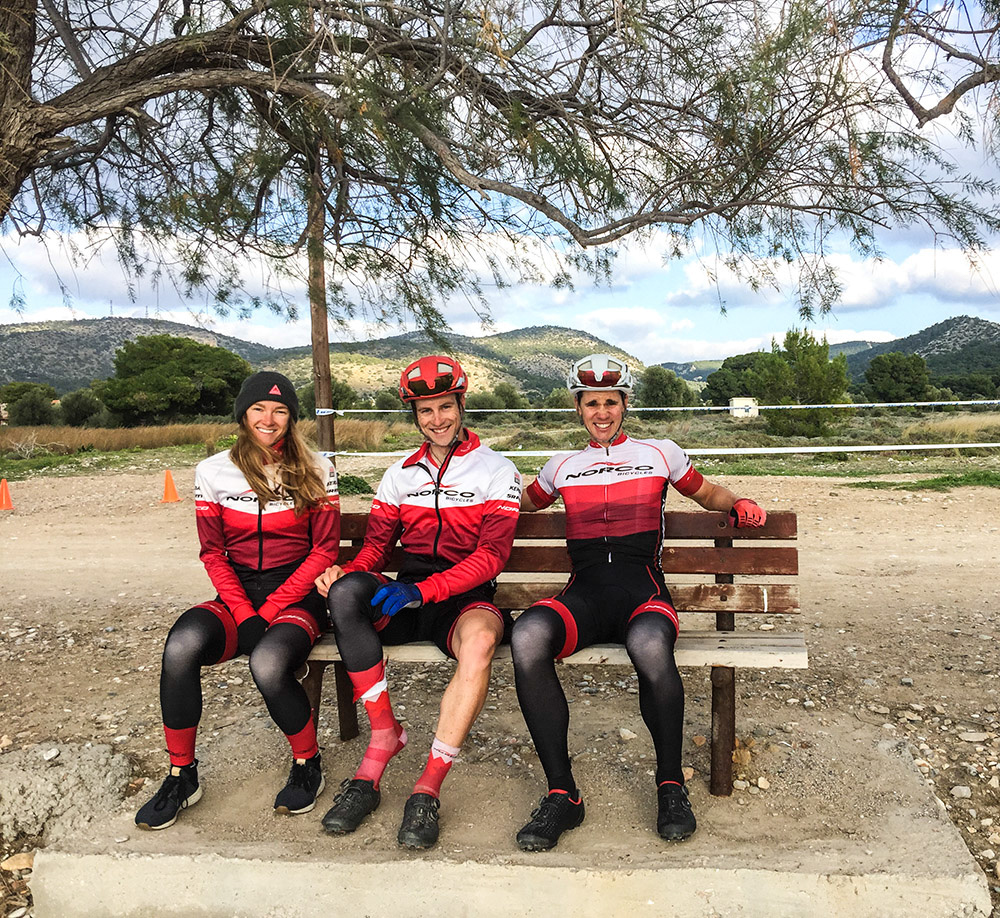 Haley Smith, Peter Disera, Andrew L'Esperance
First off, let's look at what we had ahead of us in terms of the racing; a 4-day Stage Race, a day off, another 4-day stage race, another day off, and then a single day XCO event. Nine days of racing in eleven days. The race was called Salamina Epic, fittingly. The stage races had a mix of different race formats, including time trial, marathon, point-to-point, short track and traditional Olympic cross country. The different formats of each racing day made this such a powerful learning opportunity and made for some damn fun racing on the daily.

Haley led the team in a strong women's field with an incredibly consistent string of performances and results. She won the overall classification in both UCI S1 stage races and the final XCO event. These results earned Haley 300 UCI points, which is massive, and put her into eighth place in the World Rankings, also a huge accomplishment. Strong start to the season for Haley!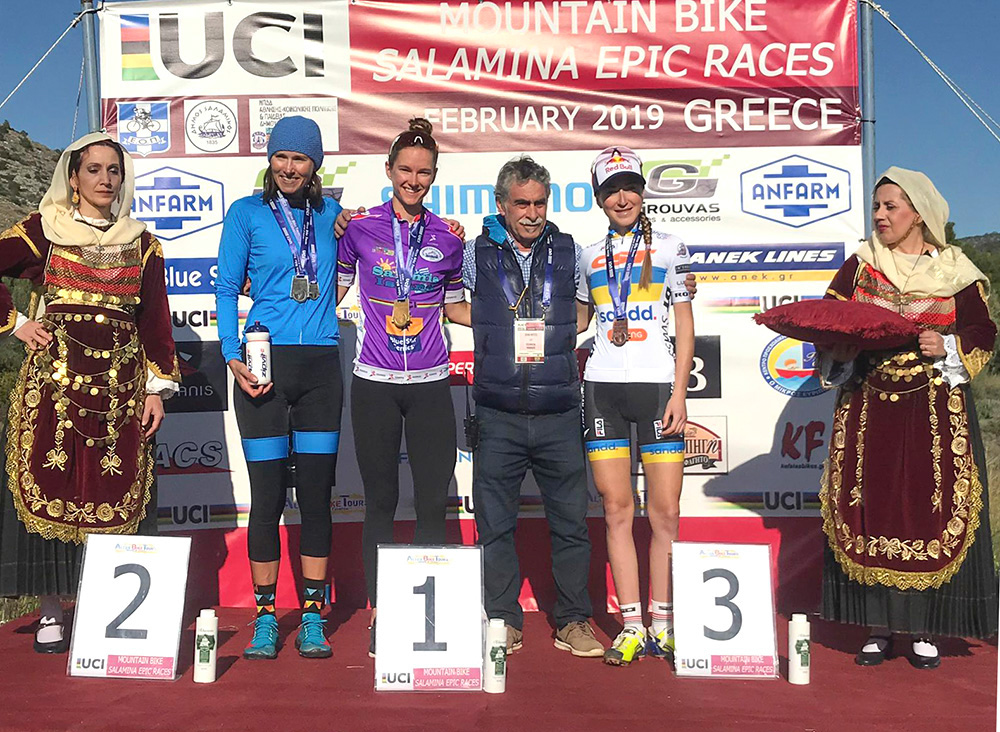 L to r: Blaza Pintaric, Haley Smith, Yana Belomoina
"I had no expectation of results coming into this series of racing," admitted Haley, "as I was primarily using them for training. It was a nice surprise and huge confidence boost to come away with 8 of 9 wins. It was a unique way to start our season, and a great time with the Norco family. Looking forward to the next month to build off the fitness deposits we made over in Greece!"

Peter took a leap of faith on many levels starting the season at the Salamina Epic; he came out with an awesome experience and great performances cumulating with a sixth place overall in the second stage race.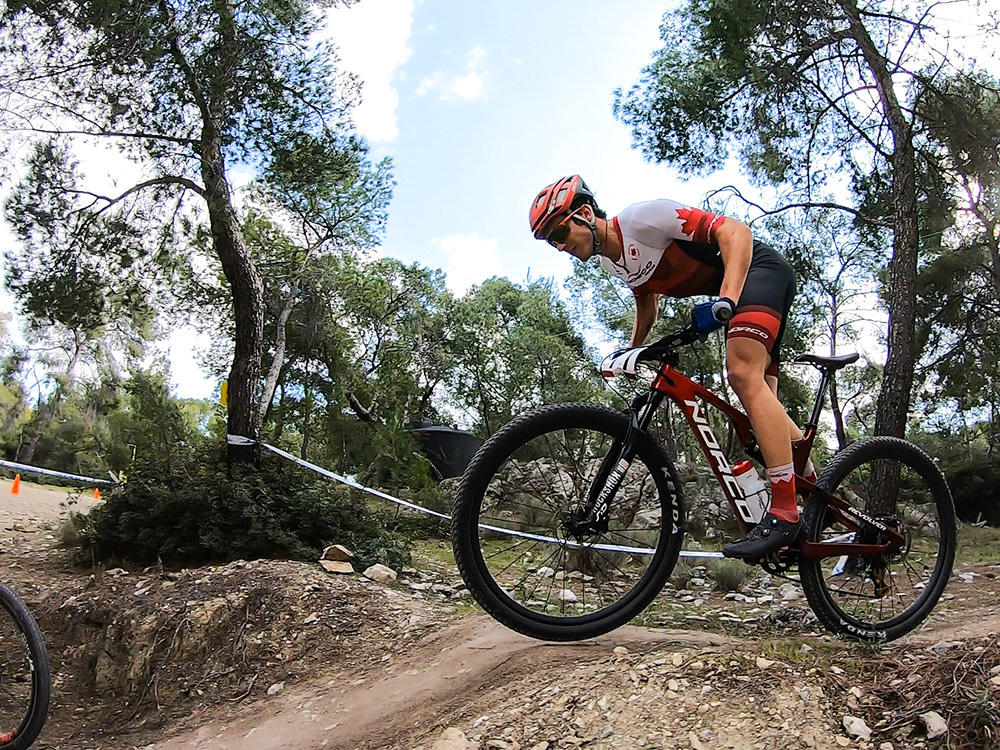 Peter Disera
Peter: "2019 started off with an early and loud bang in Greece on the island of Salamina. I have never taken to a start line this early in a season ever in my career, but I was excited for the opportunity to get lots of racing in and prepare for the season. Furthermore, I had never partaken in a MTB Stage Race, nor a marathon race, so there were lots of new experiences and tests along the way. The racing was fast, the competition strong and the results adequate. I loved racing my Revolver FS on the rocky, rubble strewn tracks around the island. It felt great to get some intensity in and have strong legs under me leading into the California campaign in March."

And me [Andrew], what is my take on the season opener in Greece? First off, I am extremely happy to be with Norco Factory Team for 2019 and motivated to bring my best this season. I learned a lot with this block of racing and am excited to roll with the momentum gained from this experience.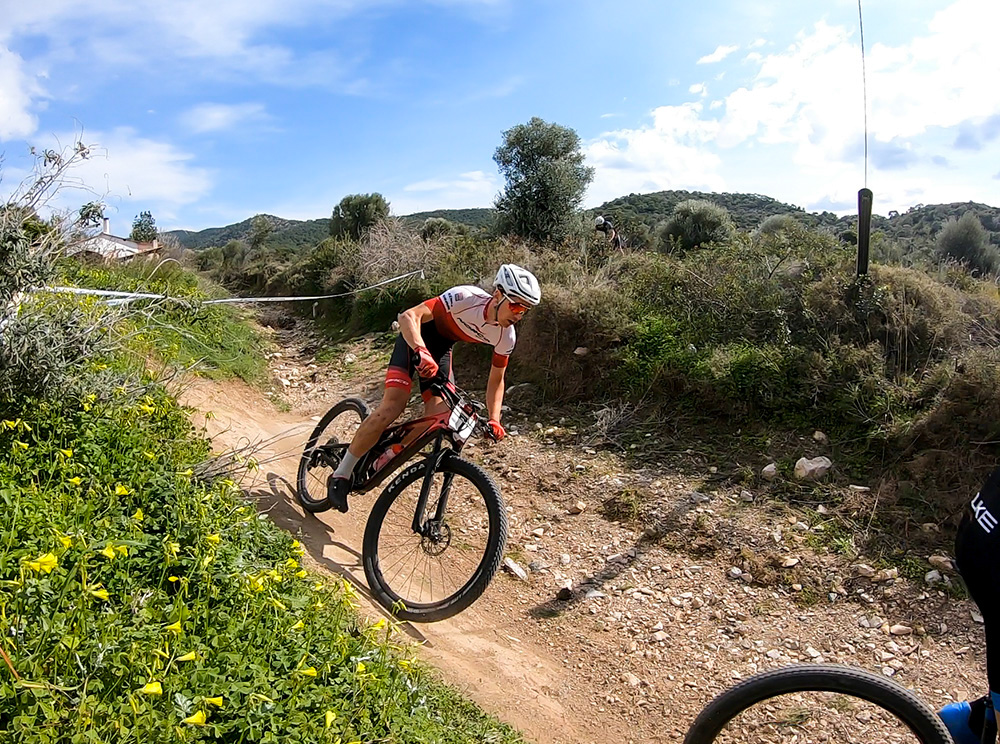 Andrew L'Esperance
"I am very happy with the mission overall with nine race days under my belt and everything that comes with that experience; the intensity, the learning and the fun of the battles. We treated it like a training camp and rode to and from most stages. I also enjoyed getting integrated with my new team and spending time in a lower pressure race environment. As a team we got a lot done and that will no doubt help us in the early season North American racing and into the first World Cups of the season."

Does it get any better? Nine days of racing in a relaxed atmosphere on a beautiful island in Greece. We had a ton of fun racing, spending time as a team and got to practice and improve all the pieces that make up a performance to take forward in the season. Mission accomplished.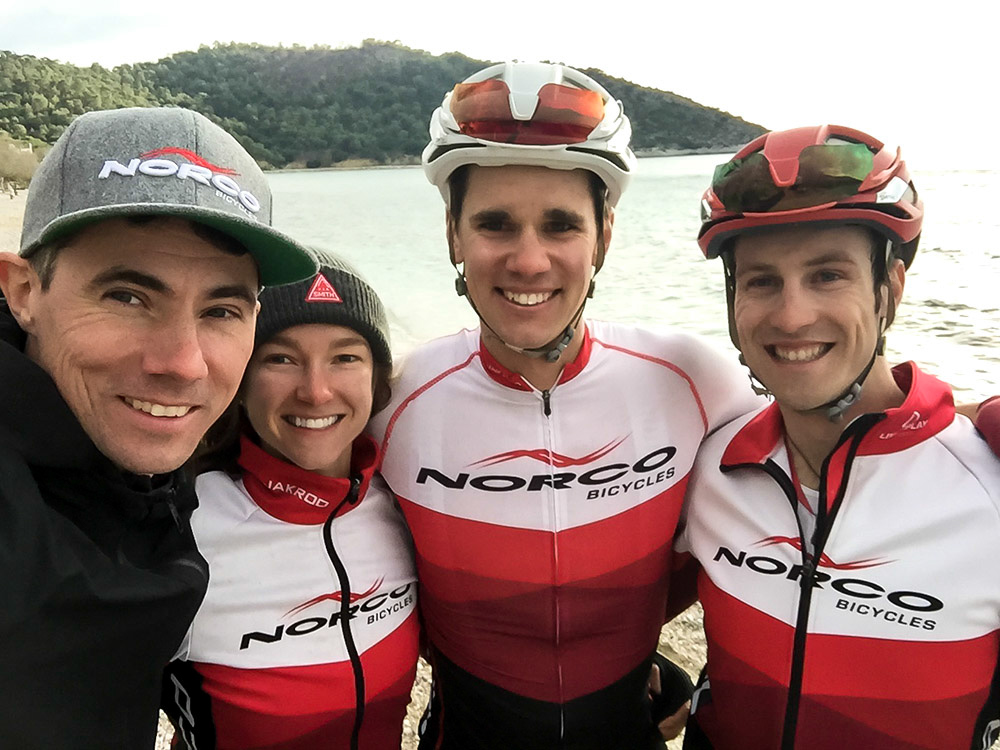 L to r: Mike Garrigan, Haley Smith, Andrew L'Esperance, Peter Disera
We could not have done it without the day-in day-out support from the team and our crew on the ground - Kevin Haviland and Mike Garrigan. Thanks!

Next up for the team is the first two races in out California campaign with Bonelli Park and Vail Lake. See you on the trails.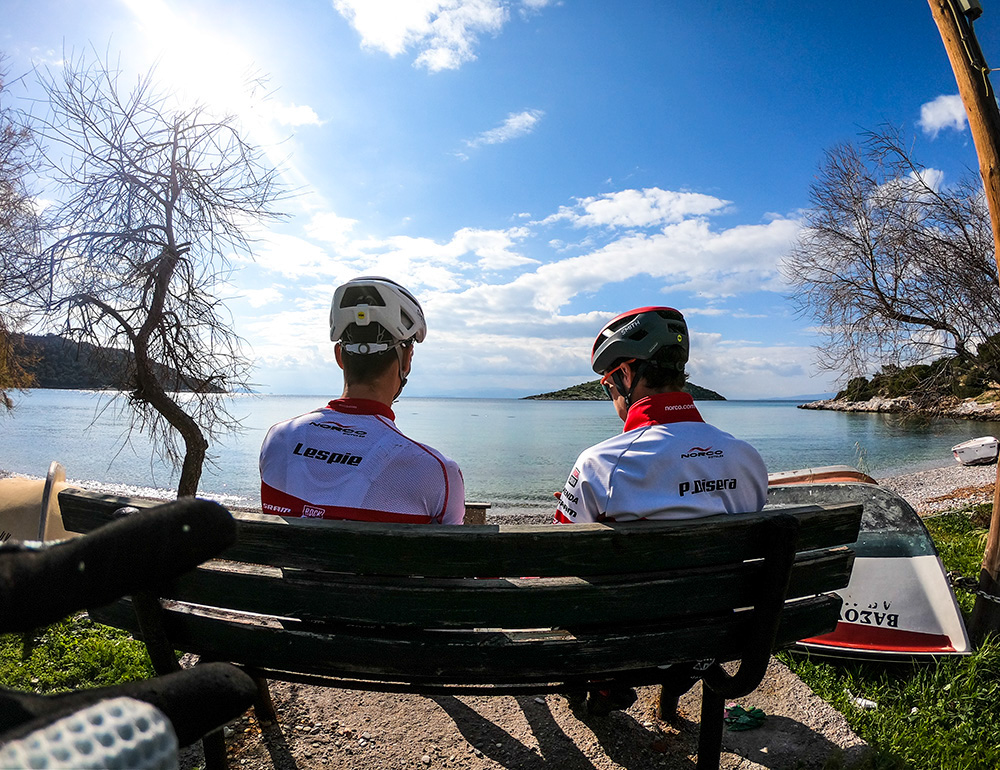 Results
Haley Smith leads Salamina Epic after 2 stages
Haley Smith Wins Salamina Epic after 4 Stages
Haley Smith Wins Race 2 of Salamina Epic
---
Related Photo Galleries
---