June 16/09 14:15 pm - Bromont Prepares for Canada Cup & World Cup

Posted by Editor on 06/16/09

It is only two months until the Nissan UCI Mountain Bike World Cup presented by Shimano returns to Bromont, Quebec, and course preparations are well underway for an exciting weekend of racing August 1st and 2nd.

Race Director Richard Deslandes says that almost $200,000 has been poured into course improvements, which will meet the needs of racers in all three disciplines - Olympic cross-country, 4-cross and Downhill.

"Phil Saxena [UCI 4-cross course designer] was here in May, redoing the 4-cross course," explained Deslandes. "He says that, after the winter, we could have run a race without touching the course and probably still won event of the year [as Bromont did in 2008], it has held up so well."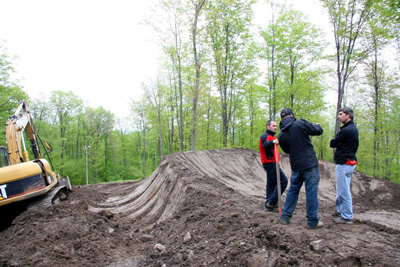 "However, having a week on-site, lots of dirt, lots of friends to play with and plenty of toys [front-end loaders, bulldozers and dump trucks], Phil decided that he might as well improve it a bit!"

Deslandes says that the start will be shifted slightly to the left (when looking up to the top), and will come towards the rest of the course at a bit of an angle. The finish will end up being in the same place as before, but Saxena is redoing the jumps to make them more spectacular.

Deslandes also revealed that the 4-cross course will now be permanent; Bromont will simply fill the jumps with snow for the skiing season and no longer flatten the start and finish, so racers be able to ride the course all season long.

The Downhill course will undergo minor adjustments at the top, with racers now going around the big drop off from the 2008 run.

The Olympic cross-country course is undergoing extensive work, with Ski Bromont working on it every day. Deslandes promises that it will be ready by mid June, in time for two weeks of pre-riding before the July 2nd Canada Cup test run for the World Cup. The course will be more than one third longer than 2008, with a new climb at the start of the lap.

The other big change, according to Deslandes, is a redesign of the site layout.

"All three events will finish in the same area, but the courses are now completely independent, so we'll be to run practice and racing at the same time."

Clearly, plans are well underway to make Bromont bigger and better than ever!