June 16/09 18:04 pm - Second Annual Ride to Conquer Cancer Raises $14.5 Million

Posted by Editor on 06/16/09

In its second year, The Ride to Conquer Cancer has emerged as Canada's most successful cycling fundraiser. Yesterday, The Princess Margaret announced that 3,530 participants from across North America raised $14.5 million.

"I have spent most of my clinical career operating on patients who have cancer and I can assure that research has dramatically improved outcomes over the past 20 years," says Dr. Bob Bell, President and CEO, University Health Network. "Because of the support received through the Ride, we can help researchers at Canada's premier cancer research centre find the cures that will conquer cancer in our lifetime."

With the launch of The Ride to Conquer Cancer, The Princess Margaret can allocate crucial funds for its research arm, the Ontario Cancer Institute (OCI), which includes The Campbell Family Cancer Research Institute and The Campbell Family Institute for Breast Cancer Research. Dr. Benjamin Neel, Director of The Campbell Family Cancer Research Institute, and Dr. Mary Gospodarowicz, Medical Director of Princess Margaret Hospital Cancer Program, have a clear vision on where the money raised on The Ride to Conquer Cancer will be best utilized.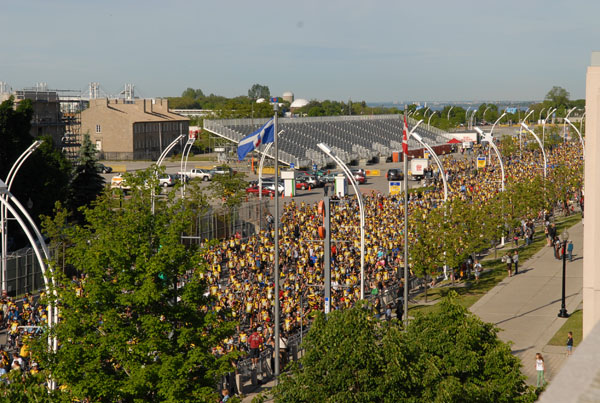 Photo courtesy Terry Trzecak
"I was attracted to Canada because of the unique research being conducted at The Princess Margaret, one of the top 5 cancer research centres in the world," states Dr. Benjamin Neel. "The Princess Margaret is home to 168 scientists who specialize in cancer research. While The Princess Margaret has established world-leading positions in areas such as cancer stem cells, tumour hypoxia/metabolism, radiation biology and image-guided therapeutics, modern cancer research is extremely expensive and labour intensive. To remain on the cutting edge, we need to continue to recruit and retain the best scientists, purchase the most modern equipment and fund high-risk, high-gain research projects that typically are not supported by other funding agencies."

Although improvements have been made over the past twenty years to treat the 200+ types of cancer, many still pose considerable challenges. In 2008 alone, there were an estimated 159,900 new cases of cancer diagnosed in Canada, with 72,700 resulting in death.

"The Ride to Conquer Cancer provides essential funding for The Campbell Family Cancer Research Institute at The Princess Margaret," says Paul Alofs, President and CEO of The Princess Margaret Hospital Foundation. "As Canada's largest cancer centre, we are committed to providing patients with the best possible care, breakthrough research designed to minimize the impact of treatment and passionate staff who truly believe that we can conquer cancer in our lifetime."

Swiss Chalet is the presenting sponsor for this second-year event. Other official event sponsors and suppliers include CTV, The Globe and Mail, Q107, 102.1 The Edge, AM640, Via Rail, Louis Garneau, Steamwhistle, IBM, Sobeys and East Dell Estates.

Register today for the 2010 Ride to Conquer Cancer event. There are some exciting new additions to the 2010 Ride. First, if you know you can't ride on June 12-13, 2010 but want to raise money for The Princess Margaret, you can still be a part of the event by doing it online, thanks to our new Virtual Rider Program! Or, if you want to challenge yourself with a longer route, we've added a 200-mile Double Century, while still offering the 200km Double Century route that has sold out the past two years. Both routes will share the same Start Line, Camp and Finish Line at Niagara Falls. For more information on all of these changes, please visit www.conquercancer.ca or phone (416) 815-RIDE (7433).