June 17/09 9:56 am - Shimano, Anthill Films Personalize MTB Technologies Through Online Video Campaign

Posted by Editor on 06/17/09

Shimano has teamed up with Anthill Films to produce a series of videos that uniquely showcase its 2009 mountain disc brake technologies through the eyes of some of the best in the sport. Appearing as a series of six themed videos that will debut online throughout 2009, Shimano team riders Andrew Shandro, Wade Simmons and Darcy Turenne are traveling the globe with the Anthill crew, hitting trails that put Shimano's mountain disc brake systems through the ringer and tell a unique story in each video. The second video debuts this month and can be viewed at Shimano's Web site and YouTube Channel.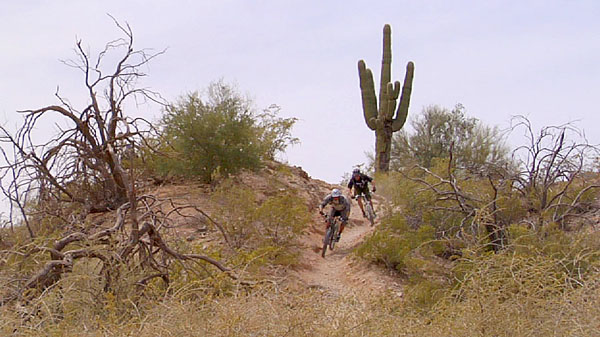 Viewers will see the riders push themselves and their Shimano goods to the limits through high-definition cinematography and unique point-of-view perspectives that provide a deeper connection to the athletes and the components they rely on. From North Shore bomber runs to epic single-track lines, the Anthill crew captures the thrilling action footage the filmmakers are known for while also capturing the athletes' personalities in each segment.

Served up like a six-course meal with wine pairings for each dish of single-track, the videos spotlight different components and themes, pairing the most ideal trails for the various brake systems in different locations all over the world. With 2009 being a big year for new Shimano mountain bike component introductions like the new SAINT and SLX components, the exciting new product and technology advancements are captured in the videos that cover themes ranging from power, to control and confidence.

The first and second video installments are available for viewing at Shimano's Web site and YouTube Channel, and through various media sites, blogs and online channels.

The collaboration with award-winning adventure filmmakers, Anthill Films, is a continued relationship for Shimano and Anthill company founders - the masterminds behind The Collective films. Shimano is the title sponsor of Anthill's first release, Follow Me, to debut in spring 2010. For more information about Shimano, please visit bike.shimano.com. For information about Anthill Films, visit www.anthillfilms.com
.