June 19/09 11:26 am - Blizzard Bike Club

Posted by Editoress on 06/19/09

June 18th, Fort St. John, BC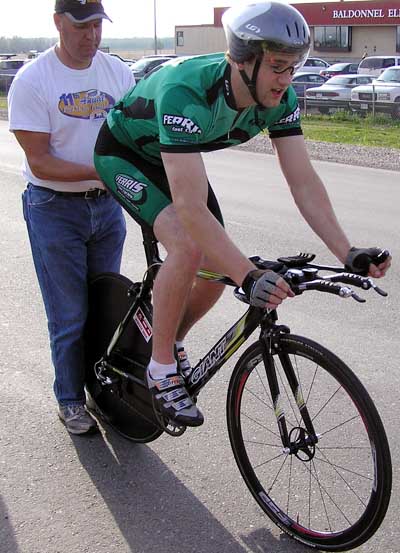 There was only 29 seconds separating the top four Baldonnel time trial times, Thursday, but Bob Andrews was the fastest with 25:14 to get the win. Pat Ferris was second, only 12 seconds back. Jake Elliott was third at 25:29 and Gilbert Bilodeau 4th at 25:43. Gord Harris was 5th at 26:10.

Simon Andrews was 6th at 27:44, Richard Wood 27:56, Barb Polehoykie 28:17, Kevin Shaw and Sam Keats tied at 28:19, Ken Nix 28:49, Floyd Polehoykie 29:14, Kevin Fell 30:00, Owen Giebelhaus 30:29, Melanie Chapple 32:03 and Lucie Brain 40:43.

Thanks to Hilda Bilodeau for timing!Coming up:-Challenge Cup mountain bike race in Grande Prairie Nordic Trails Park at 2 pm.-Locally, Cecil Lake road race at 10: 00 am-Stephen Ferris and Colter Young are doing the Banff Stage Race-Gord Harris and Adam Currie and doing the Ride to Conquer Cancer in Vancouver.