June 24/09 10:48 am - BC Superweek Adds Bissell Pro Cycling Team & New Pace Cars

Posted by Editor on 06/24/09

BC Superweek is adding some serious horsepower – both on and off the bike – this week.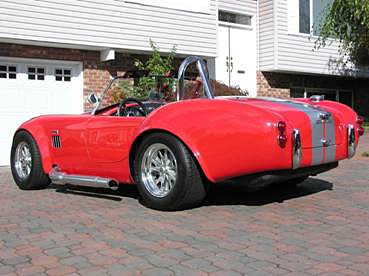 With plans to unveil a powerful AC Cobra as a pace car for the 2009 Tour de Delta during the sponsors reception and media event on Thursday, BC Superweek also received confirmation Tuesday that Bissell Pro Cycling is sending four top riders to Western Canada's biggest cycling races in mid-July.

Kirk O'Bee, a three-time U.S. national champion and past BC Superweek winner, tops the list of riders from a strong Bissell team that has already posted overall team wins at several top events, 17 individual victories and more than 100 top-10 finishes. Joining O'Bee at BC Superweek from a Bissell squad currently ranked No.2 in NRC (National Racing Calendar) standings are Pete Latham, Cody O'Reilly and Morgan Schmitt.

BC Superweek starts with three races at the Tour de Delta July 10-12, and wraps up with three more at the 30th anniversary of the Tour de White Rock July 17-19.

Sending riders north was an easy decision for Bissell Team Director Eric Wohlberg, a three-time Canadian Olympian with gold medals from the 1998 Pan Am and 1999 Commonwealth Games. Wohlberg raced BC Superweek with the Vancouver area-based Symmetrics Pro Cycling team, which isn't operating this year.

"A lot of the riders want to go up," Wohlberg said, pointing to $40,000 in prize money as one reason. "Teams and managers want to keep our riders happy. So even without any NRC sanctioning, there's always incentive for top riders to come up, just because of the great purses, racing and atmosphere. And a lot of us directors now have done the race in the past, know how good it is, and want to support the event as much as we can."

The support for BC Superweek extends to the sponsors who kept the races going at a time when some of the biggest cycling events in North America were being cancelled. It will be celebrated with Thursday evening at the Delta Town and Country Inn, including the unveiling of the new high-octane AC Cobras as the Tour de Delta pace cars, and an appearance by John Tolkamp, the President of the Canadian Cycling Association.

"I see positives of BC Superweek on a couple of fronts as far as rider development and raising the profile of cycling," says Tolkamp. "First, as a big event it gets the attention of the public and media, and second, it really is a good development opportunity for the teams and riders to see how they stack up against top North American competition, and also is a chance for those riders and team to get recognized at that level."

Like Tolkamp, Wohlberg knows how important BC Superweek is to Canadian cycling.

In addition to world-class riders like American Chris Horner, who won last year's Tour de White Rock Road Race after finishing 15th in the 2007 Tour de France, BC Superweek alumni includes Canadian Olympians Zach Bell, Svein Tuft, Brian Walton, Gina Grain, Erinne Willock, Alex Wrubleski, Alison Sydor, Eric Wohlberg, and Gord Fraser. The races have also been proving points for young local riders on their way up, a list that recently included Tuft and fellow Canadian Christian Meier, and Washington's Tyler Farrar, all now ProTour riders in Europe, with both Tuft and Farrar expected to join Horner at this year's Tour de France. BC Superweek was also an important step for locals like Whistler's Will Routley, North Vancouver's Andrew Pinfold, Tsawwassen's Cam Evans, Vancouver's Ryan Anderson and Burnaby's Zach Bell, who all moved to top pro teams in North America this year, and may return to BC Superweek this summer.

"BC Superweek has been a great stimulus for Canadian cycling," said Wohlberg. "With some of the best US riders and some of the best US teams coming up to compete, it gives a lot of Canadian riders a better picture into the cycling lifestyle. And all the best Canadian riders, we always tried to come back and try to bring up teammates out of, not an obligation, but just wanting to promote the sport in your home country.

"It has a lot to do with developing riders," continued Wohlberg. "Every time you win a race or are a factor in a race, people sit up and take notice, so that plays into the favour of Canadian riders. It's also a lot of good press, and a chance for riders to generate sponsor dollars if they do well up there also, because there are quite a few people that watch the races for sure. So I think there are several opportunities at BC Superweek."

Delta Major Lois Jackson, Michael Rothengatter (H&R Block-KONA) Kevin Noiles (Trek Red Truck) Jacob Schwingboth (Garneau Evolution)
BC Superweek starts with the $25,000 Tour de Delta July 10-12, kicking off with the MK Delta Prologue Friday, continuing with the Brenco Criterium Saturday, and the gruelling White Spot Road Race Sunday. Superweek wraps up with the 30th Tour de White Rock July 17-19, a challenging three-event weekend that starts with the Homelife Realty Hillclimb Friday and Maximum Collision Criterium Saturday, before wrapping up with the scenic and storied Peace Arch News Road Race Sunday.

For more BC Superweek information visit www.bcsuperweek.ca.