June 28/09 10:03 am - BC Bike Race Starts Today

Posted by Editoress on 06/28/09

Field of 400, Including Strong Pro Contingent, Ready to Drop Into BC Bike Race 2009

Photos from press conference


Months of preparation came to a head on Saturday morning as 400 racers converged on the Coast Hotel in downtown Vancouver to check in for the 3rd annual BC Bike Race.

With more than 70% of its revised 375 kilometre route comprised of singletrack, the seven-day event event has quickly become one of the most desirable mountain bike stages races in the industry. And if the long line ups at registration this morning were any indication, the attraction of southwestern BC's Ultimate Singletrack Experience is strong, despite the tough economic times.

The 2009 starting line up reflects some incredible elite talent that's guaranteed to spin an exciting week of racing.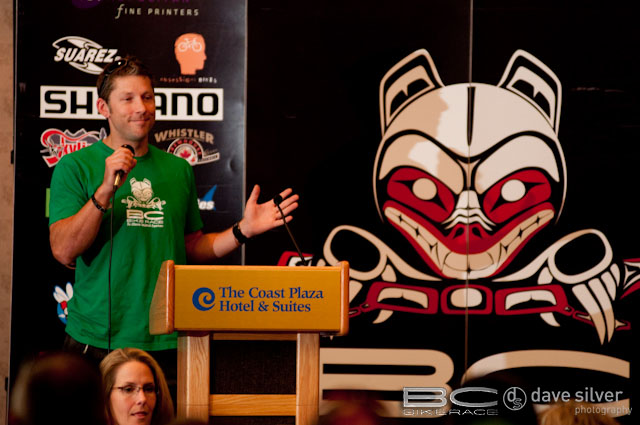 Andreas Hestler answers questions

All eyes will be on the Open Men category as BCBR 2008 champions Barry Wicks and Canadian Kris Sneddon (Team Kona) are back and looking to repeat. "It's cool to come back," said Sneddon, "to defend and ride some of the coolest singletrack trails in BC."

Teammate Barry Wicks, new to team-based stage races last year, explained the allure of the BC Bike Race event compared to his usual World Cup focus. "The World Cup is very important to me. Though it's what I focus on, an event like this is what mountain biking is all about. When you go out and ride with your friends you don't do 6km laps around the city. You want to get out into the backcountry and shred singletrack all day, and that's what the BC Bike Race is all about. You come up here and it's awesome riding, awesome people and just a super fun event..."

If the 2008 event is any indication, Wicks and Sneddon will have at least two other teams battling with them for the title. Team Trek's Chris Eatough, 6-time 24hr solo world champion, and Jeff Schalk, 2008 US enduro champion, are back for their third year and are gunning for a 2009 title to match their 2007 BCBR win.

After three years, what is it that keeps Team Trek coming back? "No other race gives us this much uality singletrack experience," said Eatough. "The daily coverage is great for our sponsors. The two person format is different and really not that common. And the challenge of the competition makes for a tremendous race: between teams Kona, Jamis, Trek and others it's going to be a great competition and we're looking forward to it."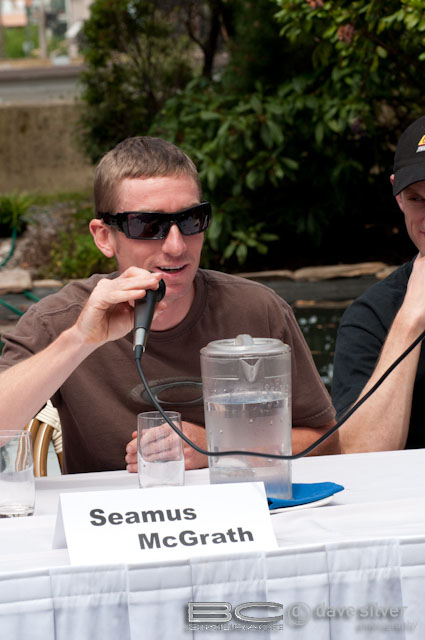 Last year Team Jamis, Canadian Olympian Seamus McGrath and his partner Team Santa Cruz Chris Sheppard, were out of the race before it had barely begun. McGrath suffered a devastating mechanical that left him minus a derailleur and running his bike as a singlespeed. Though their team overall status was DNF, they stayed in the race and claimed 3 stage wins during the week. And now Team Jamis / Santa Cruz is back, and hungry for redemption.

"Well last year the race was over in 5 minutes," explained McGrath, "and we're two Canadian boys, so it would be nice to win. These are our home stomping grounds so we are going for glory!"

The sometimes underrepresented women's field is showing an impressive turnout this year as well, including more than a dozen racers in the new solo category. Over in the team of 2 cat, there should be a hard-fought battle between Canadian Olympian Catherine Pendrell and her partner Katrina Nash 3X Olympian, Reigning US Short Track Champ of Team Luns and Team Maxxis-Rocky Mountain's Canadian mountain bike legend Alison Sydor and Lea Davison.

Though this is Pendrel's first stage race, she plans to learn on the fly, "This race has awesome singletrack. I'll learn from Katerina who did TransRockies last year."

With one stage race under her belt, Nash is grateful to travel in style for BCBR, "After TR last year, I'm more comfortable about stage racing. What's nice about this race is that you spend way more time on singeltrack rather than hiking. It will be great this year, as I started last year self-supported and evolved this year (through Team Luna) to staying in an RV and travelling with support."

To add to the excitement for 2009, organizers have slipped in a few major race route changes, including a North Vancouver Day 1 start rather than the Vancouver Island kick off of previous years. Though the new start line substantially simplifies pre- and post-race travel and transitions for racers, the real motivator was the legendary North Shore singletrack.

"This area is our backyard," boasted BC Bike Race President, Dean Payne. "And the Stage 1 course is the highlight tour of the best classic singletrack trails on the North Shore. I love this route - it's one of my absolute favourite mountain bike rides!"

Vancouver's North Shore is known for its steep, rooty, rocky terrain, peppered with man-made ladder and bridge features. This fact wasn't lost on racers as nervous energy filled the mandatory briefing room at the mention of North Shore classics like Severed, Bottle Top and Pipeline.

For racers like Chris Eatough, however, the North Vancouver start is a welcome addition. "It's good for me - I like technical riding and as gnarly as possible. So I'm excited about Day 1. It's a great showcase for the North Shore - it's not famous for gravel paths or easy trails, it's famous for downhill and gnarly descents. I hope people are ready for it because once they turn into that first downhill, they're in for a shock!"

Though some might be intimidated by the Day 1 riding, and find themselves walking around some of the trickier sections, it's early times yet. An interesting phenomenon happens at BC Bike Race - as the race week progresses...so do riders' skills. In fact, many racers leave the event much stronger physically and technically than when they arrived.

The fortunate few who've already test-ridden Stages 1-3 hint that these new additions could quickly become event favourites...rivalling even the Sunshine Coast's outrageously fun Stage 5, which has unofficially held the "That was the best day of riding, EVER!" title for two years. There's always been a quiet rivalry between BCBR course directors, and it seems that the new guys may have turned up the heat!

On Sunday at 10am at the North Vancouver start line marks the first pistol crack of the 2009 BC Bike Race.

Press release