July 4/09 14:37 pm - Specialized Global Product Launch 2010 - Road

Posted by Editoress on 07/4/09

by Mike Badyk

Specialized Bicycles invited Canadian Cyclist to the debut of their 2010 bicycles in Snowbird, Utah. The folks from Specialized are there for a few weeks, with the media being the first guests, followed by presentations to their dealers.
Photo gallery has additional shots

With the journalists on site, the focus was the higher end product. There were presentations from engineers and designers and, of course, the opportunity to ride some of the bikes. Before arrival you had to decide if you were going to focus on mountain or road bikes. There was so much to see that it was virtually impossible to do both. My focus was the mountain, but I did have a chance to do one brief road ride and also have a glimpse at some of the new road bikes.

Snowbird is a very beautiful ski resort on the outskirts of Salt Lake City. SLC is flat, but head south from the city centre and turn east up a canyon and you quickly enter some serious mountains. After climbing a winding road we were presented with a gorgeous facility nestled in a narrow valley, with massive snow capped peaks towering above.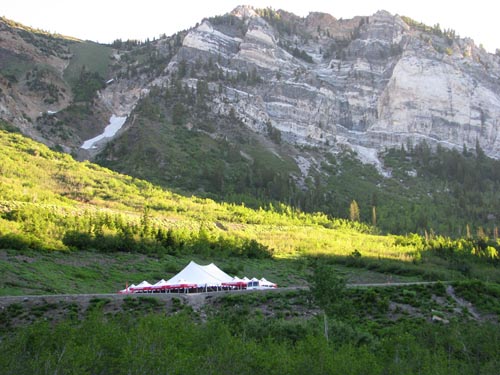 You immediately notice the altitude. At over 8000 feet above sea level, it was a chore to even get the luggage out of the van. Acclimation was the order of the whole event. There wasn't a lot of flat ground here either. You were either going up or down, no matter which way you headed. The nice thing is that Snowbird, which is very, very busy in the winter, is much quieter in the summer. The roads are lightly traveled, there are lots of mountain bike trails, and important for what we were doing there, lots of meeting rooms available for the presentations. The inside joke was that it was selected for its sheer absence of golfers.

Specialized set up one tent up above the resort for the demo road bikes and another below for the mountain bikes. Check out the photos to get an idea of the beauty of the location. Talk about a kid in the candy store. Make a request for the bike you wanted and the Specialized techies would set it up for you and away you went for a ride. Then go back and repeat as desired. Way fun.

There were a lot of different themes to this launch. So, instead of one massive article we're going to split it up into a series of pieces.

Road Bikes

As I mentioned in the intro to this series, I didn't have much time with the road bikes. I was able to get into the presentation room between talks to look at a few of them, and I did manage one short road ride the last morning I was at Snowbird. I would have loved to spend more time but it just wasn't possible with the mountain bike schedule that we had. That's too bad because there are some really sweet road bikes from Specialized.

Shiv
This was complete drool factor. I mean, it's highly unlikely that any of us journalists there would actually ride one of these things in real life, but, just like an ultra high end sports car, it looked fast sitting still and you can always dream. It also looks very aggressive in all carbon and black. The Specialized crew made a point of stating that it isn't for triathlons. It's made for cycling TT's only, based on positioning.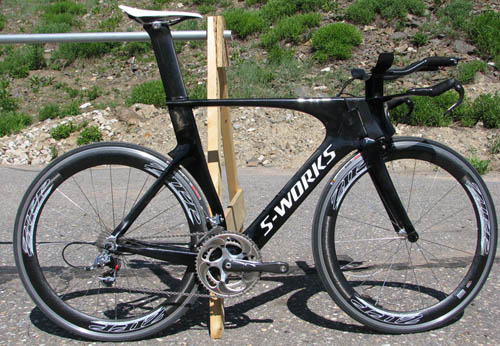 The Shiv is going to be available in the spring of 2010 in limited quantities. There will probably be only a few hundred made for the whole world. In other words, if you want to be a clone of Fabian Cancellara then you'd have to act pretty quickly. The Shiv is going to come in four sizes, but not measured in a conventional manner. The measurement is from the centre of the BB to the arm pads on the handlebar. A medium is going to weigh 7.5kg (16.5 pounds) which is very good.

The aero shape is fully UCI compliant. The Specialized techies claimed that it is actually 20% faster in a crosswind than a headwind. The shaping of the tubes would suggest that, but I'm basically taking it on their word. Even with the aero tubing the Shiv is the equal of the highly successful SL2 frameset in terms of stiffness. Pretty darned impressive. Components are mixture of Specialized and SRAM Red.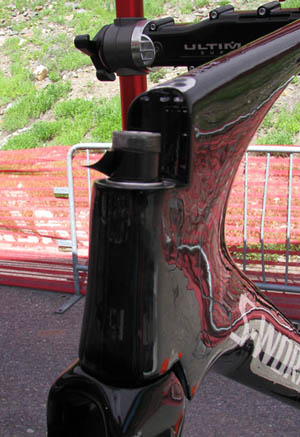 Visually it looks like most TT bikes, but the entire front end of the Shiv is absolutely unique. The handlebar, stem and front brake are all one unit that is bolted to the top of the fork. It's pretty hard to explain in words, so I hope that the photos do it justice. You have to do most of the brake adjustments before you install the assembly. You can adjust the pads up and down but that's about it once it's installed. Your position on the bar is adjusted by arm pad supports of different rise. In one of our photos there are no supports installed and you can see them in the second.

Price? No clue. It seems like one of those deals where if you have to ask then you can't afford it. We'll have to wait and see.
PS: Seems like the Shiv works well underneath Mr. Cancellera. Obviously a weapon of choice.
Tarmac
As I mentioned above, the SL2 road frame is one pretty slick item. Well, it's about to be dethroned in 2010. Welcome to the new S-Works Tarmac with the SL3 frameset. Although it doesn't look that different, the frame has been almost completely redone. There is a new carbon construction and it has become lighter yet.

The BB on the SL2 was plenty stiff, so for the SL3 Specialized set about improving torsional stiffness, with the end result of an 18% improvement over the SL2. And they made it lighter too. A production 56cm frame weighs 875 grams! I mean, this is getting silly. They managed to get a 153 gram savings in the combo of frame, fork, seatpost and crank. That brings the finished weight down to a UCI illegal 5.9 kg (13 pounds). I'm wondering if it will come with its own custom lead filled water bottle to make it legal for racing.

There are some really trick things going on with this bike. There is a tapered head tube with 1-1/8" bearing on top and 1.5" at the crown. And the bearing cups are carbon fiber too. There are internal ribs in the down tube and top tube near this large head tube. The chainstays are now one piece of carbon. The alloy dropouts are a hollow box section that are lighter and stronger than carbon.

The one on display was spec'd with SRAM Red but there were a small number in the demo fleet with Shimano DI2. Unfortunately, there weren't any large enough for me to test. Those that I spoke to that had a chance to go for a spin came away impressed with the bike overall.

Amira
With the Tarmac getting an upgrade, the women's side wasn't ignored. A very attractive S-Works Amira was on display. It's even lighter than the Tarmac. It is definitely a racing bike, but with a UCI imposed minimum weight I just don't know where it is going to be raced legally. Hot stuff at the local club ride though, so maybe that's where you'll see it. Although it benefits from the technology seen in the Tarmac it has its own unique tube set and the tapered head tube goes 1-1/8" down to 1-3/8". Another beautiful bike.

Roubaix
I'm not exactly a small person and there weren't a lot of road bikes available for me to ride. Fortunately, there was one XXL S-Works Roubaix for me to take out on a ride. I didn't have a lot of time so I pointed it up hill to the nearby town of Alta (Elevation 8400' Above sea level) and the literal end of the road. It's a heck of a way to start a warm up, with a pretty serious climb at this altitude, but this bike was an excellent choice. The Dura-Ace compact drivetrain performed flawlessly and this bike was plenty stiff during standing climbs.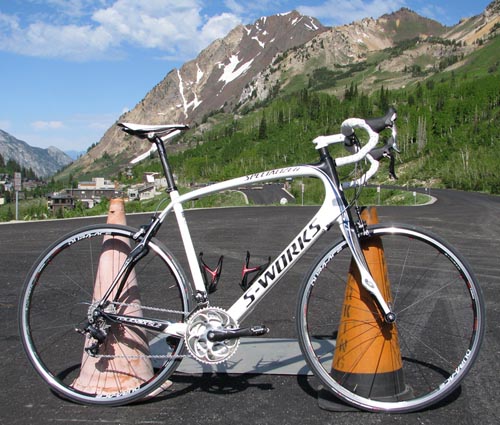 Once I got over the initial climb it was a steady gradual climb to the end of the road in this little ski town. I took a couple of pictures and headed back down the road past where I started to a bit lower in the valley. The road in Alta was freshly paved, but as I got lower it was pretty beat up, thanks to the harsh winters that they typically experience here. The addition of the Zertz elastomer inserts in the stays and fork did their wonderful job of taking the sting out of the bumps. It's a very enjoyable bike.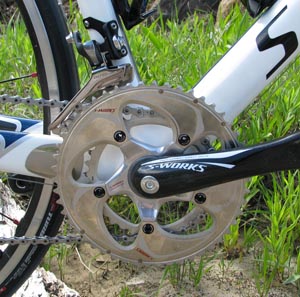 There aren't a lot of changes between 2009 and 2010 besides the cosmetics. There are now Dura-Ace carbon wheels and Specialized S-Works Turbo Tubeless tires. Anybody out there remember sew-up tubulars? The technology just keeps progressing. The ride was very nice from my limited experience. Everything was very smooth. To complete things a Specialized crank is used to shave even more weight. It's just a great bike overall and I wish I had more time to ride it.

Roulux
This bike is a work in progress. It actually wasn't part of the presentations, at least the ones that I saw, but thanks to having the good fortune of dining with Dr. Roger Minkow, one of the leader's of Specialized Body Geometry efforts (he came up with the groove in the saddle that is now everywhere), I was invited to see this bike.

The Roulux was invented to be the most ergonomic bicycle every produced and the first Specialized Body Geometry Bike. My invite to see it all came about because of my bad hands. I have lots of tendon damage in my fingers thanks to genetics and various injuries. Dr. Minkow asked me to come and look at the Roulux and some of its features.

When I arrived another journalist was sitting on the Roulux. He had suffered a compression fracture of his spine years ago and, for the most part, bicycle riding was a really difficult undertaking. Sitting on the bike he was put in a very different position than he would be on a conventional bike. The first thing I heard him say was that it felt comfortable.

When he got through it was my turn. Climbing on board my hands fell into a very natural feeling position on top of the ergonomically shaped grips. The best way I can describe it is to be sitting on a stool and then just extend your arm and hand forward to reach for something. It just comes naturally. Unfortunately these were the only prototypes in existence and thus a ride wasn't possible.

Despite the appearance of something like a fitness bike, they're designed to be an enthusiast's bike. In other words, they are made to go fast. They might even come with a deep-dish aero wheel if Dr. Minkow has his way.

The most noticeable feature, and perhaps one that strays the most from a conventional bike, is the handlebar. It just doesn't look like what we're used to on a fast bike. However, according to Dr. Minkow it is essential to eliminate the neck, back, arm and hand pain that many people experience.

Basically, he wants the ride on the Roulux to be as comfortable as possible in order to get more people on bikes. To add to the comfort there are elastomers in the fork and on the seat stays to provide about an inch of travel. The elastomers will be replaceable to tune the ride. There's one more detail to make it easier for people to get around by bike: on the downtube are a couple of little mirrors that allow you to see what's behind you without twisting around. Glance down and look between your legs instead. They work very well from my limited time astride the bike.

I'd really be interested in riding the final product. The Roulux could be an important step forward in getting more people on bikes.

Body Geometry
As can be illustrated by the Roulux and ergonomics built into many Specialized products, they are treating this aspect of design very seriously. I was expecting a rather dry and technical talk from Dr. Minkow and Dr. Andy Pruitt (renowned bike fit specialist), but it turned out to be highly entertaining and downright funny at times.

They started out talking about the history behind the Body Geometry saddles but before long they were talking about their efforts to fit the Saxo Bank pro road team on their Specialized bikes. Saxo Bank team manager Bjarne Riis has always been of the opinion that his riders needed to have their handlebars as low as possible to be as aerodynamic as possible. It took a lot of testing on his riders to convince him otherwise.

Using a couple of riders as examples their position before and after the BG fitting was illustrated with lines and arcs in both side and head on views. It was quite remarkable to see these images. It is hard to believe that raising a handlebar a couple of centimetres could actually make a rider up to 10% more aerodynamic thanks to improved back curvature and fit of the aero helmet onto the neck and upper back. Much of the humour in this talk was directed towards Riis and convincing him of the benefits of the Body Geometry system. Eventually Riis was won over to the system enough that he himself was fitted to a bike. He came back from a ride feeling fantastic and stated that he too was ready for a comeback to pro racing.

The benefits of Body Geometry are seen throughout the Specialized equipment and clothing lines. There are new road (and mountain) shoes with an assortment of footbeds to fine tune the fit. There are saddles, shorts, and gloves that are all designed to improve comfort and performance. It doesn't seem just to be a goal of Specialized but an underlying philosophy behind much of what they do. It's rather noble if you ask me.