July 17/09 17:48 pm - BC Juniors Getting Ready for Omloop Het Volk Junior UCI Race in Belgium

Posted by Editoress on 07/17/09

The following is a report compiled by some of the riders in Belgium and sent by Richard Wooles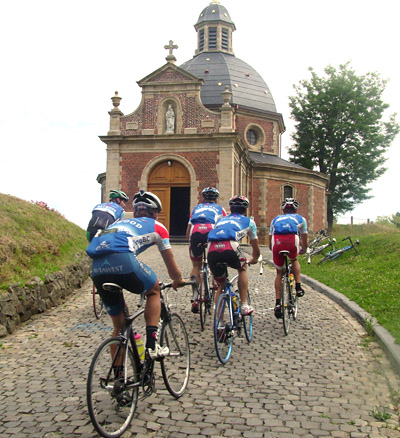 We finally made it to Oudenaarde, Belgium. After a very long travel day. Planes, trains, bus and bikes. Boris, Jacob, Ben, Kevin, Jeremy and I stumbled into the chain stay cycling hostel to meet Greg and Holly, owners of the chain stay after being up for more than 30 hours.
We are all very tired but excited to have made it in one piece with all of our luggage. We are all looking forward to racing later this week and really pumped to be here. Thanks again to everyone for making this happen - Craig Logan
Day 1 - Today we got our first taste of Belgian cobbles, crosswinds, and cafés! Still a little jet lagged, the guys were up between 6 am and 8 am this morning, piecing together the bikes in preparation for our first ride. We got out on the bikes and rode out and back on the local canal for a couple hours.
After spinning out the stiff legs from previous day of traveling , we topped off our first European cycling experience by hitting the centre of town and sitting down for espressos at a local café. At the café we bumped into a group of motorcycle riders testing sport bikes for a magazine and traded our road bikes for their 800cc sport bikes.
Though they refused to make this a permanent trade, everyone got a good laugh out of seeing 6 grown men in full leathers standing over our road bikes, while we sat fully kitted up on their sport bikes.
We finished off the day with a trip to the grocery store, and finely crafted dinner for all courtesy of Craig and myself. Overall first impressions of the town, area, and place we're staying are very good and all the guys are excited for the rest of the trip! - Boris Martin
Day 2 - Today we rode into Geraldsbergen, a town South-East of Oudenaarde. We rode through narrow meandering and twisty roads with some cobblestones, the kind we will be racing on which are definitely not seen at home. We needed to get used to it before we hit it at over 50km/h.
We rode up the Muur of Geraldsbergen, the decisive climb in the Tour of Flanders, which was our first taste at a cobblestone climb. It was totally new to us and were shocked at how much more power it takes to ride up cobbles.
After riding the top section multiple times, we descended back into town with rattled hands where we stopped at a local euro bikeshop. Some of us grabbed some euro cycling caps to fit right in and we were on our way. After riding to a little café, and back through town we ended up in Oudenaarde where we got back home and cleaned up. Thanks - Kevin Thorpe