July 22/09 16:29 pm - Thousands of Dollars Raised for Diabetes by Mountain Bikers!

Posted by Editoress on 07/22/09

Team Diabetes, represented by 60 mountain bikers, raced in the Test of Metal in Squamish, BC on June 20th and raised over $49,000 in support of the Canadian Diabetes Association! It was the first time that Team Diabetes participated in the Test of Metal and it proved to be even more of a success than anticipated.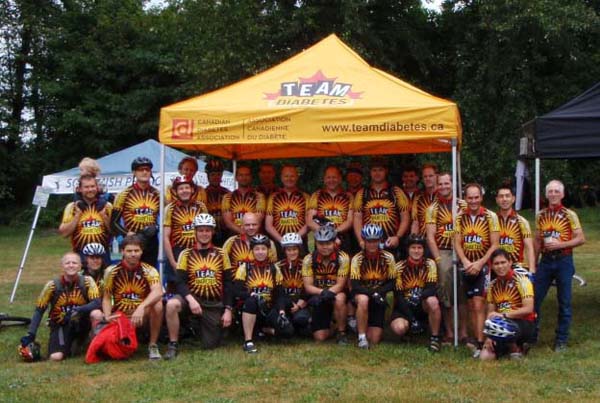 "Mountain bikers don't often get a chance to combine their love of single track with a great cause so adding the Test of Metal to the Team Diabetes calendar was a great opportunity," stated Rebecca Taylor, Team Diabetes Coordinator. "Working with the Test of Metal organizers was fantastic and we couldn't have done it without them and the provision of guaranteed race entry."

Most team members have a very close connection to diabetes and wearing the Team Diabetes jersey in support of their loved ones was motivation enough for them to tackle the infamous course, some for the first time.

"Being a part of Team Diabetes at the Test of Metal is a great opportunity to push myself outside of my comfort zone and to achieve stretch goals with the support of a fantastic group of dedicated people," said Suze Cumming, Test of Metal 2009 and 2010 Team Diabetes Team Member. "It's really rewarding to raise money for this amazing association, role model a healthy lifestyle for my daughter and others with diabetes, and achieve a personal best in a super fun mountain bike race," added Suze.
Team Diabetes has again secured a limited number of guaranteed spots for the 2010 Test of Metal so if you want to make a difference in the life of someone you know with diabetes at this epic event, register soon at www.teamdiabetes.ca as spots are filling fast!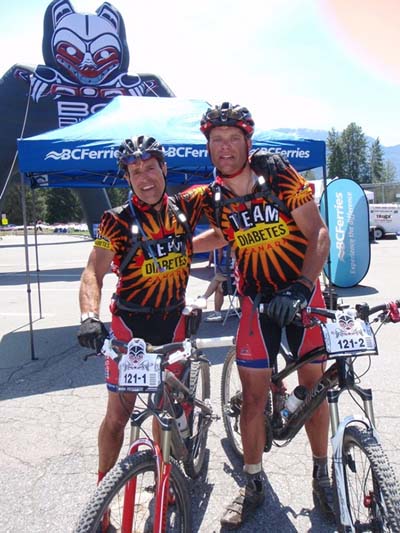 Soon after the Test of Metal another five mountain bikers also rode the challenging west coast trails as part of Team Diabetes at the BC Bike Race, June 28th to July 4th. Collectively they raised over $20,000 in support of the Association. They have also helped increase valuable awareness about diabetes in communities across Canada and even the USA.

"As a person with type 1 diabetes and the father of a young child who also has type 1, my athletic adventures are structured to remind me, my son and all others that diabetes does not need to slow us down," said Matthew White, 9th place finisher, Team of 2 Open Men with teammate Mark Henry. "In fact, we use diabetes as a challenge to be healthier and fitter than those without the disease. With that goal in mind it was wonderful that Team Diabetes gave us the opportunity to raise awareness and money for the cause. The generous support of all the donors to Team Diabetes motivated me to not only finish my first BC Bike Race, but to finish in the top 10," added Matthew proudly.

Team Diabetes will be returning to the BC Bike Race in 2010 as well as participating in other mountain biking and road cycling events in Canada and the USA. Participants who fundraise as part of Team Diabetes Canada enjoy benefits such as guaranteed race entry, a Team Diabetes cycling jersey, fundraising tools and support, and more.

About Team Diabetes

Team Diabetes is the national activity fundraising program for the Canadian Diabetes Association which promotes the health of Canadians through diabetes research, education, service and advocacy. Team Diabetes participants train to walk, run or cycle in events at exciting international destinations such as Rio, Reykjavik and the Grand Canyon as well as across Canada. Over $21million has been raised through Team Diabetes in support of the over 2.4 million Canadians living with diabetes.

Contact

For information on all cycling, running and hiking events Team Diabetes will be participating in next year, contact Rebecca at 604-732-1331 ext. 246 or rebecca.taylor@diabetes.ca or visit www.teamdiabetes.ca.