December 9/09 11:39 am - SANYO, JV Bike Present Vancouver a Sneak Preview of Eneloop Bike

Posted by Editoress on 12/9/09

With over 100km of bike paths, Vancouver will be the first Canadian city where SANYO eneloop bikes are sold.

SANYO Canada Inc. (SANYO), a subsidiary of SANYO Electric Co., Ltd., announces its Canadian west coast launch of the eneloop bike, an electric, pedal-assist bicycle, with a local Vancouver business, JV Bike.

The award-winning bike, which will be available in the rest of Canada for spring 2010, features an electric motor to provide assistance to the rider's pedaling and will be available at JV Bike this season.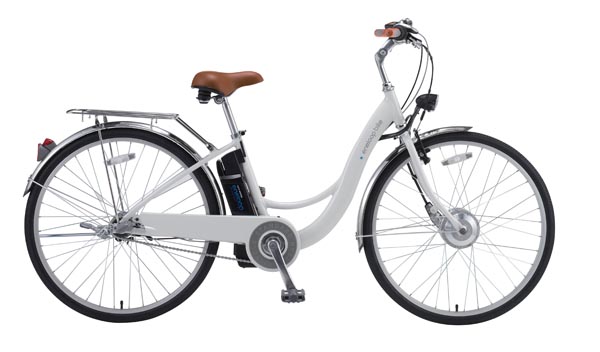 Though SANYO is recognized for its consumer electronics and leadership in the manufacturing of rechargeable batteries and high grade solar panels, the company has been a producer of electric pedal-assist bicycles for more than 10 years.

The SANYO 'eneloop bike' features a powerful pedal-assist ratio of up to 1:2 and a "Loop Charge" function that allows regenerative braking and downhill coasting to charge the battery while riding. The bikes also feature multiple power modes, three available speeds, and a two-wheel driving system that makes for a smoother, more stable ride. This allows riders to pedal for long distances with minimal exertion, even up hills and other steep inclines, making them ideal for commuters, leisure riders and 'zoomers,' baby boomers who lead active lifestyles.

The electric-assist features of the eneloop bike make it a perfect fit for JV Bike, a local bike shop situated in downtown Vancouver that sells both traditional bikes as well as several alternative forms of two and three-wheel transportation, including performance commuters, cruisers and tricycles.

"We are really proud to be the first Canadian Dealer offering the eneloop bike" said Janko Veselinovic, owner of JV Bike. "We are excited about this bicycle because of its light weight, high-quality lithium-ion battery, and unique way of automatically capturing back the energy while braking or coasting downhill."

With a central location, JV Bike is accessible via several bike paths, which connect to the Seaside Bicycle Route and the Stanley Park Seawall. With over 100 kilometers of bike paths in Vancouver, JV Bike provides sales, repair services and bike rentals in its mission of introducing environmentally sound and healthy transportation alternatives.

Part of a larger series of products, the 'eneloop bike' is grouped with SANYO's other reusable energy-based products in the 'eneloop universe. ' Designed with the same fundamental concept as the revolutionary 'eneloop' battery, the products in the 'eneloop universe' are designed to encourage consumers to develop lifestyles that value reusing and recycling. The 'eneloop' rechargeable battery is already available in Canada and can withstand one thousand charges and retain 85% of its charge if left unused for one year.

These and other energy and environment-related products are part of SANYO's global brand vision, "Think GAIA, " which recognizes the interdependence of both those living things on the Earth, as well as the Earth itself. With this vision, SANYO strives to reduce the footprint of current products, minimize packaging requirements, and introduce new energy-saving products to the market place to encourage others to take responsibility in a more sustainable world.

Available in the rest of Canada in the spring of 2010, the 'eneloop bike' has already received considerable interest in markets across the country, continent and the world. Most recently, the SANYO hybrid pedal-assist eneloop bike earned a 2010 Consumer Electronics Show Best of Innovations award having received the highest overall score in the Eco-Design and Sustainable Technology category.