February 9/10 9:48 am - Blizzard Bike Club Announces 2010 schedule

Posted by Editoress on 02/9/10

The Blizzard Bike announced its 2010 race calendar, this week, with 96 road, mountain, duathlon and cyclo cross events available. The first event goes March 7 with the tough, early season Baldonnel handicapped start road race. Last event is October 30.

The Blizzards will defend their Challenge Cup against Grande Prairie and Dawson Creek in 9 races, held throughout the year.

The event breakdown includes 28 time trials, 14 Cyclo cross races, 22 mountain bike races, 6 duathlons, 1 triathlon, 4 hill climbs and 15 massed start road events.

Rides with the club coaches will start in June and will have 10 weekly sessions. Winter turbo training continues two days per week until the end of March and (hopefully) spring weather is here.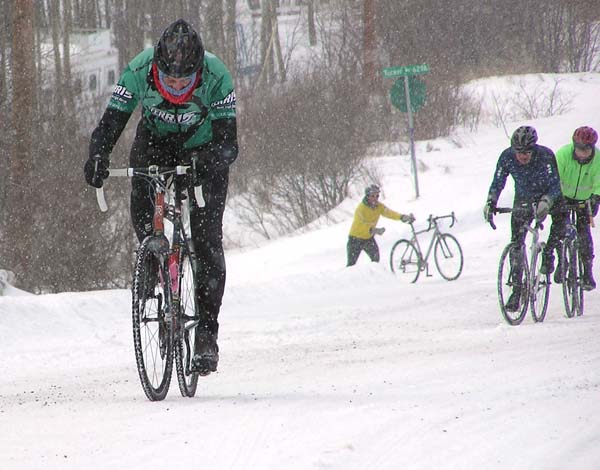 A wintery March Roubaix Cup race
Local cyclists will also be doing the BC Summer Games (Langley), BC Seniors Games (Comox) and the National Road Championships being held in Edmonton, this year.
Club triathletes will be doing the regional triathlon series as well as the Penticton Ironman.
The Dawson Creek – Snake Pit road race May 30 will do double duty as the selection race for the BC Summer Games as well as the BC Seniors Games. Blizzard club riders have brought home 45 Provincial medals and 42 BC Summer Games medals over the years.
The mountain bike races were greatly expanded to 22 events on the club's new 'Beatton Cactus' circuit.

A few new Sunday race start times and new race circuits will be introduced. The King/Queen of Spring and spring 15 Mile time trials will be moved to the Old Montney Highway from the Upper Pine Road.

A new inter club cyclo cross event , the 'Grande Prestige Series' will be introduced with one race in Grande Prairie and the other in FSJ.

The Blizzard Bike Club is in its 28th year of existence, having started in 1982. Last year's membership was 85 members.

Go see Ferris Fast Cycles for more information. All it will cost you is a $40 club annual membership to take part in these events.

If you are interesting in some fun and want to learn how to bike in a recreational atmosphere, the Blizzards are for you! The club schedule, news and events are available at www.ferrisfastcycles.com