February 11/10 12:02 pm - Winter Bike Racing Returns to Niagara

Posted by Editoress on 02/11/10

"As a racer, I really couldn't have asked for more. Fantastic course, professional registration and venue, great food, awesome marshals... I could go on and on. If this first year is any indication, this event will just keep on growing and turn into another Ontario must-do race." said Marc Risdale of the Hamilton Cycling Club on the first winter mountain bike race, The Frostbike, which was held in Port Colborne on February 7, 2010.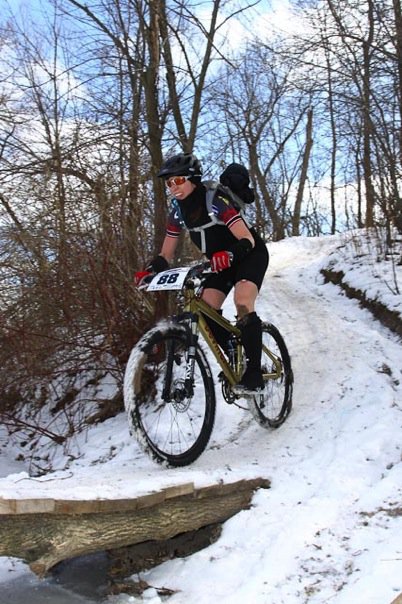 Competitors traveled from across southern Ontario and the Western New York to enjoy expertly groomed trails, the comradery of fellow hard core mountain bikers and an abundance of prizes from Niagara bike shops. The cycling event was a part of Port Colborne's 10th annual Winter Sportsfest, a community celebration that raises money for local charities.

The Frostbike, a modified time trial event with three riders per wave, allowed competitors to select who they raced against and provided two laps of the course to produce the best time. The first riders left the start gate at 11:00 am. Upon the completion of the course riders and volunteers were treated to a chili lunch at nearby Funky Monkey Bar & Grill where awards were given. Top riders of the day were Andrew DeCal from St. Catharines, top male finisher at 37:01, and Sara Byers-Ogilvie also of St. Catharines who placed top female with a time of 44:16.

"It was a great race and an amazing day. The course was great and the Funky Monkey was a great host. Nothing but really positive feedback." remarked Jean-Claude Roberge who took third in the male aged 30 to 45 category.

An appearance was made by El Nino, aka Todd Fiore from Hamburg, New York, decked out in a vibrant red cape and luchador mask. Fiore commented, "I think I speak for all the WNY crew when I say thanks so much SHCC and all the crew. We all had a great time. It's great to see such a well run race within driving distance and this time of year. Looking forward to many more!"

Race results include: Top male - Andrew DeCal. Top female - Sara Byers-Ogilvie. Female 35 and under - Jenn Smith 1st; Bonnie Symes 2nd; Amanda Schottlander 3rd. Female over 35 - Melinda Davie 1st; Sara Lee 2nd; Kim Jones 3rd. Male under 30 - Brandon Etzl 1st; A.J. Kendrick 2nd; Ryan Jakob 3rd. Male 30 to 35 - Derek MacAulay 1st; Steve deBoer 2nd; Jean-Claude Roberge 3rd. Male 45 and over - Al Davis 1st; Carl Clarke 2nd; Tim Sparrow 3rd.

Wade Smith, event organizer summed up the day, "I had a great time, getting the opportunity to race on trails you had a hand in creating is the best feeling ever...Thanks to all those that helped make it a race that has set a high bar for us next year." Cyclists can look forward to the ShortHills Cycling club's main event, the second Canal Days Mountain Bike Race (CDMBR) on August 1st which takes place on a larger scale than The Frostbike.

"I think we can say the race was a complete success and that the SHCC has officially set the new standard for winter mountain bike racing in Niagara.", stated Tim Lee, President of the ShortHills Cycling Club.
For complete results and photos visit the official website at www.thefrostbike.com
Press release