February 11/10 12:25 pm - CCA's LA Pursuit Camp - Day 4

Posted by Editoress on 02/11/10

Skills, Drills and Grinning Affect Track Athletes

It was back to basics for the Canadian track athletes in LA as they tested their skills by doing some drills. "We would weave around (the cones) as smooth as possible, then next time around we weaved around the cones with one hand on the bar, then with one foot pedaling, and even one hand one foot! To finish it off we did some track stands high up on the track to see who had the best balance, with the losers having to do pushups," commented Tim Sherstobitoff who enjoyed the fun and entertained the coaches with the facial expressions that resulted from his concentration.
Julia Bradley also enjoyed the session and the laughs that it brought on, but there was more work to be done. "We worked on pacing for Team Pursuit - not too fast, not too slow, just right was the order of the day … It's also really nice to see a couple young women at the camp mixing it up with the rest of the team. This is the third training camp that I've been to in LA over the last 3 months and it is very motivating to feel myself improving and moving forward and to see the other riders on the team doing the same."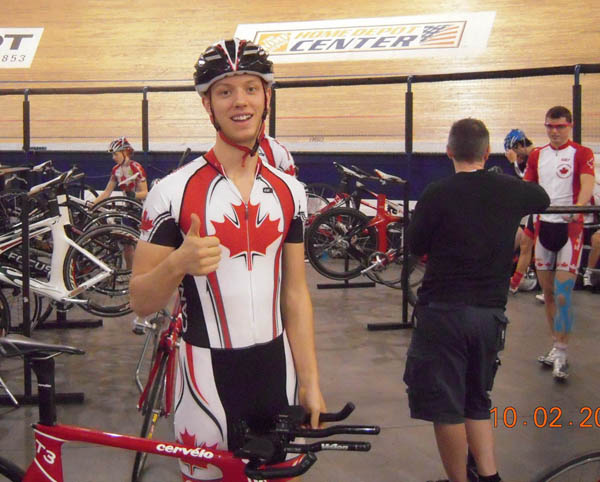 Jacob Schwingboth
When the following tune is being sung in the Home Depot Centre - "When the moon hits your eye, like a big pizza pie..." it can mean only one thing, Jacob Schwingboth is in the house, and once again, he has failed to learn the lyrics to any other song. He was, however, able to hold the exact pace time that was set for each lap while grinning ear to ear, but "It was hard … to bring it in and hold the same speed. The tendency was to bring it up too quickly. But toward the end of the session it looks like everyone one was settling in and was able to find the right pace … We also (did some drills) to get used to moving around the pack in close quarters. Being efficient in the pack is a great skill, because in most races it's not the strongest rider that walks away with a win."

The athletes have been working on their training as well as on their recovery. Tim partnered with Daniele Defranceschi for a daily ritual to keep their legs fresh and flushed, "the night before (training) I fill up any container I can find with water and put it in the freezer. When we get back to the hotel after our track day I fill up my bathtub with cold water and load it up with ice, and Danieli next door fills his tub up with hot water, and sometimes bubbles for added effect … and alternate 5 minutes in each tub. 3 times in the cold usually does the trick to help the legs recover."

Conan Cooper attended the camp as a development coaching opportunity and did his best to survive Jacob's singing. "This has been a great experience for me. It seems little known that coaches develop right alongside athletes, and opportunities provided by camps like this are exactly what we need in Canada to build a tier of coaches working with our top junior and elite athletes back in their home towns. Heading back to Calgary, I'm about to start up a new junior development program on the track, looking to build our seen and unseen talent form Alberta. My experience working with (CCA Staff) Richard Wooles, Tanya Dubnicoff, and John Evans is a measure for myself, and invaluable when I work solo back home. I'm excited again about the future for track cycling in Canada."

Any athlete or coach who would like to become more involved in the Canadian Cycling Association program is encouraged to contact Petrina at track@canadian-cycling.com.