February 12/10 14:39 pm - National Track Riders Improve at Los Angeles Camp

Posted by Editoress on 02/12/10

The athletes were faced with flying kilos on the last day of the CCA track training camp in LA. After 4 days of hard work they dug deep to pull out some impressive times with several riders going under one minute. Remi Pelletier-Roy, who was participating in his first CCA camp in LA, "felt good over the week and I was able to show some good speed. I really appreciate my experience here, riding with good track cyclists and learning a lot on the track and off the track ... I'll go back home (knowing) what to work on and come back with better technique and more power."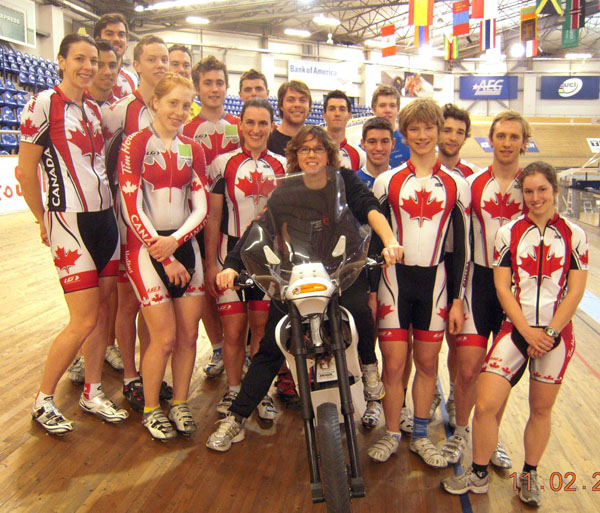 Team with Moto
Mark MacDonald, a member of the Canadian team pursuit squad that raced to a new Canadian record at the Cali World Cup in December, found it "encouraging to see that after a hard week of training we're still able to go faster than we have in previous camps. Our technique is improving to the point where it feels natural to ride at speed in the group. We developed some good habits early on that make it easier to go fast now."

Some riders spent the week testing out new equipment too. Alex Cataford, who is aiming to be a member of the Canadian team heading to the Junior World Championships in August, was one of them. "Today was only the fifth day that I rode my new Cervelo track bike, which was built up the night before I flew out to L.A. The new bike was quite a treat to ride on the world class velodrome and demonstrated that it was truly a world class bike. The handling, stiffness and aerodynamics of this bike will surely give me the upper hand on the competition for the following season."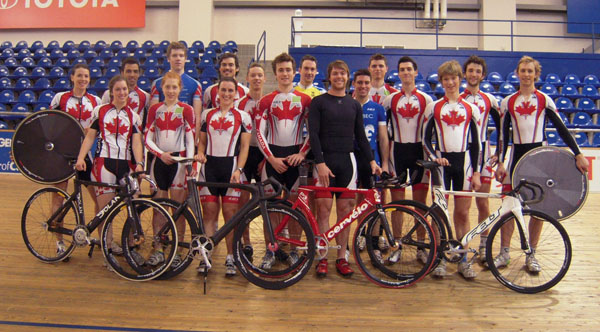 LA Team
The next event for the Canadian Track Program will be the World Championships in Copenhagen March 24-28. The team will be named next week. Also due to be released by the end of the month will be the selection criteria for the Panamerican Championships in May, 2010, and Junior Worlds in Montichiari, Italy in August, 2010.

Questions or requests regarding Canadian Track Cycling can be directed to Petrina Tulissi, CCA Track Coordinator at track@canadian-cycling.com, and check out the CCA website for information about all cycling disciplines at www.canadian-cycling.com.
Jean-Michel Lachance