March 6/13 18:12 pm - SmartStop-Mountain Khakis Team Launch

Posted by Editoress on 03/6/13

We announced in December that Canadian Criterium Champion Ben Chaddock would be joining the SmartStop-Mountain Khakis team for 2013 (see our Interview with Ben Chaddock and the Official Roster Announcement), but Sunday the team introduced the 2013 squad in their new kit, and our photographer Jon Safka was there to capture Ben and the rest of the team. Below is the official announcement and photos:

The SmartStop-Mountain Khakis Professional Cycling Team is back and better than ever. The new 2013 team is ready to race professionally at the national and international levels. Team SmartStop, presented by Mountain Khakis, is excited to announce the signing of current Canadian national criterium champion Ben Chaddock for the 2013 season. Already a proven winner and podium contender in major criteriums, Chaddock's goals for 2013 include focusing on stage wins at major NRC stage races and one-day classics-style races such as the Philadelphia International Championship.
Ben Chaddock is introduced
Chaddock is a latecomer to cycling, having discovered the sport while a student at Washington's Whitman College, after walking away from a career as a downhill ski racer with Olympic aspirations due to childhood asthma. Now 28, Chaddock believes that both the experience of living with asthma and having been a top competitor in another sport prepared him well for the stresses of travel and training endured on the professional cycling circuit. In an effort to spread his message of fitness, positive goal setting and overcoming asthma, Chaddock has established the B.I.K.E.S foundation and does regular outreach work with schoolchildren, offering them exposure to sport and exercise as a way to live a healthy, balanced life, and to develop goal-setting skills.

"We are looking forward to a great season, and are extremely proud of all our past and future riders," said H. Michael Schwartz, chairman and CEO of SmartStop Self Storage, the retail brand for Strategic Storage Trust, Inc. "We are honored Ben joined the 2013 team, as he is going to contribute to our success both on the road and in the community."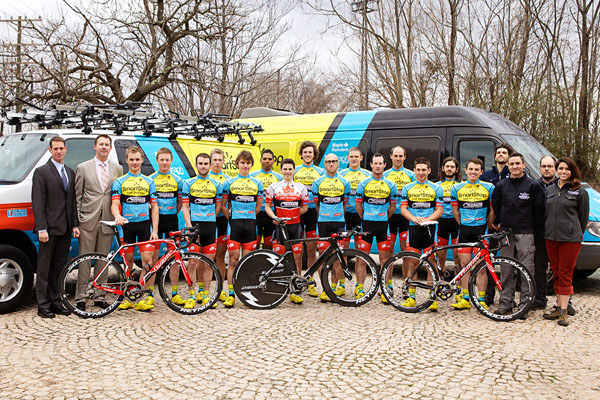 (L to R) Patrick Raines, James Bennett, Isaac Howe, Daniel Patten, Thomas Brown, Shane Kline, Christopher Uberti, Frank Travieso, Ben Chaddock, Travis Livermon, Adam Myerson, Jackie Simes, Clay Murfet, Bobby Lea, Chris Monteleone, Jon Hamblen, Curtis Winsor, Nathaniel Ward, Joseph Carpisassi, Chris Kreidl, and Sara Engen.
In addition, the SmartStop-Mountain Khakis Cycling Team recently secured a new sponsor - Italian bicycle maker Wilier Triestina.

"We are excited to work with the SmartStop-Mountain Khakis team, as they are a consistently top-level U.S. program," said Wilier USA President Angelo Cilli. "There was no way we could pass up the chance to work with riders like two-time Olympian Bobby Lea, Jackie Simes, the inimitable Adam Myerson, and Chaddock."

Team SmartStop-Mountain Khakis enters the 2013 season with a roster balanced by experienced, seasoned professionals and young riders still proving themselves on the pro circuit. This unique balance of experience, and the mentorship it offers, alongside youthful talent and enthusiasm, has proven to be a winning formula for this team. Team SmartStop-Mountain Khakis is proud to announce its 2013 riders:

• Thomas Brown (Winner 2011 Labor Day Omnium Criterium, NRC)

• Ben Chaddock (Canadian Criterium Champion)

• Jon Hamblen

• Isaac Howe (Winner 2012 USA Crits Old Pueblo Gran Prix; winner 2012 Sunny King Criterium)

• Shane Kline (Winner 2012 Ladera Ranch GP Criterium)

• Travis Livermon (2nd place 2012 Chris Thater Memorial Crit, NCC)

• Bobby Lea (two-time Olympian on the track)

• Chris Monteleone

• Clay Murfet

• Adam Myerson

• Daniel Patten (winner 2012 Wambeek-Ternat in Belgium)

• Jackie Simes (winner 2012 Glencoe Grand Prix)

• Frank Travieso (winner 2012 Beaufort Memorial Classic)

• Chris Uberti

• Curtis Winsor

In 2012, the team finished second in the country for the season-long NCC competition, being beaten only by international powerhouse United Health Care team. In addition, cyclist Luke Keough won the overall classification at the USA Crits series and also took the victory in the legendary Athens Twilight Crit, as well as the Tour Of Somerville, America's oldest bike race. Also, cyclist Ben Zawacki brought the team an impressive pair of victories early in the season with his win in the USA Crits series opener in Del Rey Beach, Fla.