April 5/14 9:46 am - Pan Am MTB Championship Reports - Mikaela Kofman & Derek Zandstra

Posted by Editoress on 04/5/14

Scott-3Rox riders Mikaela Kofman and Derek Zandstra were part of the Canadian team that competed last month at the Continental Mountain Bike Championships in Barbacena, Brazil. Kofman was second in the Elite wmen and Zandstra fourth in the Elite men (after a crash). Here are their reports from the project:

Mikaela Kofman

The trip to Brazil was definitely a lot longer than expected. In addition to spending 15 hours on a plane we had to travel into the mountains where the race was held in Barbacena, Brazil; a small town 300 kilometres north of Rio de Janeiro. As with typical South American travel, the bus ride which should have taken upwards of three and a half hours took almost seven. It was a long 36 hours but well worth it when we arrived at our quaint hotel that was set in a majestic forest outside of the city of Barbacena.

Anxious to get on course the following day, it was instantly obvious once the team got riding that the heat was going to be a major factor in the race; with the humidity the temperature was 35+ degrees. The course had a ton of climbing, both long sustained and short/steep which were broken up by technical features that had been built by the organizers. It was very fun, fast and technical and reminded me a lot of the Pietermaritzburg World Cup. I had the course dialled, I just knew that if I raced smart and could control my body temperature I would be able to contest a medal in the race.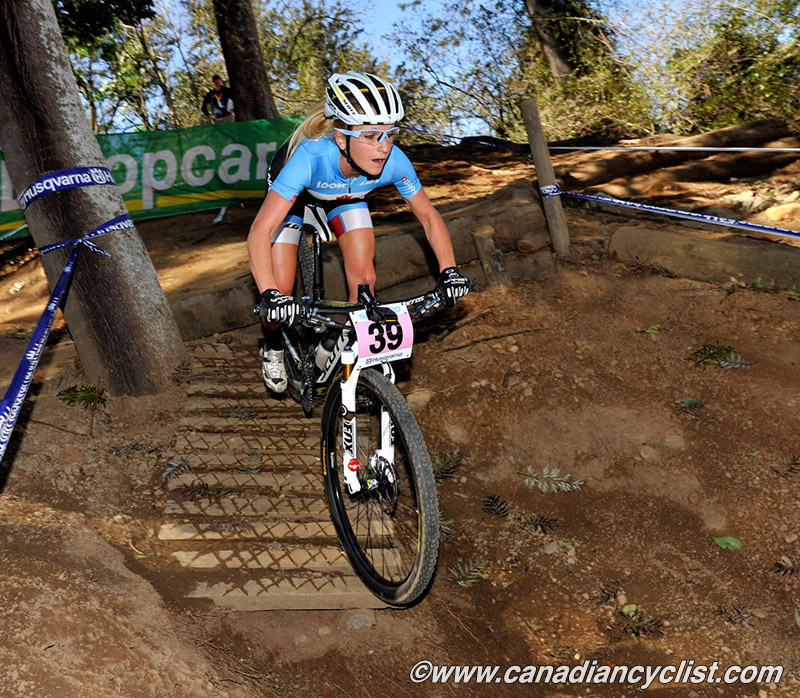 Mikaela Kofman, at the 2013 World Champs in South Africa
The elite women's race started at 1:00 pm and it was undoubtably the hottest race of the day. It was intimidating seeing the Americans warm up with their fancy "ice vests" when all I had was a bag of ice and a cold cloth; I knew they would be strong because they already had their core temperatures in check and I felt like I was melting. The race started at a blazing pace as Mary Mcconeloug took off from the go and quickly put a minute gap on the chase group. I wasn't sure if she could maintain the pace but I kept with my race plan and remained steady and calm.

The race was longer than normal (6 laps) and I knew that my competitors would start to fade as the climbs added up and the heat increased. In the end, my race plan was a success as I watched my competitors fatigue. I am over the moon to walk away with another silver medal at the Pan American Championships ... this is a great stepping stone for the 2014 season.


Derek Zandstra

Pan Am Champions were held in Barbacena, Brazil. Mikaela and I opted to stay in California after the 2 US Pro XCT events. It is a long haul to South America, with a 3-hour flight to Houston and then a 10.5 hour flight to Rio De Janeiro. We arrived in the morning after a surprisingly relaxing flight - that felt short. There was enough time to watch a movie, eat and the get some decent sleep. Most of us (Team Canada) were all on the same flight - so that made it easy once we got to Brazil. After about a hour at the airport our team and the USA team got on a bus for a long ride that took about 6 hours to get from Rio to Barbacena.

Our team stayed in a motel that was kind of like a KOA, with different buildings all over the property. It was nice to hang out with all North Americans, and we ate all our meals together. The race venue was just over a 30 minute bike ride to and from. There was a bus shuttle but we never relied on it. The only day I was planning on taking it, was race day. And as expected, it never showed, so we ended up riding to the race. And from my past experience with Pan-Am Champs I was prepared for it.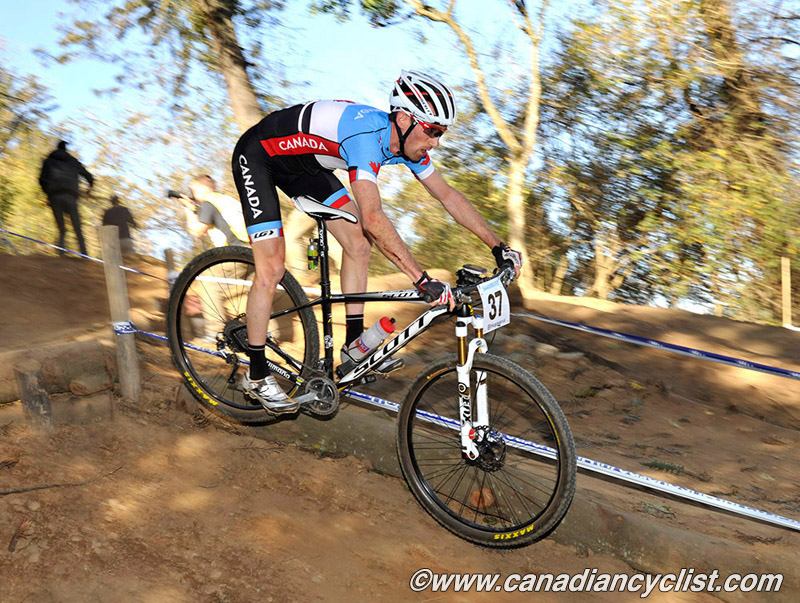 Derek Zandstra, at the 2013 World Champs in South Africa

The weather is like an Ontario summer; muggy, hot and humid. We only had 2 days on course before the race which was sufficient for me. The course was pretty demanding with one long steep climb, a somewhat fast easy descent, a couple of double gap jumps (that I thought most of us were clearing), 2 rock gardens and then a bunch of short steep climbs to hurt the legs. The ground was rock hard clay, so rain would make it like ice.

The men had to do 7 laps which took under 15 minutes a lap. It was a pretty tough day. Five of us got away and and then that shattered at about halfway through. It was still pretty tight with 3 of us all being within 20 seconds. On the last 2 laps, it started to rain and it got slick fast!! I ended up in 4th, a little disappointed with how everything went down, but that's racing. I guess that just makes me more hungry for the next one.