April 11/14 12:53 pm - Pietermaritzburg World Cup: DH Qualifying report and photos

Posted by Editoress on 04/11/14

American Aaron Gwin (Specialized Racing Downhill) produced the quickest time in the men's downhill qualifying at the opening round of World Cup in Pietermaritzburg, South Africa, on Friday, finishing two and a half seconds ahead of Santa Cruz Syndicate duo of Josh Bryceland and Pietermaritzburg's own world champion Greg Minnaar.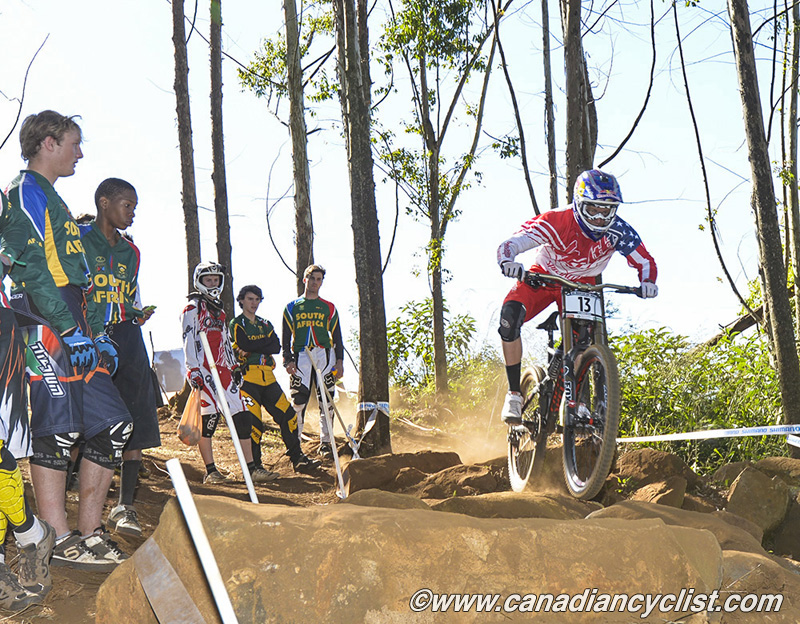 Aaron Gwin set the best time in qualifying
"It feels good to be top but that run didn't feel good," Gwin commented. "There is always a burn but it was a smooth run with a couple of bobbles that I know I can clean up so I'm just trying to keep the train rolling here."

Having just come out of a long winter in the northern hemisphere Gwin is having to budget his time and energy in the opening event of the 2014 World Cup and giving himself a chance in the final on Saturday is the most important element on such a physically demanding course.

"I'm feeling good and the bike is awesome this week so I am very happy.

"I think that it's all about trying to save your legs for this one and throw it down when it counts. We have been putting in the work and so if I can put in the run that I know I can I think I will be really happy," Gwin explained.

Defending men's downhill World Champion Greg Minnaar, who won the world title here last fall, came through the timed runs on Thursday as the fastest, but was outgunned by the American and his teammate Bryceland.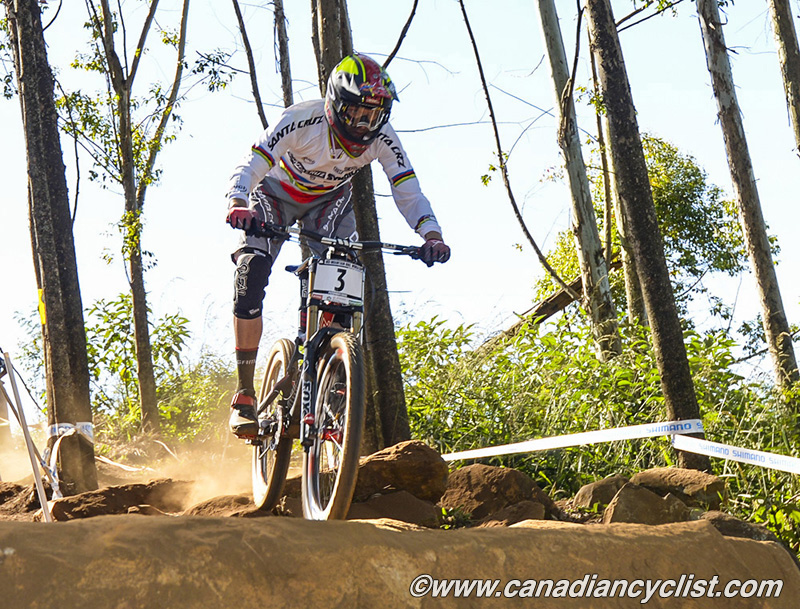 Greg Minnaar
"My plan was to come here and be as competitive as possible and that's the way I came into it and it's been a good start to the season, but Saturday is going to be a different race. So far I am pretty happy with how it has started."

Minnaar is on the mend from a serious knee surgery.

"I'm just racing, I'm not really worrying about the injury. I have taken all the precautions that I can and now I'm just struggling with time on the bike, I haven't had as much time on the bike as everyone else and up top I am a bit slow but I have got fitness and determination so that will get me down!

"You say you not going to put pressure on yourself coming into the event but you want to race and win so you have to forget about everything and just focus on that race," a focused but tired Minnaar added after qualifying.

Hutchinson UR rider Mick Hannah ended well off the pace after he suffered a mechanical at the top of the course and had to settle for a more relaxed run down the course, but he automatically qualifies for the final due to his UCI ranking.

"In the top section I must have clipped a rock or something and had no rear brake going into one of the scarier little turns so I just hung on to it and got myself to a stop and then just cruised down slow and tried to stay out of the way of people."

"It's just a mechanical, so there weren't any mind games or anything and I have been doing my own times so I know how quick I am so it's a good thing that nobody knows the times we can do!" he mentioned light-heartedly.

Gee Atherton, who was second overall in the World Cup last year, finished well back, after crashing, but is also a protected rider.

Women's Downhill World Champion Rachel Atherton of the GT Factory Racing team was on a IV drip 24 hours prior to her getting onto the track for the women's qualifying and still managed to come in second place behind fellow Brit Manon Carpenter (Madison Saracen Factory Racing) with Emmeline Ragot (Lapierre Gravity Republic) claiming the third spot. Canadian champion Micayla Gatto (Pivot Factory DH) qualified 10th and Casey Brown (Bergamont Hayes) was 11th.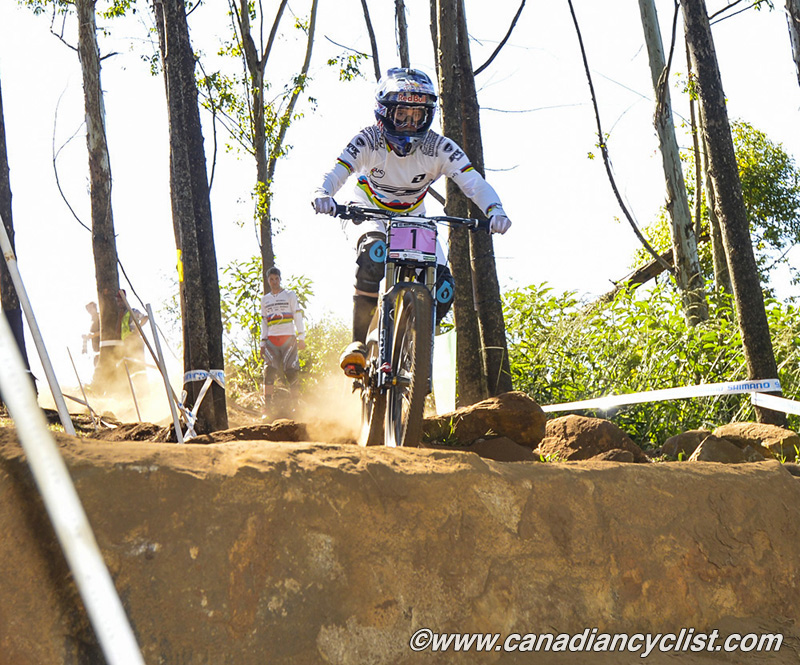 Rachel Atherton
"We flew into South Africa a week today, giving ourselves enough time to recover, and I guess I just picked something up on the plane," Atherton said. "I just got steadily sicker as the days went on and over the last couple of days I have been really feverish and pretty sick, so the doctor put me on penicillin and antibiotics trying to get me right for tomorrow's race.

Having missed the practice session yesterday the question of whether the World Champion was going to be able to compete in the first World Cup and now that she has been able to finish a run she is just trying to keep herself in the points and doesn't expect too much from the event.

"I feel a lot better than I did but one day's practicing isn't great for the World Cup but as long as I can get out there and try and ride down it is going to be a saving points race for me because I'm not feeling good for a win."

"It's the start of the season and to have this in the first race is pretty devastating but it is going to be a pretty good challenge!" she added.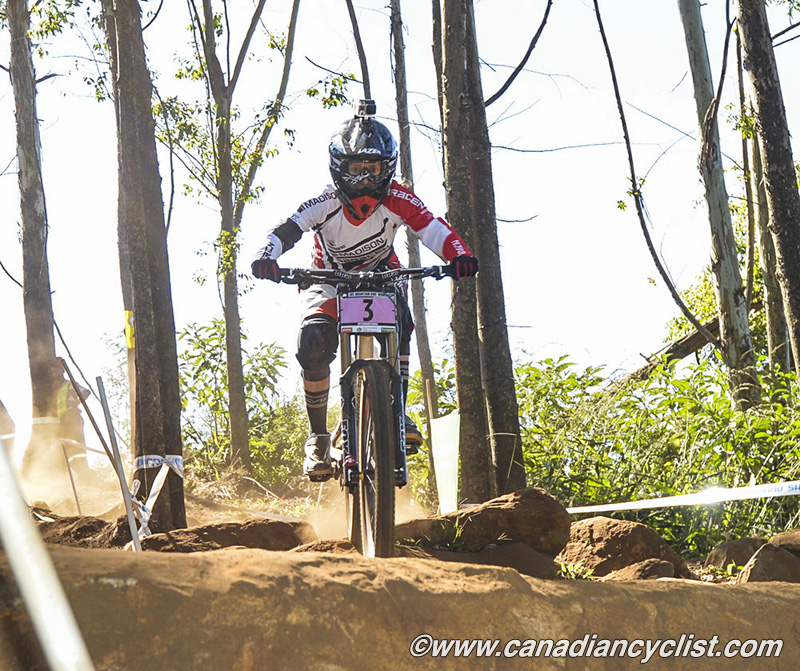 Manon Carpenter set the best time
The pace-setter, Carpenter, had to battle the heat and a tricky course in her run but managed to get down unscathed and claim the final start position on Saturday.

"I had a tough start at the top and worked hard across the middle even though I didn't want to kill myself too much because of tomorrow, but it was alright - pretty dusty though!"

"It's hard to know about your time until you look at the splits, because you don't know who has put the effort in in the middle but I'm very happy with my run and I can get it back tomorrow, hopefully."

The Junior men's downhill qualifying was marred by the withdrawal of the second ranked MS Mondraker Team rider Innes Graham after crashing during the practice session on Thursday. The top rider qualifying for Saturday's final was Luca Shaw from SRAM/TLD Racing, five seconds faster than Loris Vergier of the Lapierre Gravity Republic team.