April 13/14 19:36 pm - Pietermaritzburg World Cup XC report and photos

Posted by Editoress on 04/13/14

Youth & Experience Both Triumph in Pietermaritzburg

A veteran and a newcomer were winners at the first round of the Mountain Bike World Cup in Pietermaritzburg, South Africa. Jolanda Neff (Liv Pro XC) won the first Elite World Cup of her career in the women's race, while Julien Absalon (BMC) took the 27th victory in his storied career in the Elite men's race. In the women's race, Canadian champion Emily Batty (Trek Factory) worked her way up from the mid-teens to finish ninth, while Raphaël Gagne (Rocky Mountain Factory) had a career high 14th in the men's race. Cam Jette (Scott-3ROX racing) was DNS due to a wrist injury suffered in training. Cindy Montambault (Xprezo), the only other Canadian rider here, finished 30th in the women's race.

The 5.7 kilometre course is completely new from the one riders saw last fall at the world championships, and most riders consider it to be harder. It challenged riders with technical rock gardens and jumps, and gave them no chance to rest with multiple climbs per lap. The heat also took it's toll, particularly during the women's race in the early afternoon.

Neff, the Under-23 world champion in Pietermaritzburg last fall, chose to ride with the Elite field, and she came into the race as a favourite after dominating early season races in Europe. She did not disappoint, jumping to an early lead on the first of five laps, and did not relinquish the front spot for the rest of the race.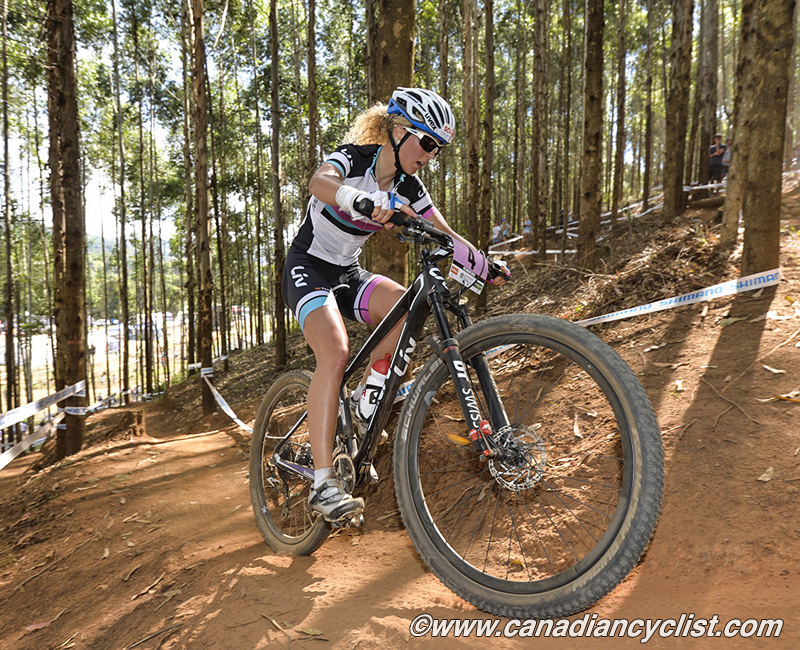 Jolanda Neff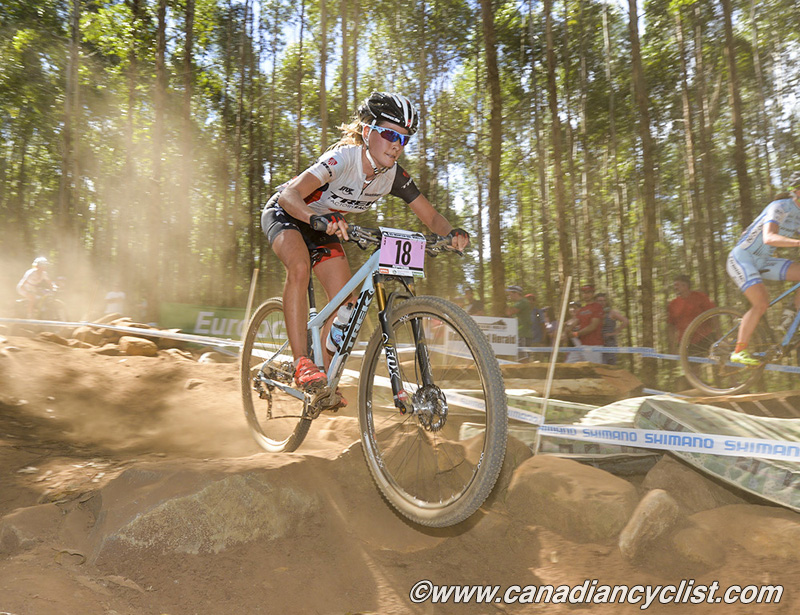 Emily Batty battled back from third row seeding and slow start
The young Swiss rider had a bit of a scare on the second lap when a moment's inattention led to a crash, forcing her to stop and straighten her saddle, but she managed to hold onto the lead by a slim nine seconds over a chasing Gunn-Rita Dahle Flesjaa (Multivan Merida), who was shadowed by Neff's team mate Maja Wloszczowska. Once Neff had stopped and banged her saddle straight, she extended her lead slowly over the remainder of the race to finish 25 seconds ahead of Dahle Flesjaa, with Wloszczowska taking third, a minute down on her team mate.

"I had a crash on the second lap after I had a lead of over a minute and when I crashed I lost a lot of time and hurt myself, and my saddle was out of place so I had to get off and fix it," Neff explained. "It is not the best thing that can happen, but I was happy that I could find the rhythm again in the next lap and keep the lead until the finish line."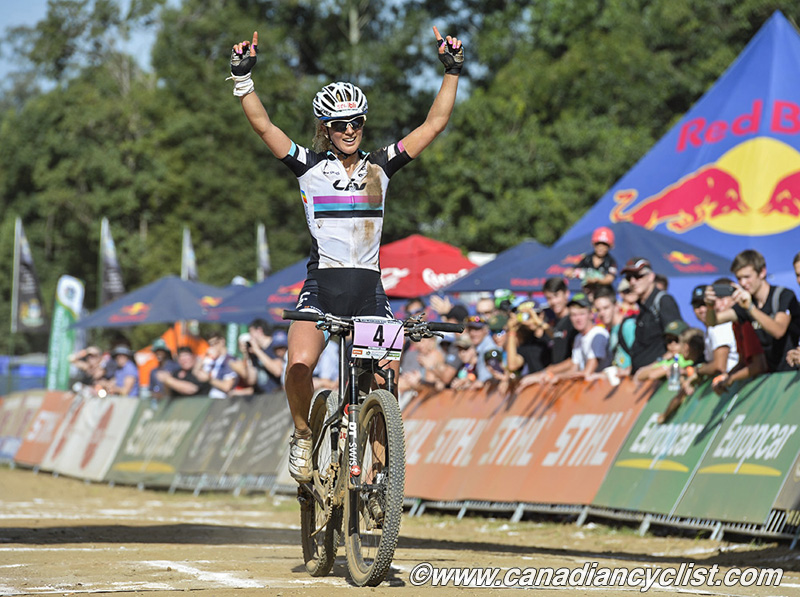 Neff wins her first World Cup
"It is such an amazing feeling; I knew that I was in good shape after I had a really good winter, where I could do a lot of good training, so I knew my shape was good. It is always really special when you can put it together when it counts, and it is amazing that I could do it today."

"Five laps was a long race, and there was a ton of climbing followed by technical sections, so you never had a chance to recover," commented Batty. "I was third row, and I had a decent start, but not my best start, and by the time we hit the first singletrack climb I was quite a bit down, so I think I lost quite a bit of time on the first half lap. But it was a fairly decent race, a good opener."

[See our interview with Emily Batty]
The men's race saw world champion Nino Schurter (Scott-Odlo) make his trademark fast start, with only Manuel Fumic (Cannnondale Factory Racing) able to match him on the first lap. Absalon got caught in traffic early on the race and had to battle his way to the leaders, joining Schurter and Fumic on the second lap.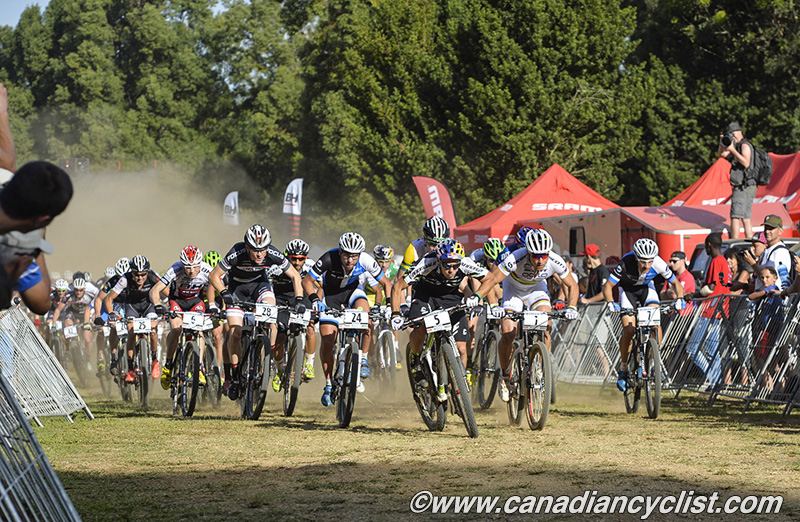 The start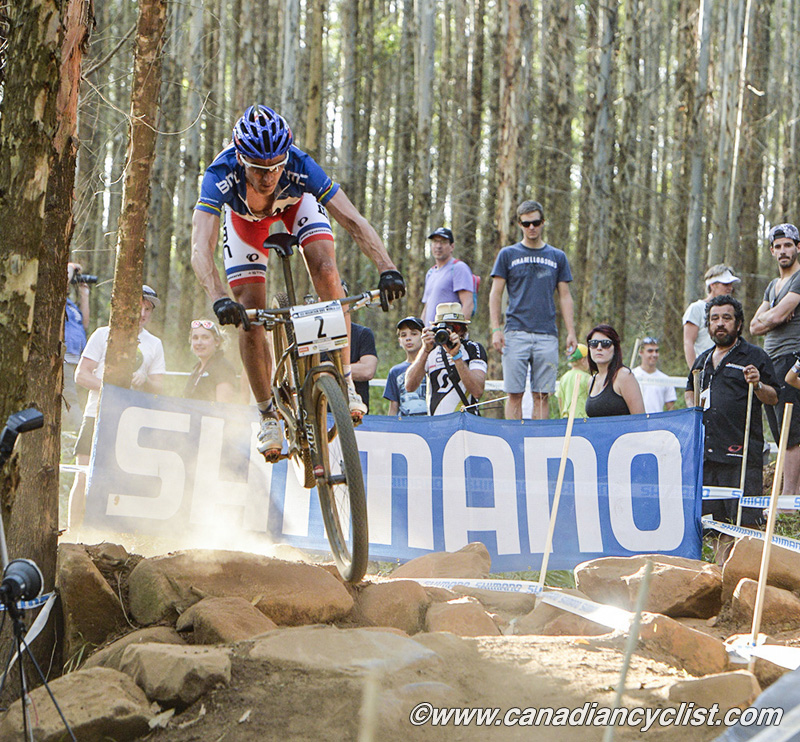 Julien Absalon
From this point, the race followed a pattern that has been seen many times, as the two top riders in the world, Absalon and Schurter, rode Fumic off their wheels and then began to test each other. Schurter appeared to be the stronger on the downhills, but that was where he possibly made a mistake, suffering a flat tire that gave his rival an advantage.

While Schurter had to ride slowly to the technical zone for a replacement wheel, Absalon continued to push hard, aware that Fumic was still less than 30 seconds back. The two-time Olympic champion was successful in holding on to the finish, taking his first win at Pietermaritzburg. Fumic held on for second, with Maxime Marotte (BH-Suntour-KMC) taking third. Schurter managed to improve to finish sixth after his flat.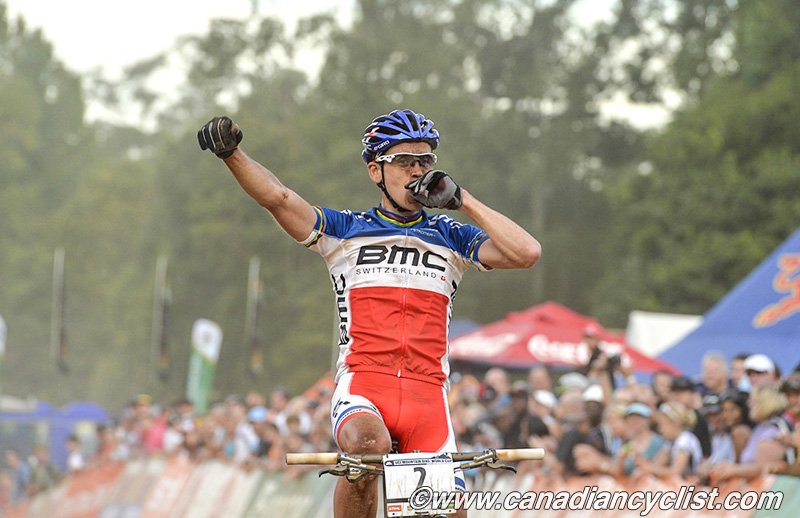 Absalon wins
"It is nice to win the first World Cup [of the year]," agreed Absalon, "especially here because I was pretty disappointed last year because I had two crashes [at the world championships] and I broke my ribs, so I was a bit afraid of this course. Especially the rocky garden where I crashed. But all this week the feeling was good. I had a poor start, so I used a lot of energy during the first lap to overtake about fifteen guys. Once I got up to Nino it was a nice fight though. He was very fast in some of the technical sections but then he got a flat tire. I knew Manuel [Fumic] was only 15 seconds back, so I had to keep full gas to the end."

[See our interview with Julien Absalon]

Rafe Gagne worked his way up steadily from the high 30s, entering the final lap in 20th place. "I went steady from start to finish," explained Gagne. "I didn't have such a good start position [42nd], but I made my way up the whole race. Starting the final lap I was 20th, and it was 'do or die'. So I went hard the whole final lap, only one guy passed me and I passed several, so I'm super happy with my race. This was a very, very good race, I felt like I was at my strongest since the beginning of the year."

[See our interview with Raph Gagne]

In the Under-23 races held earlier in the day, Swedish national champion Jenny Rissveds (Scott-Odlo) took the title in the women's race, while Jordan Sarrou (BH-Suntour-KMC) won the men's.

The Mountain Bike World Cup now moves to Cairns, Australia, for round two of both the Downhill and Cross-country, plus the first round of the Eliminator, taking place April 25-27.
U23 XC results

Elite Women XC results