April 20/14 15:22 pm - Hell/Heck of the North report & results

Posted by Editoress on 04/20/14

Hell of the North Report (Ontario)

Grahame Rivers (RealDeal Racing) has provided the following report from the Hell of the North race on Easter Sunday:

How to describe the off-road sections at Hell of the North? Try to visualize trenches from the First World War: dark, filled with water, deep thick mud, pieces of sharp ice half-melted, deep ruts and broken trees - all packed with out-of-control cyclists desperately trying to cross terrain clearly never meant to see a tractor let alone a bike.

Hell of the North has been described as a bit of crap shoot.

I've come to the belief that to do well in this race: you've got to be strong. Riding a cyclocross bike for 130km in trenches from hell and over never ending hills requires great strength. You've got to be smart; this is a huge course which is marked by arrows nailed to telephone poles and sparsely staffed by volunteers - you've got to constantly pay attention to ensure you're on course. And, most importantly, you've got to be lucky - so much can, and does, go wrong when you're asking your bike and your body to take such a beating.
Riders look relaxed as they take final instructions from Mike Mandel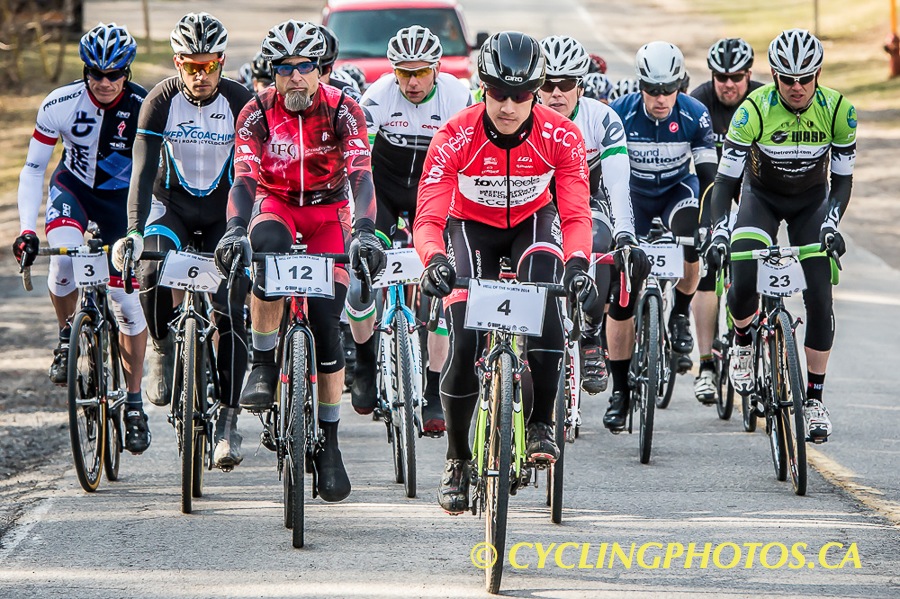 Nice and easy at the start
Hell started at a reasonable pace with very little excitement - although I will give a big thank you to my RealDeal teammate Jeff Moote for sheltering me from the wind up to Boag road. Paul Mackeever was also being a good teammate and protecting Marco Li from the wind. Another move of note, and one I might try next year, was Nathan Poulton's solo attack, just before Boag, ensuring he would be first into the Boag trench.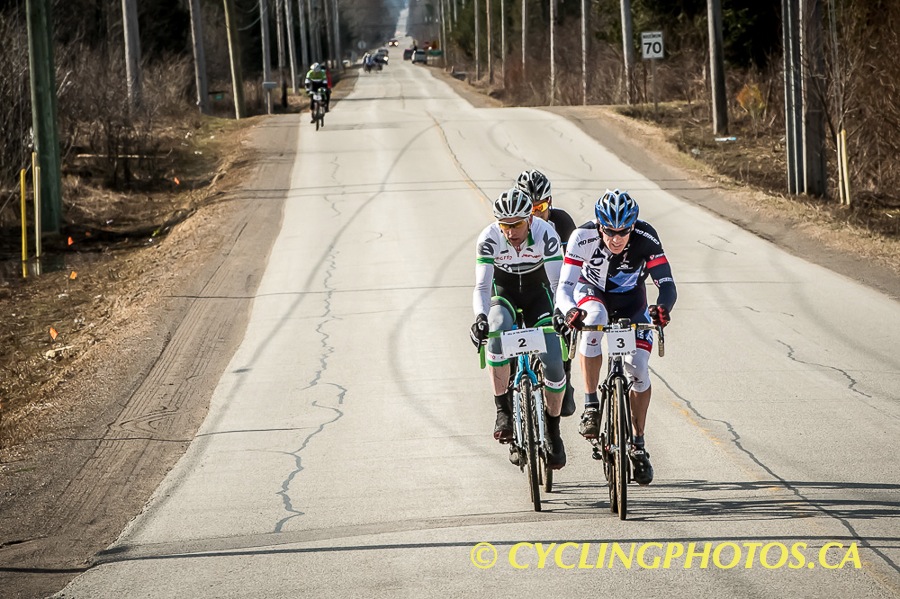 The pack came apart on Boag Rd, with Nathan Chown, Osmond Bakker & Adam Morka taking the lead
Colin Busby, Nick Friesen & Marco Li begin a long chase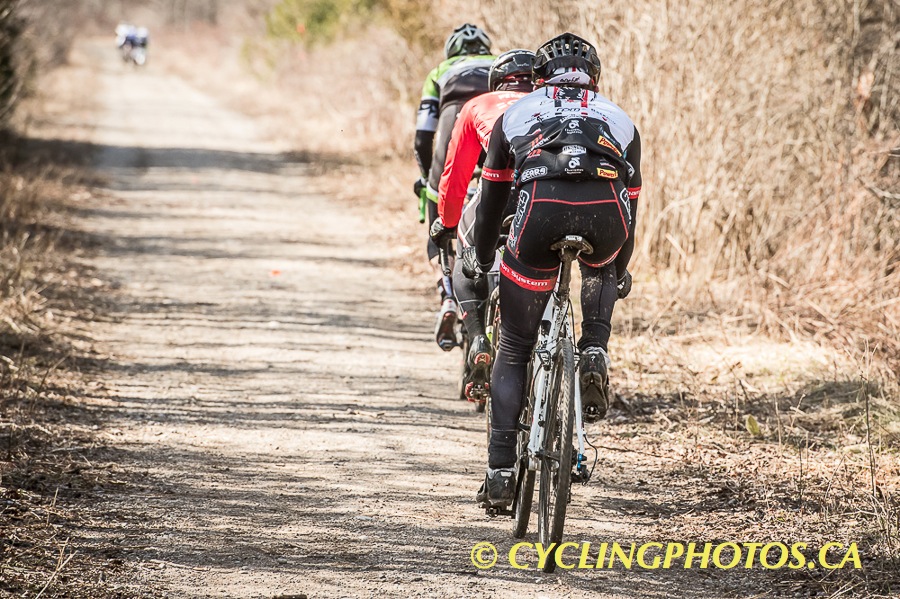 Leaders and closing chasers enter the trench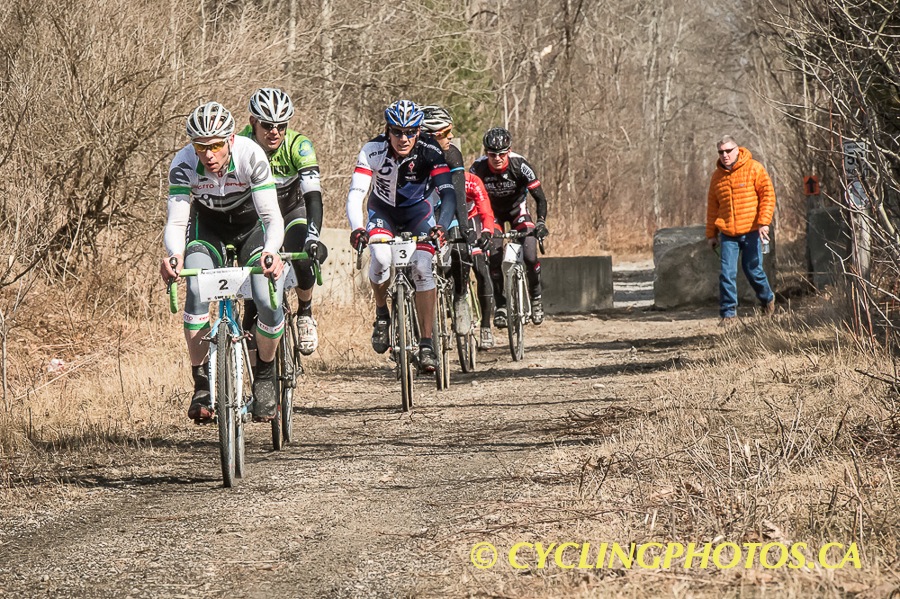 The six off the front are together nearing the end of the trench
As we approached our first trench of the day, it was clear that "shit" was about to go down. The now charging peloton was forced to funnel through two gates just wide enough for a single bike at a time. I got into the trench in the top ten but was quickly passed by ten or more riders including Marco.

The scene in the Boag trench was absolute chaos: wet, dark, half ice, half water. Riders were crashing everywhere, getting stuck in a half foot of mud, some riding, some running - all desperate to get out in the lead group. In the last quarter of the trench it became extremely difficult to pedal - even more than the conditions dictated. I shouldered my bike and started to run. As I lifted my bike my rear wheel fell to the ground. My luck had run out. As I watched riders stream past me, and the top group ride away, I re-attached my wheel and was surprised to find the bike was still rideable.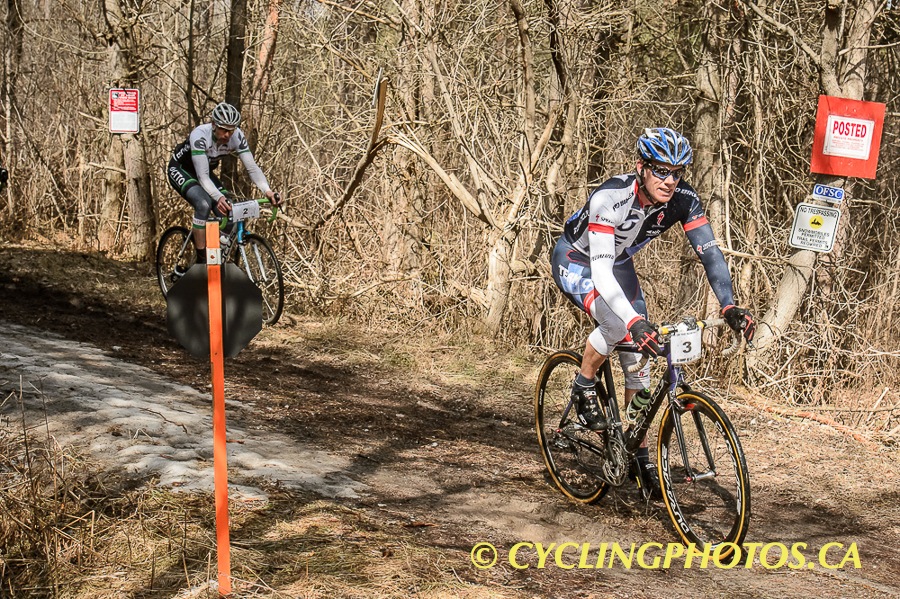 Nathan Chown exiting the trench at the front of the break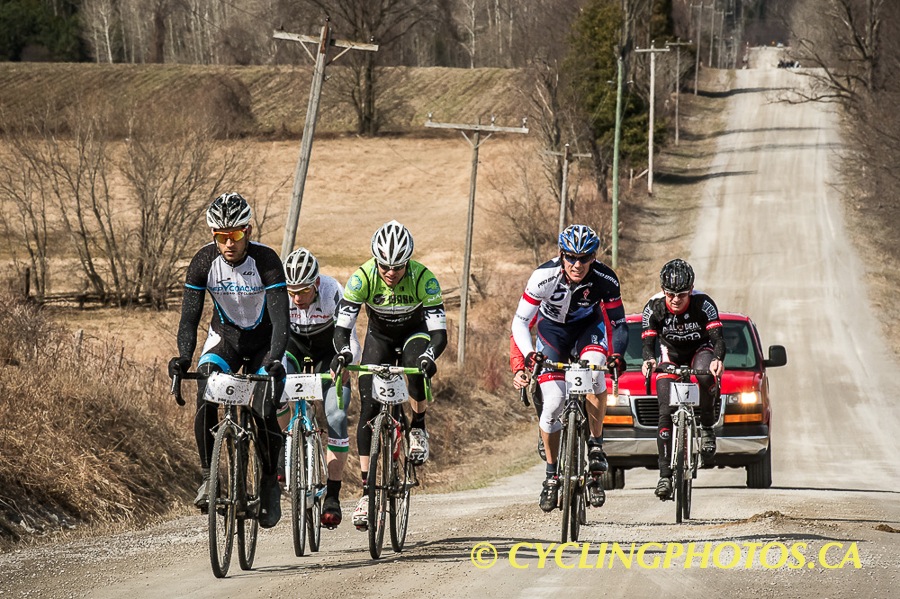 The leaders on Zephyr Rd
I exited the trench with the chase group fading out of sight. I was able to work well with Tim Oliver and my teammate from the RealDeal women's team, Jamie Gilgan, to bridge to the chase group which totaled about 20 riders. I had come into Hell determined to learn my lesson from Battenkill and do as little work as possible, save myself for the end, and have a big finish. Now, only 30km into the race I was working in the red just to get into the chase!

After an effort that cost me too much, we joined the chase. I could see Poulton was doing most of the work at the head of the pack which included Kevin Black and Jeremy Hatt. Even with the lead group in sight, there did not appear to be much motivation in the other riders. My teammate Colin Busby was in the breakaway and I was not going to pull these guys across with me.

Over the next series of trails - which seemed to go on forever and included downed trees which required you to throw your bike and then climb after it - I did my best to shatter the chase. I burnt most of my matches but was eventually able to get the group down to down to five or six riders including Peter Morse, Jacques Cormier, and Eric Johnston. Morse wasn't doing any work. Eric, Jacques, and I were able to get some rotation going but with Morse getting a free ride we were never able to sustain anything and were caught by the chase group.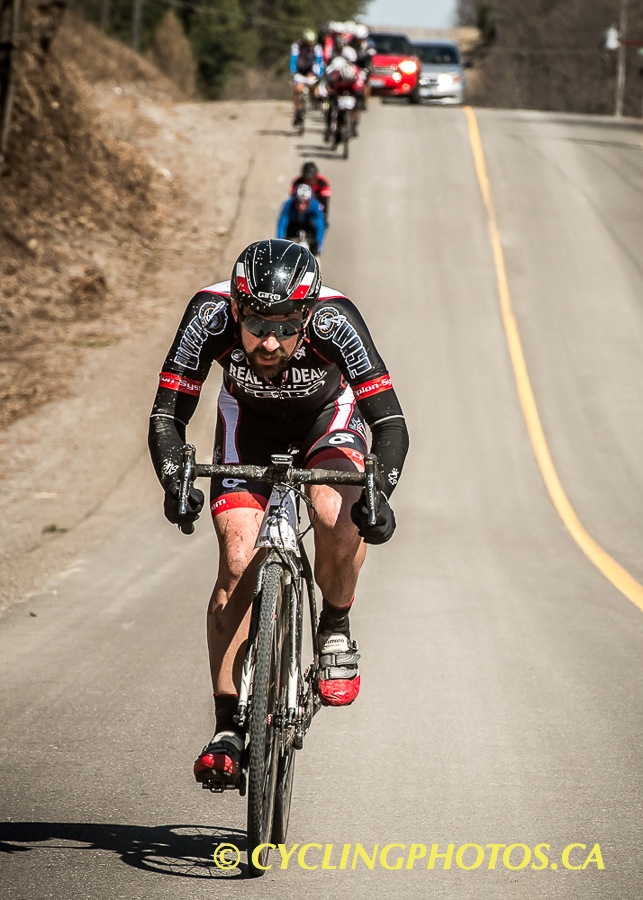 Determined not to pull these guys across with me, I attacked and was caught a number of times. It was starting to seem hopeless. The group wouldn't let me go but they also refused to do any work. All the while we were still able to see the lead group just over two minutes up the road. As we climbed what seemed like never ending hills, small attacks finally started to come. On one of the steeper assents as a rider attacked, I went with him, and was able to pass him going over the top.
Right: Grahame Rivers attacks
Finally I was free! I put my head down, tuned out the pain in my screaming legs and focused on the lead group, which was now clearly coming into view. I was told by the support car that the gap was two minutes and thirty seconds. I suffered and suffered to get across but I made it. I couldn't believe it! From broken wheel to lead group, my race and my King of the Spring campaign might be saved. Maybe luck was on my side after all!

The group consisted of Adam Morka, Osmond Bakker, Nick Friesen, Nathan Chown, Colin and Marco. Colin and Marco both looked cooked; not a surprise as they both raced Good Friday two days earlier. It didn't take long before Morka started putting the gears to us, punching up the climbs, punching my already dead legs and dropping Marco. After repeating this exercise a number of times Nathan, Colin and I were also dropped.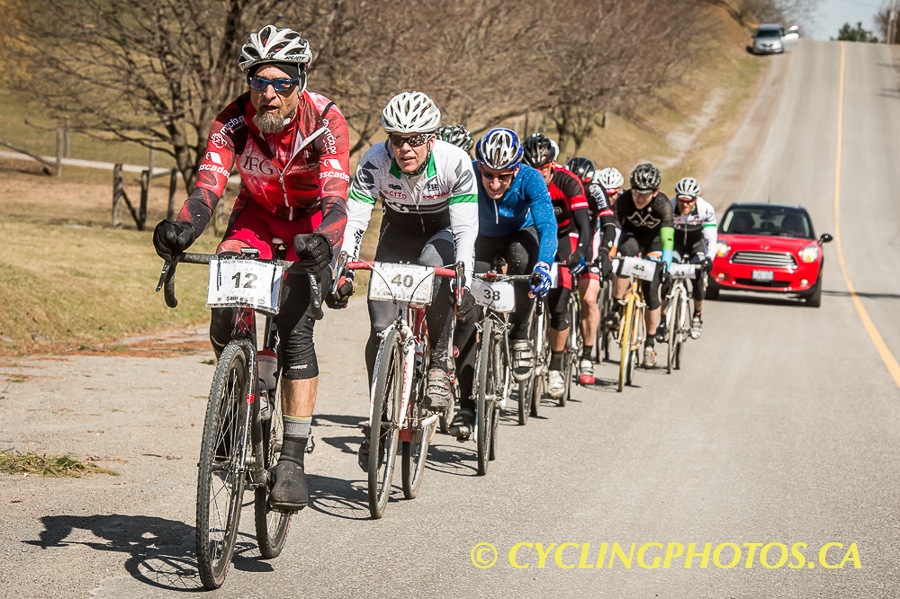 The chase narrowed the gap to the leaders in the headwind
I didn't want to go into the final trench with Chown. If I beat him I would maintain my lead for King of the Spring. I tried to drop him on a number of climbs but was unable to do so. I was starting to fade and soon attacking ceased to be an option. I was also getting dumb. My awareness gone, even with a volunteer pointing the direction to us, I took a wrong turn - Nathan and Colin waited for me. I missed the next turn into the trench. This time they didn't wait. I lost time. I fell on the ice. Lost time. Missed the exit from the trench and got lost. Lost tons of time. Luck wasn't just not on my side - it had abandoned me.

Finally back on the road, and minutes back, I tried to catch Nathan and Colin but it was no use. Demoralized and dead, they were nowhere in sight. Now I was the one who was cooked. I almost missed another turn - but three people yelling at me, including Barbie Hope, put me on the right track.

I was caught by the chase group for the third time. As quickly as they caught me, they dropped me. For all my effort, these guys who sat-in all race had beaten me. I had lost the King of the Spring, lost any hope of a high placement and was physically and mentally done. I was on my own and wanted to quit. I had found the Hell in the Hell of the North.

Jacques came around me as I exited the final section of trail and I did my best to follow his wheel for the last couple kilometers to the finish. The moment I crossed the finish line I found a sunny patch, lay on my back with my eyes closed and ate a Powerbar.

As for the results, my belief that you have to be strong, lucky, and smart to win Hell of the North appears to be true. The lead group of Morca, Bakker and Friesen missed a turn and were no longer in the lead. Colin sprinted it out for the win.

A crap shoot, true to form, and a happy finish to a hard day.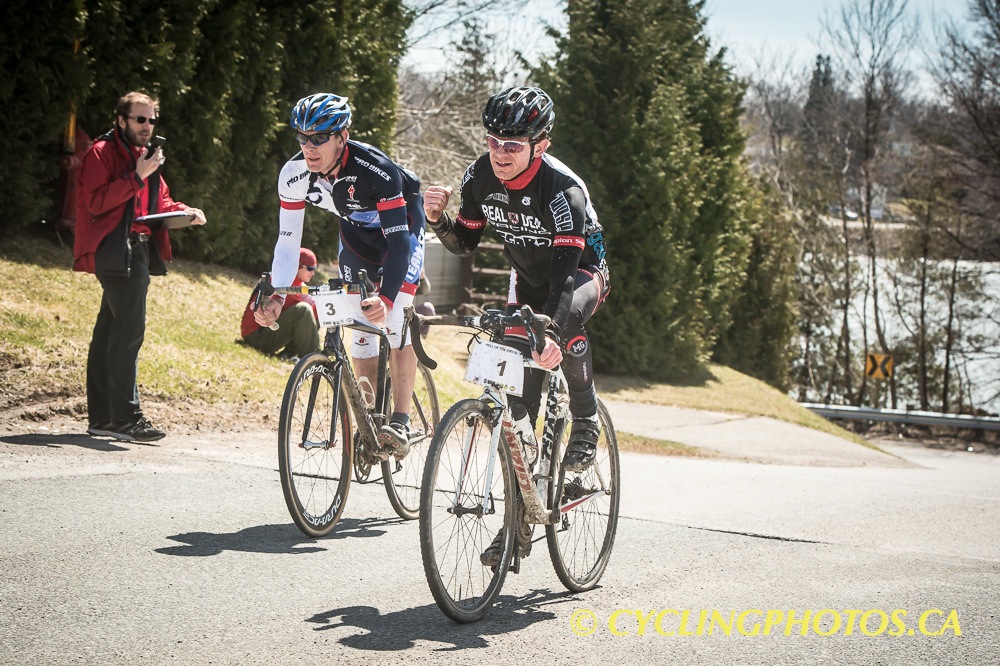 Colin Busby wins
Hell of the North, Results

Heck of the North (70 km) below
Women, 125 km

1 Antje Thamm (Kallisto-FCV)
4:20:53
2 Jamie Gilgen (RealDeal/Gears p/b/ Waspcam)
at 7:11
3 Rhonda Stickle (RealDeal/Gears p/b/ Waspcam)
7:13
4 Shannon Kemp (NRGPT)
39:02
5 Jenn Rodgers
1:28:19
DNF Kael Deverell (Kallisto-FCV)
DNF Tatjana Zaharova (Racer Sportif/Mattamy Homes)

Men/Women, 125 km

1 Colin Busby (RealDeal/Gears p/b/ Waspcam - Male)
4:05:34
2 Nathan Chown (Team 905 - Male)
at 0:01
3 Osmond Bakker (OCCTO-Cervelo - Male)
0:23
4 Tim Oliver (SOUND SOLUTIONS - Male)
0:25
5 Peter Morse (OCCTO-Cervelo - Male)
1:21
6 Robert Sule ( - Male)
1:30
7 Eric Johnstone ( - Male)
1:45
8 Kevin Black ( - Male)
1:48
9 Cary Moretti (Team IFG Cyclelogik/Endurospor - Male)
2:33
10 Tim Carleton ( - Male)
2:34
11 Jacques Cormier ( - Male)
2:53
12 Grahame Rivers (RealDeal Gears p/b WASPcam - Male)
2:55
13 Jeremy Hatt ( - Male)
3:23
14 Nick Friesen (NACS World/Norco - Male)
5:44
15 Adam Morka (WFP Coaching / Trek Bikes - Male)
5:46
16 Brian Truman (NOVOFIT - Male)
5:48
17 Marco Li (To Wheels Epic sports Perf BCC - Male)
12:23
18 Warren Shiau (Dark Horse Flyers - Male)
13:45
19 Paul Mckeever (To Wheels ESP BCC - Male)
15:10
20 Rob MacEwen (Lapdogs Cycling Club - Male)
15:17
21 Antje Thamm (Kallisto-FCV - Female)
15:18
22 Ewan Gillespie (Morning Glory - Male)
15:19
23 Jeff Moote (REALDEAL/GEARS p/b WaspCam - Male)
22:26
24 Jamie Gilgen (REALDEAL/GEARS p/b WaspCam - Female)
22:30
25 Rhonda Stickle (REALDEAL/GEARS p/b WaspCam - Female)
22:31
26 Steve Mckee (Nacsworld.comNORCO - Male)
25:39
27 Andrew Stewart ( - Male)
25:45
28 Nathan Poulton (Waterloo cycling club - Male)
37:04
29 Steve Smith (Erace Cancer - Male)
45:18
30 Shannon Kemp (NRGPT - Female)
54:20
31 Benjamin Batson (Morning Glory Cycling - Male)
1:05:14
32 John Roy (Lapdogs Cycling Club - Male)
1:27:40
33 Stephen Hart (Lapdogs Cycling Club - Male)
1:27:42
34 Blaire Gateman (Waterloo cycling club - Male)
1:28:46
35 Greg Irwin (unattached - Male)
1:28:49
36 Mark Macdonald (Velocity Cycle and Ski - Male)
1:28:49
37 Mark Rodgers ( - Male)
1:43:38
37 Jenn Rodgers ( - Female)
1:43:38
39 James Forbes ( - Male)
1:54:25
DNF Kael Deverell (Kallisto-FCV - Female)
DNF Tatjana Zaharova (Racer Sportif/Mattamy Homes - Female)
DNF Kris Westwood (The Cyclery - Male)
DNF Thomas Hughes (Lapdogs - Male)
DNF Patrick Kings (SOUND SOLUTIONS - Male)
DNF Nichloas Vipond ( - Male)
Women 70 km

1 Sarah Rasmussen (RealDeal/Gears p/b/ Waspcam)
2:10:59
2 Paige Foxcroft (CSAJ CC p/b Norco LG)
at 4:02
3 Alexandra Morley (RealDeal/Gears p/b/ Waspcam)
10:18
4 Samantha Fuller (Down To Earth)
35:13
5 Donna Winters
39:06

Men/Women 70 km

1 Sean Boileau (RealDeal/Gears p/b/ Waspcam - Male)
1:55:19
2 Trevor O'Donell ( - Male)
3 Niles Vaivars (realdeal gears waspcam - Male)
3 Angus Botterell (Morning Glory - Male)
3 Ed Makarchuk (SOUND SOLUTIONS - Male)
3 Arthur Parsons (Morning Glory Cycling Club - Male)
3 Andrew Botterell (Cycles London Racing Team - Male)
all s.t.
8 Kevin Lehman ( - Male)
0:01
9 Robert Holmgren (Velocity Cycle and Ski - Male)
0:02
10 Adam Bird (RealDeal/Gears p/b/ Waspcam - Male)
0:02
11 Jan Zak (RealDeal Gears p/b WASPcam - Male)
0:06
12 Gunnar Holmgren (Next Wave Cycling - Male)
1:07
13 Graydon Staples (Next Wave Cycling - Male)
2:49
14 Jeff Weber ( - Male)
3:05
15 Kieran Andrews (SOUND SOLUTIONS - Male)
3:16
16 Stephen Chester (Erace Cancer - Male)
3:25
17 Mike Amaral ( - Male)
3:31
18 Scott Bentley ( - Male)
5:56
19 Garnett Abbey (Erace Cancer - Male)
6:04
20 Chris Kirk ( - Male)
6:07
21 Kevin Barrington ( - Male)
6:30
22 Gavin Kerr (Next Wave Cycling - Male)
8:13
23 Mike Strano ( - Male)
8:14
24 Robert Mann (SOUND SOLUTIONS - Male)
8:47
25 Jayson Baillie ( - Male)
10:02
26 David Staples (Barrie Cycling Club - Male)
10:05
27 Chris Jones (Peterborough Cycling Club - Male)
11:39
28 Warren Blatt (Erace Cancer - Male)
12:12
29 Caleb Hellreich (Next Wave Cycling - Male)
13:12
30 James Bongard ( - Male)
13:21
31 Chris Kiziak ( - Male)
13:22
32 Brody Sanderson (Next Wave Cycling - Male)
15:08
33 Brendan Hodge ( - Male)
15:21
34 Sarah Rasmussen (RealDeal/Gears p/b/ Waspcam - Female)
15:40
35 Andrew Macphail ( - Male)
15:54
36 Jeff Johnston ( - Male)
16:57
37 Dan Horcik ( - Male)
19:10
38 Paige Foxcroft (CSAJ CC p/b Norco LG - Female)
19:42
39 Dave Foxcroft (Collingwood Cycling Club - Male)
19:44
40 Andre Cheuk ( - Male)
19:48
41 Damian Bradley ( - Male)
19:52
42 Stefan Harhay ( - Male)
19:54
43 Jeff Heacock (Bikesports / Pfaff Porsche - Male)
20:00
44 Giles Marshall (Erace Cancer - Male)
21:24
45 Alexandra Morley (RealDeal/Gears p/b/ Waspcam - Female)
25:58
46 Peter Phillips (Morning Glory - Male)
25:58
47 John O'brien ( - Male)
26:09
48 Bill Wang (Morning Glory Cycling Club - Male)
26:11
49 Peter Hennessy (indy - Male)
26:17
50 Matt Staples (Next Wave Cycling - Male)
28:52
51 Bruno Presutto ( - Male)
30:15
52 Aidan Webster ( - Male)
32:47
53 Jesse Wighton ( - Male)
35:53
54 Don Gilroy (Beaches Cycling Club - Male)
37:59
55 Pedro Caraballo (Full Throttle - Male)
38:02
56 Robert Fuller (Down To Earth - Male)
50:53
57 Samantha Fuller (Down To Earth - Female)
50:53
58 Ron Beyeler ( - Male)
51:14
59 Donna Winters ( - Female)
54:46
60 Peter Forrest ( - Male)
54:47
61 Gregory Godbout ( - Male)
1:06:18
62 Anil Gokarn ( - Male)
1:06:20
63 Joe Burke ( - Male)
2:02:51
64 Etan Vlessing ( - Male)
2:02:58
65 Sam Cohen ( - Male)
3:23:28
DNF Aiken scherberger ( - Male)
DNF Cole Schumacher (Next Wave Cycling - Male)
DNS Phil Clarke ( - Male)
DNS Chris Dunbar (Lapdogs - Male)
DNS David Wheelock (The Wheeling Dandies p/b Mattamy - Male)