April 22/14 13:13 pm - Circuit du Mene results and report, Ellsay fifth

Posted by Editoress on 04/22/14

The Circuit du Mené is a one day, 2 stage event for U23 (espoir) age riders in the Bretagne region of France

The first stage, a 6.1 km ITT in the morning of April 21st, was won by Bruno Armirail (E C Armee de Terre) who wore the yellow jersey for the afternoon road race. Nigel Ellsay (Sojasun Espoir) finished 8th.
Nigel Ellsay in the ITT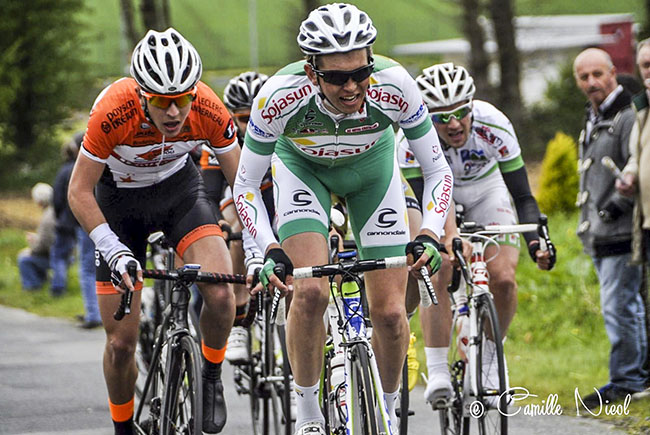 Nigel Ellsay in the break in the Road Race

The afternoon 130 km circuit road race was animated early by a breakaway of two who gained a 15 second advantage before being caught at the 20 km mark.

At 40 km a group of 17 went away, including Ellsay and teammate Franck Lemonnier. By 50 km the group had opened a gap of 1:10. With just 20 km to go the lead group was still 10 riders but the gap to a chase group of 4 including Kowalski was shrinking. With 6 km to go the chasers caught and passed the leaders. Dylan Kowalski (Velo Club Rouen 76) attacked and went on to win solo with a gap of 9 seconds. Nigel Ellsay finished 13th, at 16 seconds back, and finished 5th overall.



ITT, 6.1 km

1 Bruno Armirail (E C Armee de Terre)
7:58
2 Thibault Nuns (Oceane U Top 16 - Charentes)
8:04
3 Dylan Kowalski (Velo Club Rouen 76)
8:06
4 Benoist Cosnefroy (Team Bricquebec Cotentin)
8:08
5 Elie Gesbert (Pole Espoir Cyclisme St-Brieuc)
8:09
6 Jean Gouret (Marie Pays Des Olonnes Cycliste)
8:11
7 Geoffrey Thevenez (Oceane U Top 16 - Charentes)
8:12
8 Nigel Ellsay (Sojasun Espoir A.C. Noyal Chatillon)
8:13
9 Emilien Rauline (Cotes D'armor Marie Morin)
8:13
10 Kévin Lebreton (E C Armee de Terre)
8:13

Road Race, 130 km

1 Dylan Kowalski (Velo Club Rouen 76)
2 Christopher Pyry (E C Armee de Terre)
at 0:09
3 Axel Journiaux (Team Cycliste Du Pays de Dinan)
0:10
4 Nicolas Janvier (C. D. Morbihan)
0:13
5 Mike Granger (Team Cycliste Du Pays de Dinan)
0:16
6 Anthony Morel (Uc Ste Austreberthe Pavilly)
0:16
7 Steven Sutherland (Uc Ste Austreberthe Pavilly)
0:16
8 Mathias Le Turnier (Oceane U Top 16 - Charentes)
0:16
9 Rodolphe Marie (Team Cycliste Du Pays de Dinan)
0:16
10 Benoist Cosnefroy (Team Bricquebec Cotentin)
0:16
13 Nigel Ellsay (Sojasun Espoir A.C. Noyal Chatillon)
0:16

Final GC

1 Dylan Kowalski (Velo Club Rouen 76)
2 Bruno Armirail (E C Armee de Terre)
at 0:08
3 Benoist Cosnefroy (Team Bricquebec Cotentin)
0:18
4 Jean Gouret (Marie Pays Des Olonnes Cycliste)
0:21
5 Nigel Ellsay (Sojasun Espoir A.C. Noyal Chatillon)
0:23
6 Kévin Lebreton (E C Armee de Terre)
0:23
7 Robin Kermarec (Etoile Cycliste de Landerneau)
0:25
8 Nicolas Janvier (C. D. Morbihan)
0:27
9 Florian Cam (Etoile Cycliste de Landerneau)
0:31
10 Mathias Le Turnier (Oceane U Top 16 - Charentes)
0:31