June 6/14 22:37 pm - Grand Prix Saguenay: Stage 2 report, photos and results

Posted by Editoress on 06/6/14

The Grand Prix Cycliste de Saguenay continued on Friday with the second stage which, once again, ended in a bunch sprint. American Eric Young of Optum p/b Kelly Benefits, wearing the yellow jersey, continued his sprint domination with his second victory in as many days.

Two factors made it difficult for cyclists on this cloudy day with showers: strong crosswinds and a 400 metre section of the race with a steep 10% grade.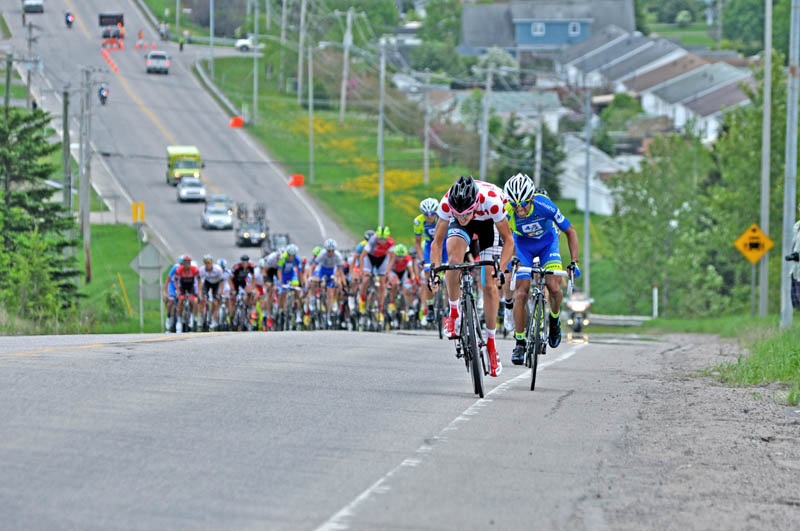 The peloton, which was reduced to 102 riders after the first stage, remained together for the first four laps. In the fourth lap, a significant crash happened, creating a breakaway of 18 riders who took more than 30 seconds on the scattered peloton.

Thanks to the efforts of a few motivated teams without representation in the breakaway, the second group, which included the yellow jersey of Eric Young, quickly accelerated the pace and rejoined the leading group.

On the sixth lap, the race began to fracture, with a breakaway of 16 riders taking a maximum advance of 2:15. The breakaway remained relatively intact until the eighth and final lap, when the yellow jersey group accelerated the pace to pull them back.
Enrico Rossi and Eric Marcotte
After the two groups merged, U.S. champion Eric Marcotte (Team Smartstop) and Enrico Rossi (Team Christina Watches-Kuma) went on a solo breakaway, gaining a lead of 20 to 30 seconds until the final few kilometres, when they were reeled in.

At the finish line, Eric Young won the field sprint, followed by Canada's Pierrick Naud (Garneau-Quebecor) and Jure Kocjan (Team Smartstop).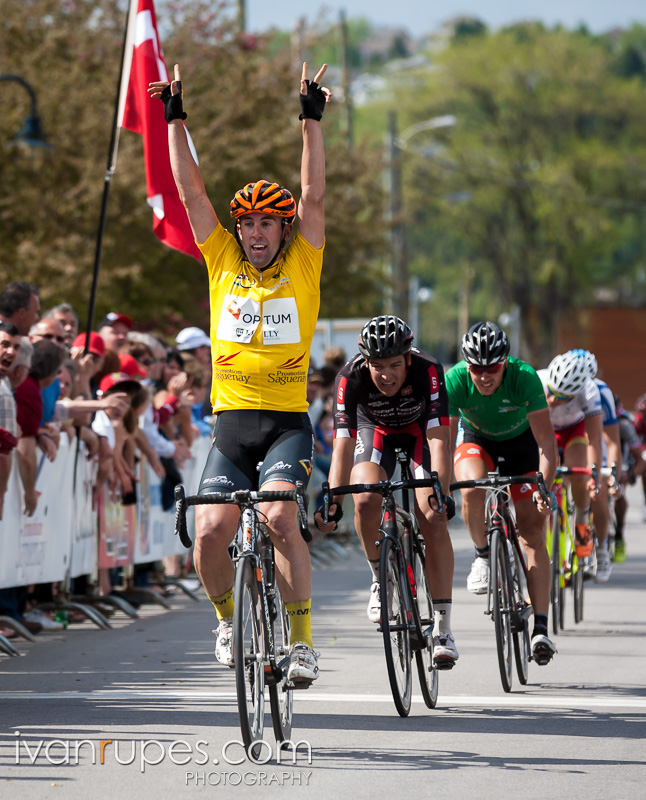 Eric Young
U.S. Crit champion Eric Young retained his yellow jersey as overall leader. "We are really happy with today. I honestly didn't think it would come down to a sprint. There was a good move there about halfway through the race. I thought it was gonna be it, but there was two or three teams that didn't make it, so they chased real hard and brought it back. It was a really dynamic race. There was quite a few moves that I don't know if we would have been able to bring back by ourselves. Lots of teams were active."

"For the whole last lap, we know it would be a sprint. I am very happy to win for Optum. We are really stoked to be here in Canada, and win two in a row," added Young.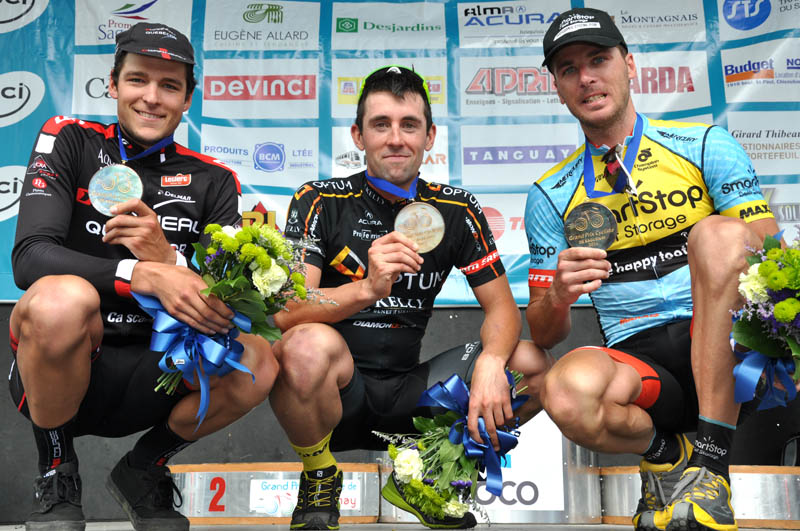 With the criterium tomorrow, fans can anticipate an excellent match-up between the United States and Canadian Criterium Champions, who finished first and second today. Young is excited about the race: "It's still a very tight race, and anything can happen tomorrow in the criterium. We can't say for sure it will be a sprint. I think it will be a very aggressive race, and we'll have to be on the ball just like today. That will be very fun to watch!"

Jure Kocjan of Team SmartStop retains possession of the green jersey, awarded to the leader of the points classification. Before the start, he was second in the standings, and took the intermediate sprints to take the lead in the overall standings.

The Italian rider Luca Benedetti (Amore & Vita) has taken a comfortable lead in the King of the Mountain competition, finding himself alone at the top with 28 points after the first two stages. His teammate Michael Woods is second with 15 points, and Edson Calderon in third with 13 points.

The white jersey of Best Young Rider (U23) is retained by Asbjorn Kragch Andersen (Christina Watches-Kuma). Kragch Andersen is currently fifteenth in the general classification.

The race continues Saturday in Chicoutimi with the third stage criterium. The race will take place in the evening at 6pm, in the streets of the downtown core.

Yellow Jersey: Eric Young (Optum p/b Kelly Benefits)
Polka Dot Jersey: Luca Benedetti (Team Amore e Vita)
White Jersey: Asbjorn Kragch Andersen (Christina Watches-Kuma)
Green Jersey: Jure Kocjan (Team SmartStop)
Press release