June 10/14 11:48 am - Review - Lapierre Zesty Trail 429

Posted by Editor on 06/10/14

If you're going to run a bike line I would think that one of the most difficult genres to come up with specifications for would be the "Trail" mountain bike. The reason for the difficulty is that is hard to define this type of bike, with many companies having their own iteration of what this should be. The very limited consensus is 29" or 27.5" wheels and full suspension. From there everything is up for grabs.

Which brings us to Lapierre. Although not a new company by any analysis, they are now experiencing wider distribution in Canada due to their position under the umbrella of Accell North America (Seattle Bike Supply, Raleigh Canada, etcetera). They are perhaps most well known for their cross country race bikes, but they also have all-mountain, enduro and trail bikes in the line.

Which brings us back to the trail bike. Here's the rationale from Lapierre about their trail bikes: "Single track takes on a whole new meaning when you are on one of our Mountain Trail bikes. With 29-inch wheels that roll over any obstacle put in its way while keeping you moving along the trail at speeds that you only dreamed of going. Epic climbs and undiminished descents are what these bikes are built for." I'll use that as a basis for this review.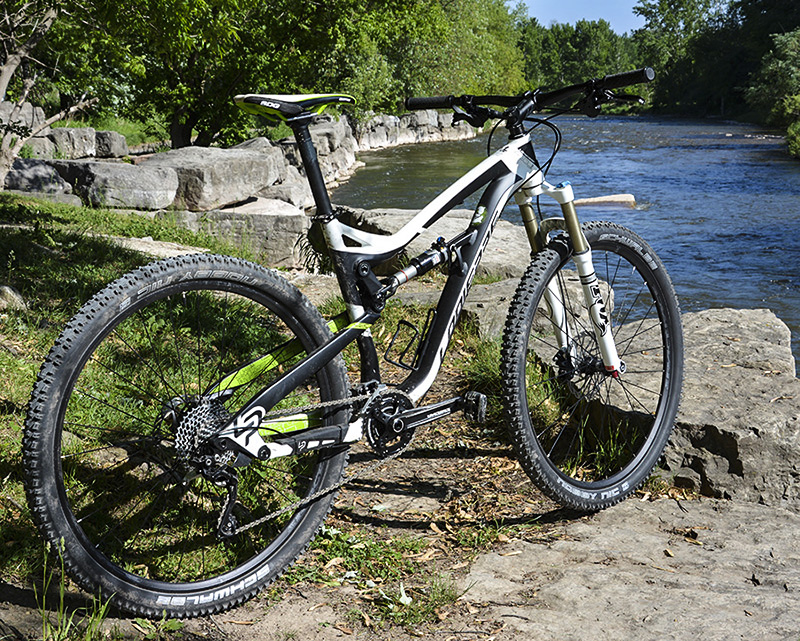 Zesty Trail 429
The Zesty Trail 429 that I tested was a big, robust bike. I'm big and I've had many XL bikes that weren't really that XL. This one is and it was a good fit. The bars and controls came to the right spot and I found it easy to get comfortable right away. That is always a good start to things. Right away though something else comes to the forefront - this is not a lightweight bike. The XL came in at 13.9 kg (30.6 lbs - with pedals - not included with the bike). No matter how you look at it, that is heft to get up those "epic climbs". More on that later.

The Zesty is an attractive aluminum frame (Lapierre calls this Supreme 6 tubing) that is very well finished. All of the welds are smoothed and finished beautifully. The frame is designed around 120mm of suspension travel both front and rear. The tubing is hydroformed, multi-butted and has multiple shapes as needed. The stays are very large which helps to make for a rear end on the bike that doesn't flex laterally. Cable routing features full length casing positioned under the down tube. Mounts for a dropper seat post are also there. The front derailleur is direct mounted. Mounts for a chain guide are included. There is also a carbon fibre fin above the rear derailleur to offer a bit of protection in the rough stuff. There is a lot of attention to detail here.

The rear swingarm pivot is mounted high, just in front of the seat tube and below the top tube. Lapierre calls the design OST® technology (Optimized Suspension Technology) and they claim that helps to combat pedal bob. The pivot points are all large and clean. A nice feature is that all of the Lapierre full suspension bikes come with a very easy to use sag guide that uses a little collar on the seat tube that associates with a range decal on the swing arm. It is very effective and one of the best I've encountered.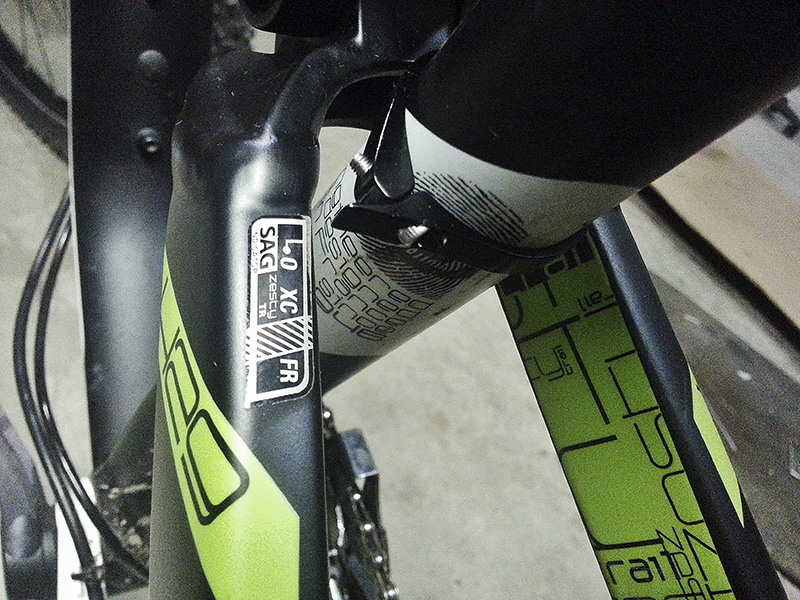 Sag guide - photo courtesy Lapierre Canada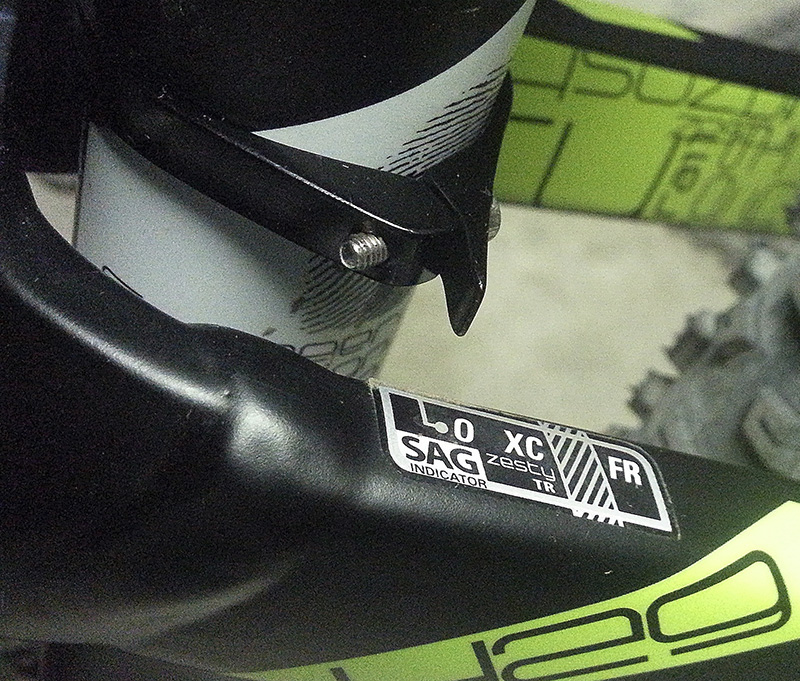 Sag guide - photo courtesy Lapierre Canada
Rear suspension on our test bike was provided by a RockShox Monarch RT3 air sprung shock. For Canada the spec should be a Fox Float CTD Evolution LV (this was a pre-production sample). I will go into more detail on this a little later. Up front is a tapered steerer Fox 32 CTD Evolution fork. It is hard to argue with quality suspension components such as these.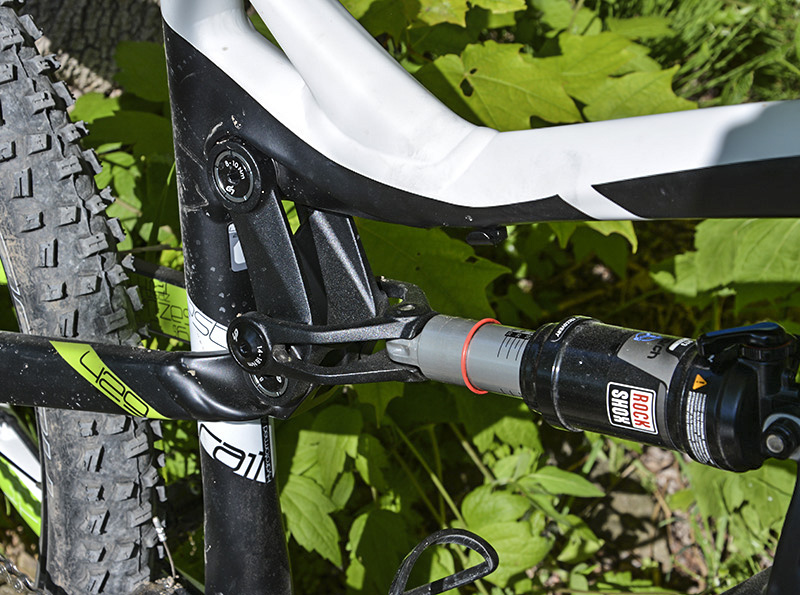 Rear suspension on our test bike was provided by a RockShox Monarch RT3 which will change to Fox Float CTD Evolution LV on Production models.

Fox 32 CTD Evolution fork
That sets the theme for the rest of the components - they are quality items. Race Face provides a 2-ring (36/22T) Turbine cranks and an awesome Turbine wheelset. The wheels have a QR15 front axle and a 142 rear thru axle. Tires are Schwalbe Nobby Nic 29x2.25 tires. The drivetrain is a mix of mostly Shimano (XT rear derailleur, SLX shifters) and SRAM (front derailleur, 11-36T 10 speed cassette), which functions very well together. Brakes are Avid Elixir 5 with a 180mm rotor in the front and a 160mm rotor in the rear. Stem and seatpost are from Easton, with the handlebar from FUNN and the saddle a Lapierre labeled SDG. Again, it is hard to argue with the component selection. It is a great balance between function and affordability.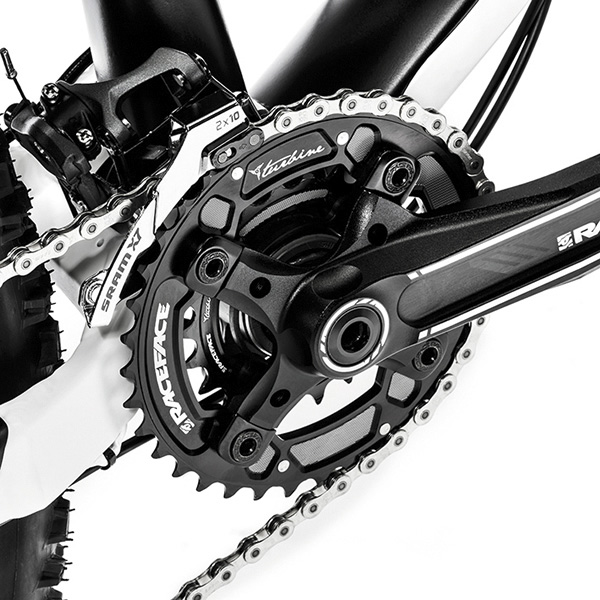 Race Face 2-ring (36/22T) Turbine crank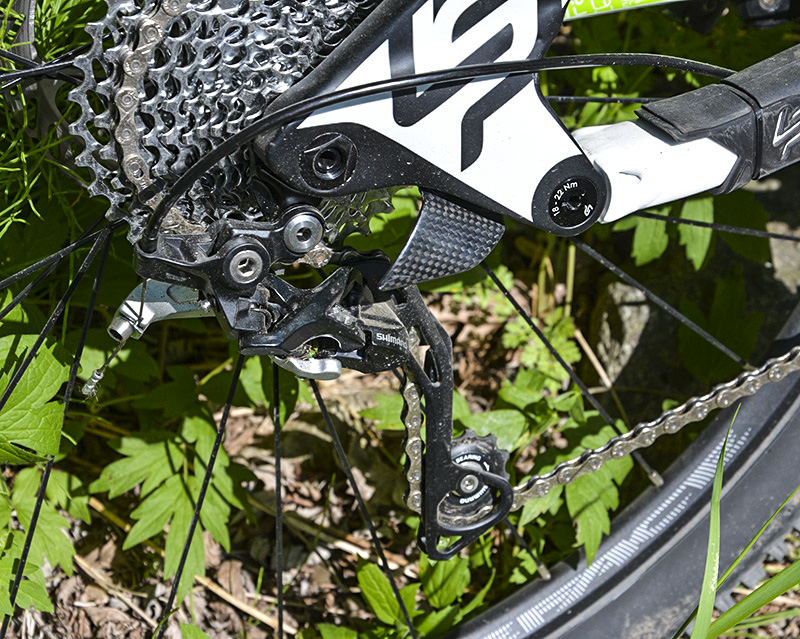 Shimano XT rear derailleur
If I ride from home it begins with a downhill. It's always a nice way to start a ride. After 100m of road, I drop into the valley where there is 150m of old, broken asphalt on an abandoned road followed by a long stretch of dirt with big tree roots. On a hard tail you get bounced around a bit. On the Zesty you don't. This is a very, very smooth suspension. I did multiple downhill blasts and it is confidence inspiring. The 29" wheels help too, but it is a great suspension that we have here. Part of what makes it comfortable at speed is that it has a 69 degree head angle that puts the front wheel well out in front of you. Steering is great at speed.

That same head angle that aids descents becomes an annoyance when things get tight and slow. The front wheel wants to flop unless you hang on to it. Narrow singletrack takes concentration. Slow technical climbs cause the front end to wander. Part of it is that when you set up the rear suspension's sag properly it further slackens the head angle. There isn't much you can do about this other than decide you want to be comfortable on downhills and compromise elsewhere. You might have to do a bit of soul searching here and be realistic about what kind of trails you ride most often. To give you an example, the wheelbase on the Zesty is 115cm while my singlespeed 29er is 110cm. It might not seem like a huge difference, but combine it with the head angle and you notice it. As seems to be the case with the Zesty, there is another side to the long wheelbase, in that it makes for a stable platform for landing jumps.

On rough trail the Zesty shines. That suspension that works so well for downhills is more than capable on rocks and roots. The term to use again is smooth. Shifting was never an issue with this drivetrain. I found braking with the Avid's to be also good, thanks in part to the 180mm front rotor.

Climbing is a mixed bag and I struggled to find a word for it. I would suggest "sedate". This isn't a cross country race bike, but that isn't its intent. Point it up a steep hill and you get two things going on. The first is that the Lapierre OST suspension design really works. As long as you stay in the saddle there is little pedal bob. The rear wheel stays hooked up with the ground extremely well. The Schwalbe tires don't hurt either. The second thing though is that you're working hard. You feel the weight. There just isn't any way around it. You'll get there, but it will take time. And the slower you go the more that the front wheel will want to wander.

I found that when I was on the climbs I'd use the Fox fork lockout a lot. Every little edge helps. That being said the rear shock needs a lock out too. You can move it to a position that slows the rebound down, but the suspension still stays somewhat active. From experience, I don't think the standard Fox rear shock would be that much different from the Rock Shox. There isn't a lot of rear suspension movement with how Lapierre has designed it, but as soon as you stand up the back end is a lot more active. Personally, I'd like the option to shut it off completely. A remote for it would be ideal.

The Zesty Trail 429 is going to be the sort of bike that you're first going to have to think about and then do a good ride on. It might work on your local trails, or it might not, as it leans more towards the gravity assisted part of the riding spectrum. As I mentioned in the first paragraph there are many definitions for what a trail bike is. For my tastes it is a bike that you are comfortable on all day long. I think the Zesty would be a contender if it wasn't for the weight.

There isn't a lot of room to shave weight unless you go to a carbon framed Lapierre, which is an option with higher spec, and increased cost, in the Zesty line. Although it is very capable for the downhill aspects the effort to get it uphill is going to detract from this well built and spec'd bike. For what you get this is also well priced at a suggested retail price of $3499. That is pretty good for a bike of this quality. In other words, think about Zesty.

Visit www.lapierrebicycles.com to find out more.

Review by Mike Badyk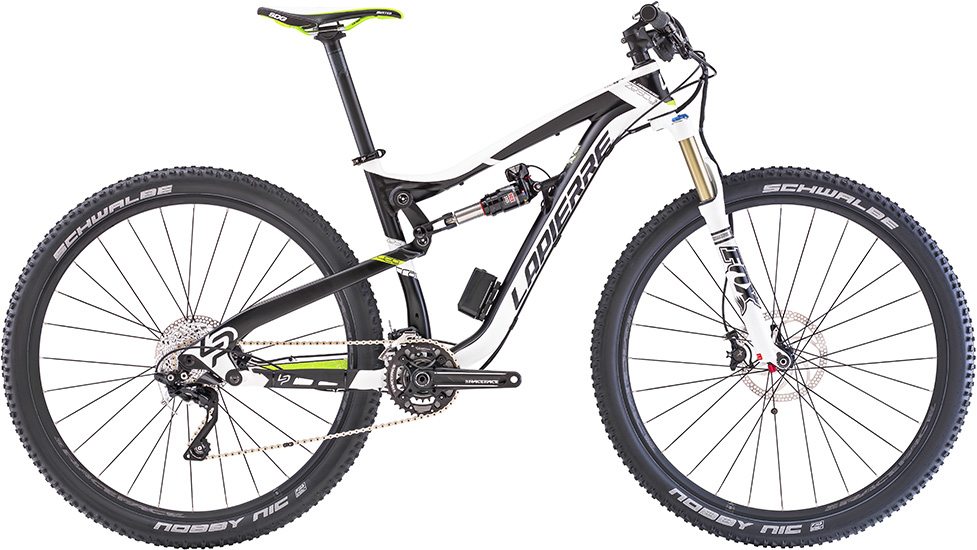 Frame Details

Full Spec