June 11/14 9:39 am - Mardis Lachine report and results

Posted by Editoress on 06/11/14

Australian Jacob Restall (Gold Coast Cycling Club) won the first stage of the 37th season of the Mardis Cyclistes (bike races) presented by Jean Coutu. Restall crossed the finish line with a time of 1:02:04 over the 50km (average speed of 48.3kmh), barely edging Hugo Houle (AG2R La Mondiale) who had to be content with second place. Defending champion Simon Lambert-Lemay (Garneau-Québécor) finished in third.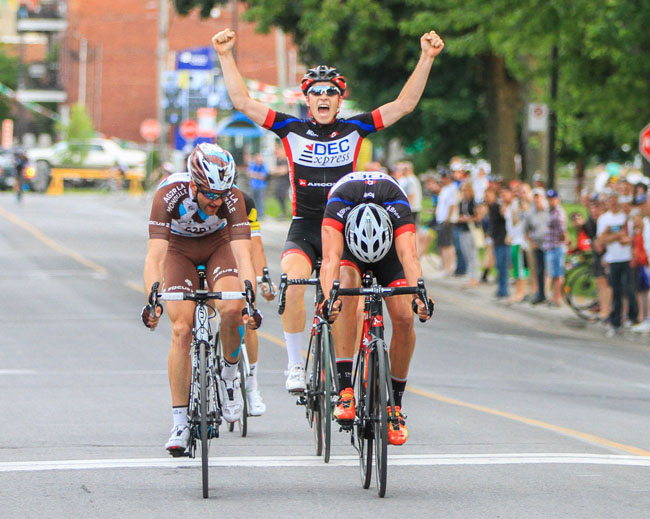 Some 125 cyclistes were massed on the start line of the men`s Pro-Elite race. The field included Houle, a Quebecer riding for a French WorldTour team, François Parisien (Studio Powerwatts), a former pro rider now a sports commentator with RDS), and Martin Gilbert (independent), a former Olympic cyclist. Felix Burke (Opus) the recent winner of the Canada/Québec mountain bike cup, and the visiting Ontario team NCCH p/b DEC Express (Restall is associated with this team).

The race was marked by numerous crashes, all of which appeared minor, and by perfect weather. To get the cyclists` adrenalin pumping, Mardis president Joseph "Tino" Rossi took the microphone and shouted "let's get ready to rumble!" just before Lachine Mayor, Claude Dauphin fired the starting pistol.

For the women, it was Adriane Provost (SAS-Mazda-Macogep) who won while her team swept the podium. Kirsti Lay was second while Rosalie Cardin-Houde finished third.

The Mardis series of ten (10) stage races continues every Tuesday evening through August 12th. The circuit is located around Lasalle Park in the Montreal borough of Lachine. The minime race starts at 5:30 p.m., followed by the cadets, women, and masters at 6 p.m. The men`s Pro-Elite race starts at 8:50.pm where the cyclists average close to 50 km/h and reach speeds of up to 70 km/h during sprints. The races are free for spectators.
Report courtesy Mardis Cyclistes