June 13/14 15:03 pm - Tour de Beauce: Stage 3 report

Posted by Editoress on 06/13/14

One short night after battling epic conditions up on Mont Megantic for stage 2 of the Tour de Beauce, riders once again faced rain and wind for the stage 3 individual time trial, a 20 kilometre effort held on the outskirts of St-Georges. Tom Skujins (Hincapie Sportswear), who took over the Yellow Jersey after Megantic, held onto the overall lead despite finishing 14th, nearly a minute down on stage winner Stefan Schumacher (Christina Watches - Kuma). Ryan Roth (Silber Pro Cycling) was the top Canadian for stage 3, finishing on the podium in third and moving into 13th on the GC. Rob Britton (Team SmartStop) remains the top Canadian overall, in fourth. Mike Woods (Amore Vita-Selle SMP), the top Canadian in second place going into the stage, had a difficult ride, finishing 46th and dropping to 11th overall.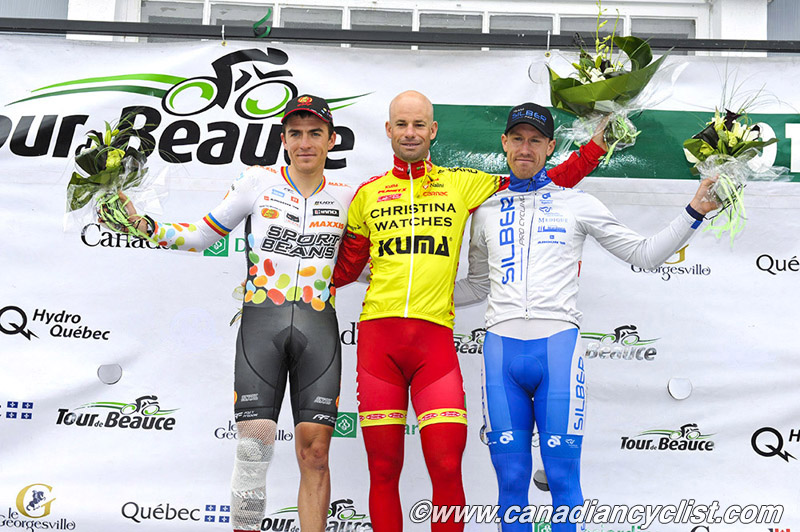 While the first half of the field rode in rain, which gradually backed off, the greater concern was the wind - a cross-headwind on the way out, which blew riders around on the rough roads. "It was a problem," admitted Roth. "It made the TT bikes difficult to control in sections."

Garneau-Quebecor rider Remi Pelletier-Roy was one of the early leaders, with a time of 26:14, but faster riders behind were about to break the 26 minute barrier.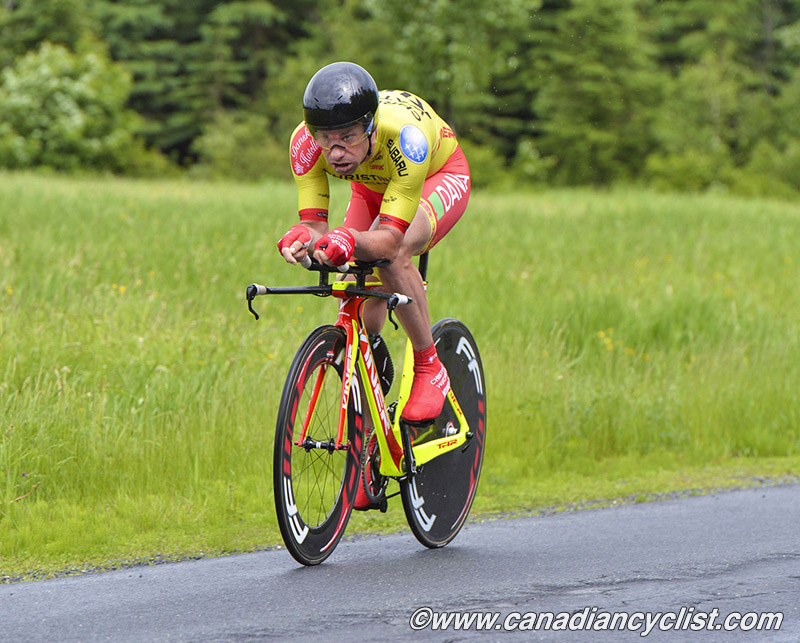 Stefan Schumecher
Schumacher was 20th from last to ride, and his time of 25:44 was ten seconds faster than second placed Serghei Tvetcov (Jelly Belly), who was a second ahead of Roth. Joey Rosskopf (Hincapie Sportswear) finished just a few hundredths behind Roth.

"We had to use large gears today," said Schumacher. "I was identified as one of the favorites this morning, but I wondered if I had the legs to achieve good performance after the difficult stage of Mont Mégantic. I guess it was the same for everyone. During the first few miles I had the wind in the face and then back it was side winds. I looked at my time and with five kilometers left to go I had already registered 20 minutes. Then the descent came and I took advantage of a tailwind and that is where I reached a speed of 65km/h , allowing me to post the best time."

Tvetcov moves into second overall, 1:17 behind Skujins, with Schumacher's team mate Asbjorn Kragh going into third, at 1:30. Rob Britton retains the fourth overall he took after Megantic, sitting 1:43 back, with Schumacher next at 1:47. There are four more Canadians in the top-15 - Woods at 11th (2:21 back), Roth 13th (2:35), Garrett McLeod (H&R Block) at 14th with the same time, and Jordan Cheyne (Ride with Rendell p/b Biemme) 15th at 2:37.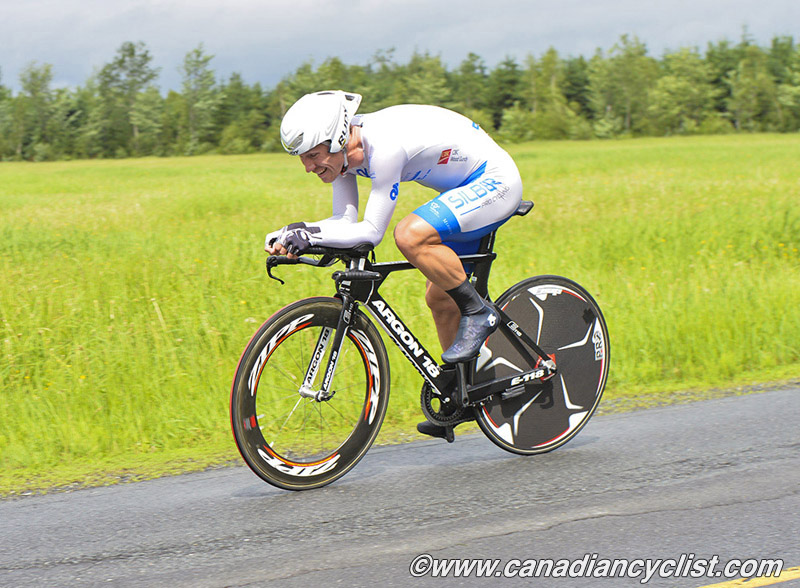 Ryan Roth
For Roth and his team director Gord Fraser it was a strong placing for a young team. "It's very good for us," said Gord Fraser, "more than you think. We had a hard day yesterday and this podium will be good for team morale. Our mechanic Dominic Cantin has done a great job on Ryan's time trial bike because it had not been used for a year. It was his bike from Team SpiderTech."

Roth has been with the team for just over a week now. "He has earned his place with us. Ryan is passionate and he agreed to join an amateur team, Jetfuel, to be able to race."

Ryan Roth has not been lucky in the past two years, as both teams he rode with (SpiderTech and Champion Systems) closed down abruptly. "I am very happy to join Silber Pro Cycling. I wanted to take part in high caliber competitions like the Tour de Beauce, and the Jetfuel team could not provide that, even though it was very good with me. It was not an easy decision to make. I came with good form and the staff is very knowledgeable. Dominic has done a great job with my bike. I was not afraid to use it because I had good results with it before, and today I felt very comfortable. The wind was very strong and sometimes I had to leave my aerodynamic position to counter the effects of wind. I take great satisfaction from my third place and now we will try to do a good show tomorrow in Quebec."






Best of the Quebecers in the time trial was Rémi Pelletier-Roy, who was very happy with his time. "I do well in a time trial race, but in a competition like the Tour de Beauce, it is different. With temperature, rain and wind, and after the stage of Mount Mégantic, there are riders who do not always have the motivation to go hard, especially if they are far in the overall. I did not know what to expect but I thought that I might as well go 100%, and I managed my race well."

Race Notes

- Tomorrow's circuit race in Quebec City features nine laps of 14.5 kilometres, through the Plains of Abraham, down to the St Lawrence River and then back up the difficult Cote de la Montagne climb through the Old Town. Breakaways have often succeeded on this circuit.

Results