June 25/14 9:19 am - Bike Review - Opus Vivace 4.0

Posted by Editor on 06/25/14

Opus is the bike brand for Canadian distributor Outdoor Gear Canada (OGC), one of the oldest and most respected companies in Canada. Over the years, OGC has distributed some of the top brands in the bike world - they were the first Canadian distributor for Specialized, brought in Mavic, Kryptonite, Blackburn, Avocet, Oakley, BMC, and many more. It is a company that has always been associated with quality products.

Some years ago, they decided it was time to start designing their own bikes and, as you might expect, they didn't go for low end generic ones. Although possibly more known for their Opus mountain bikes and hybrid/city bikes [see our review of the Cervin Here], Opus actually first began with a road program in 2000-2001.

There are six lines in the Road program, with Vivace as the carbon frame competition line. We tested the entry level Vivace 4.0, which is a mechanical Shimano Ultegra bike with a suggested retail of $3225. The three models above share the same frame and fork, with the equipment spec moving up to Ultegra Di2 electronic (Vivace 3.0, $4830), Dura Ace mechanical (Vivace 2.0, $6420) and Dura Ace Di2 electronic (Vivace 1.0, $8640).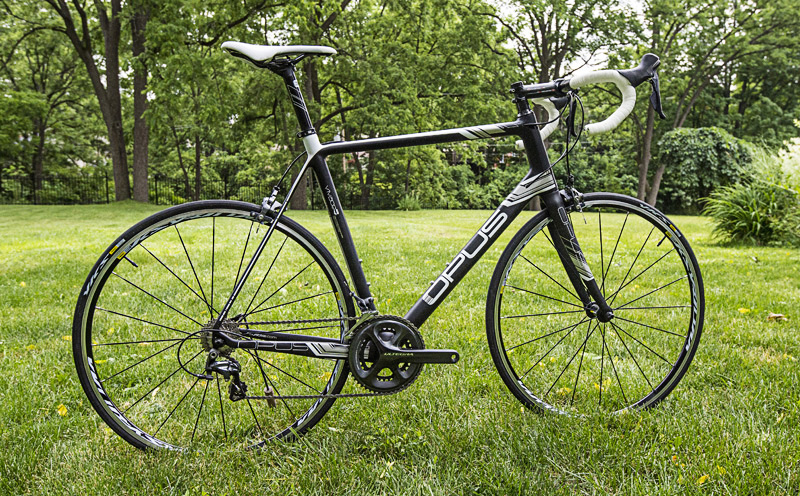 The Opus Vivace 4.0 is a very striking bike
By spec, the Vivace 4.0 is excellent value. It offers the full Ultegra 11-speed group - none of the down-spec'd crank or brakes that are sometimes slipped in to meet a price point. The Mavic Kysrium Equipe WTS wheels are also a more expensive model than almost everything else at the same price range with a carbon frameset and fork. Easton bars and stem, an Opus-branded carbon seatpost, FSA bottom bracket and Mavic Aksion Comp tires all contribute to make this bike a standout on paper. It is also gorgeous to look at, in a matte black with stripes of light grey and white as highlights.
Full Shimano Ultegra and Mavic Kysrium wheels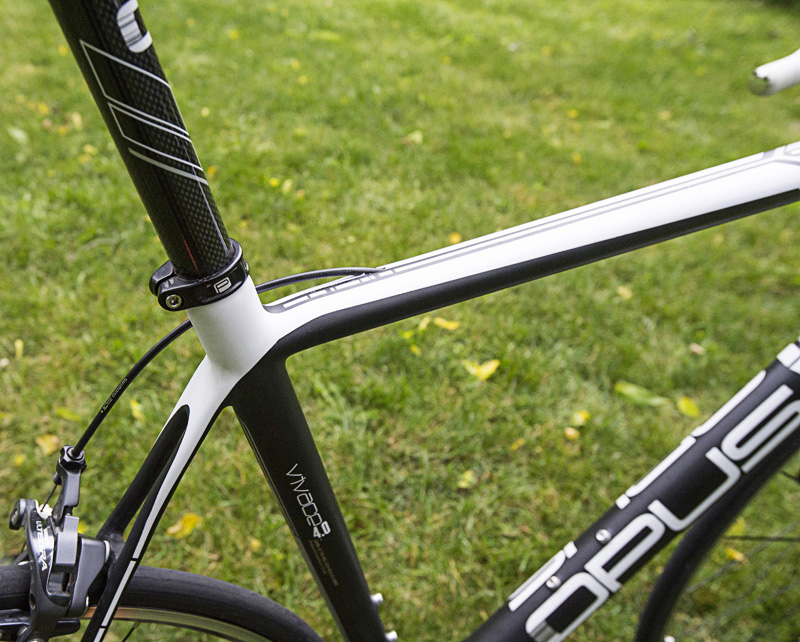 Full carbon monocoque design with carbon seatpost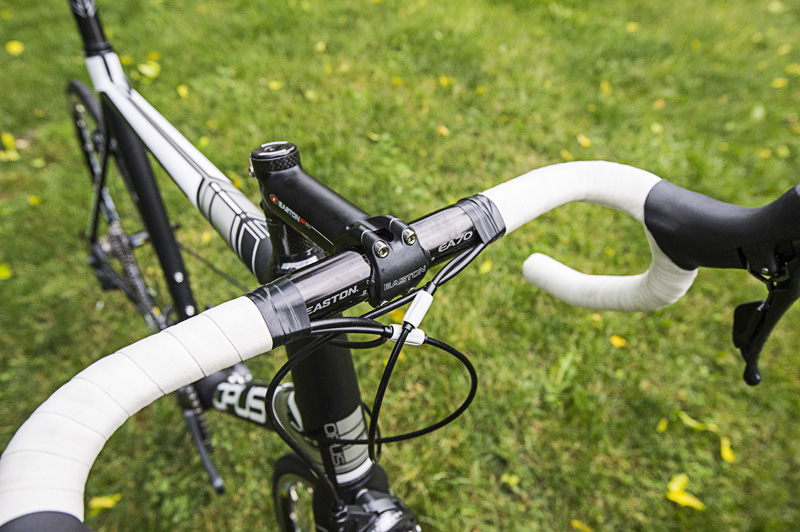 Brand name Easton bar and stem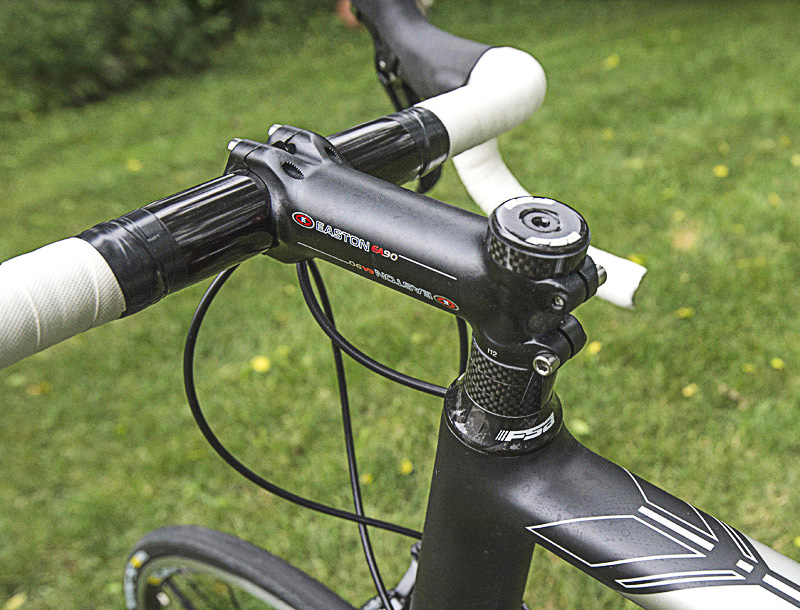 Nice touchs like FSA aheadset and carbon spacers
However, paper specs are just the starting point. I have ridden bikes that can't be beaten for price, but ride like a piece of lumpen lead. Happily, that is not the case with the Vivace 4.0. This is a thoroughly competent bike, well balanced for all around riding. It climbs smoothly, descends well and is not marked with any bad habits. Riding this bike, I got out of it exactly what I put into it.

If this sounds like I'm damning with faint praise, it shouldn't. While Opus calls the Vivace their competition line, it should not be confused with the sort of bikes that are used at the Tour de France / WorldTour level. OGC / Opus doesn't have the budget for engineers, technology or pro rider feedback that the big name brands do. So, while some companies can boast of private wind tunnels and double-digit dedicated engineer staffs, that comes at a cost. For example, the frame alone of the Cervelo R5 (not even their most expensive model) retails for $5000.

The Vivace 4.0 will suit the occasional racer, the enthusiast Gran Fondo rider, the somewhat budget-conscious cyclist who is, nonetheless, demanding a bike that offers the most up-to-date components and non-compromising performance.

To me, the Vivace 4.0 and 3.0 are the best picks in the line, since the 1.0 and 2.0 start to get into the higher price points where people will expect brand name status as well as performance. To use a sports car analogy - the Vivace 4.0 is the Mazda Miata, not the Ferrari. The Miata, don't forget, is fun, affordable and the best selling sports car in history...

www.opusbike.com