December 3/15 11:37 am - Special Editions of Dogma F8 Arrive in Canada in the New Year

Posted by Editoress on 12/3/15

Canadian Pinarello distributor Uno Imports is pleased to announce that two special editions of the Dogma F8 will be available early in the new year - the Dogma F8 Team Sky 2016, and the Dogma F8w with Wireless SRAM Red.

Dogma F8w

Dogma F8 from its release has always stood out ... but from now on even more, because today Dogma F8 embraces one of the most interesting innovations of the year: the new Wireless SRAM RED eTap groupset, putting on road, probably, the most innovative bike of the market today.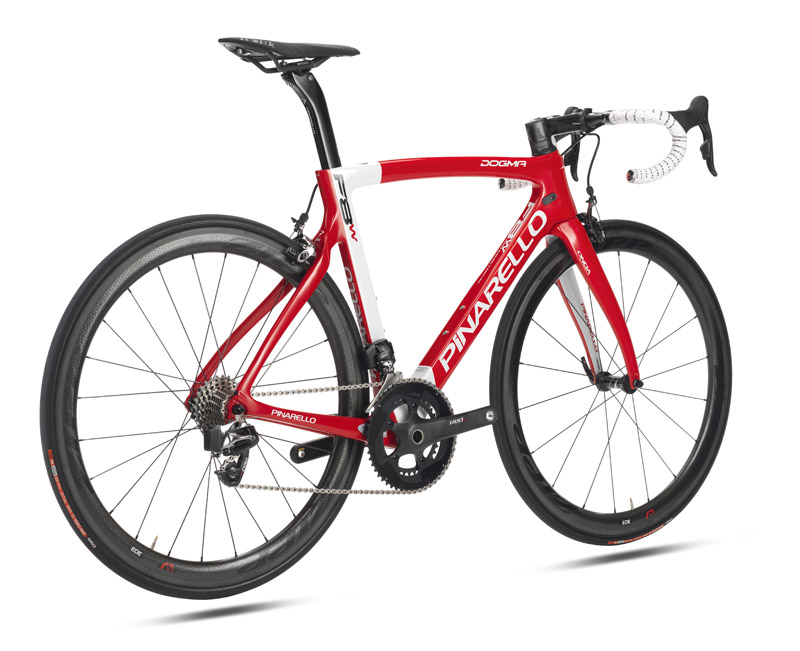 The first electronic groupset by SRAM ensures an easy, intuitive and fast riding experience, thanks to the new eTap shift logic, which lets you shift towards the smaller sprocket with the right lever and towards the bigger one with the left lever.

The front derailleur instead is controlled by pressing both levers. The new AIREA transmission technology allows the exchange of impulses via radio between levers, rear derailleur and front derailleur, through a safe coded frequency.

"I've been trying the new SRAM RED eTap on my Dogma for a long time; I'm really impressed by the performance of this product. I am sure that it will be perfect on our bikes," says Fausto Pinarello.

"Being associated with Pinarello for their latest Dogma launch provides the perfect platform and match for SRAM RED eTap. It also brings together two companies focused on product innovation for the benefit of its customers," commented Gaetan Vétois, SRAM European Marketing Director.

Dogma F8W will be produced in limited edition in the exclusive color 896 RED WHITE F8W. A limited number of Dogma F8W full bikes will be available from January.

The assembly of these bikes includes the SRAM RED group eTap, Zipp 303 Firecrest Carbon Clincher wheels, Most Aero 3K stem and handlebar.

Dogma F8 Team Sky 2016

Team Sky flies again for the seventh consecutive year with the refreshed style of Pinarello Dogma F8. Since 2010 this alliance has enabled Team Sky to climb the heights of the major competitions in the world.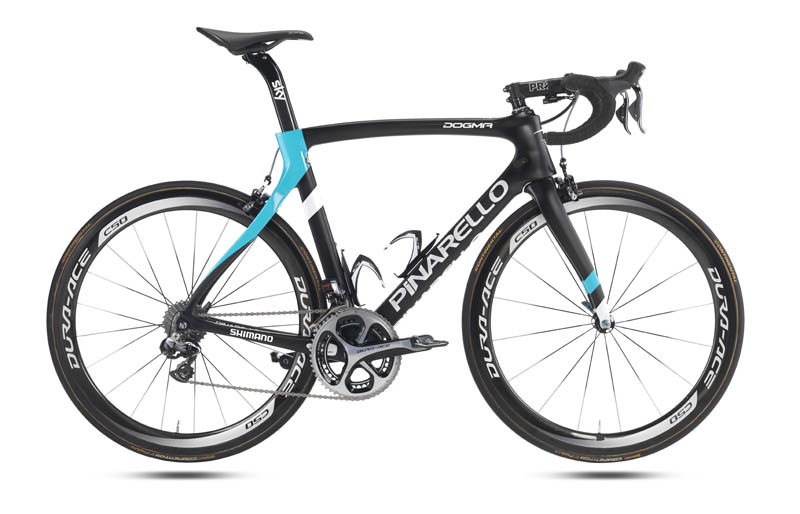 The new Dogma F8 brought Chris Froome to victory at the 2015 Tour de France. It will still be matte black, but with the addition of a bright blue and a white line. A smart, but at the same time aggressive, bike for next year's Team Sky.

"Three Tour de France in six years, and a huge number of victories and podiums. These results would be enough just to be proud of this team, but the union between Pinarello and Team Sky is much more. Two innovation-oriented companies, to achieve many more victories," states Fausto Pinarello.

"The Pinarello Dogma F8 is an outstanding bike that performed very well for us in 2015. We're very proud to enter our seventh season with Pinarello in next year and the new 2016 bike looks fantastic," said Carsten Jeppesen, Team Sky's Head of Technical Operations and Commercial.

Dogma F8 Team Sky 2016 uses a Shimano groupset and wheels, PRO stem and handlebar, Fizik saddle and Elite bottle cages. Available starting from February 2016; prices and assembling through authorized dealers.

Contact Uno Imports or your local Pinarello dealer for more information.
Press release