December 20/15 9:40 am - Granfondo Garneau-Quebecor Raises $90K for Elderly

Posted by Editoress on 12/20/15

The participation of the 2,500 riders in the 2015 Granfondo Garneau-Quebecor allowed Louis Garneau to present a check for $90,223 to the Little Brothers Foundation, a donation that is quite welcome just before the holidays. Since its creation in 2009, all the event's proceeds have been donated to the Little Brothers and to this day, over $380,000 have been raised.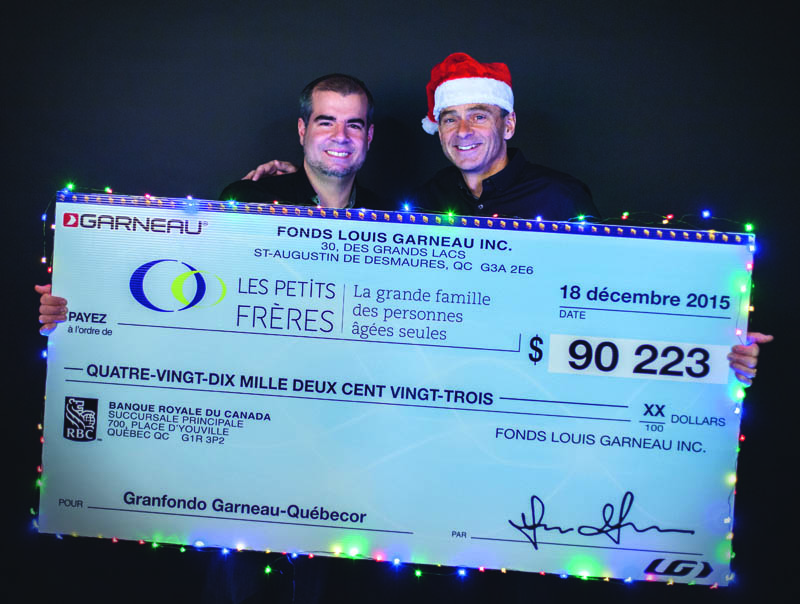 "The Christmas season is the perfect moment for sharing and one of my favorites of the year, because it is at this time that we present a great gift to the Little Brothers and our Old Friends. My team and I have worked very hard to offer a wonderful day to the participants of the Granfondo Garneau-Quebecor presented by Cascades and it brings me great joy and pride to be able to once again help the organization that I have been supporting for 14 years now," explains Louis Garneau, who also wishes to thank all the partners and participants who were involved in the event and helped bring comfort to the lonely elderly.

Caroline Sauriol, Executive Director of the Little Brothers organization, is delighted that the lonely elderly can benefit from an invaluable support once again this year. "By supporting the Little Brothers, Louis Garneau and all the Granfondo Garneau-Quebecor participants allow us to break the isolation and solitude of the elderly of the Quebec region. With this support, the Old Friends can enjoy the delights and comfort of a big family all year round as well as precious getaways to the St-Joseph Lake vacation cottage surrounded by the love of the volunteers."

Registration for the 2016 edition is now open. You can sign up by visiting quebecgranfondo.com or by phone at 418-878-2130. Would you like to get involved in the cause of the lonely elderly? Contact the Little Brothers at 1-866-627-8653.