January 14/16 19:15 pm - Etixx - Quick-Step to Use Canadian Power Meters

Posted by Editor on 01/14/16

Alberta-based 4iiii Innovations Inc. (4iiii), a global trendsetter in sport monitoring technology, has announced it has been named the 2016 Official Supplier of Power Measurement for the Etixx - Quick-Step Pro Cycling Team. Through a partnership with the team's official equipment supplier, Specialized Bicycle Components, 4iiii is providing dual-sided Precision Pro power meters to the team's more than 30 world-class riders.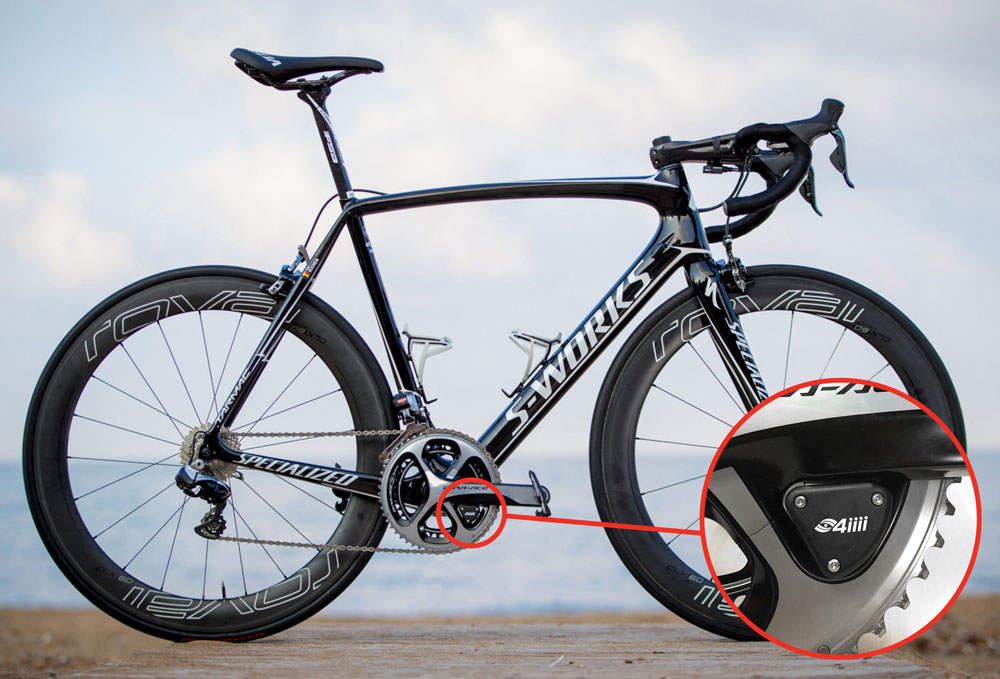 "We're honoured to support the proven commitment and excellence of both Specialized and Team Etixx - Quick-Step," said Kip Fyfe, President and CEO of 4iiii. "The sophistication of our technology allows us to produce relevant, differentiated products that lead to measurable results for athletes in many sports. We're looking forward to seeing the benefits of our concepts realized on the global stage."

4iiii's dual-sided Precision Pro power meter system was uniquely developed for Team Etixx - Quick-Step to empower the world's most discerning riders with real-time, in-depth and accurate wattage data as well as other advanced cycling performance metrics. Consisting of two pods permanently installed on the inside surfaces of the bike cranks, Precision Pro adds a mere 25 grams of combined weight to cyclists' bikes. With its ANT+ and Bluetooth Smart compatible wireless technology, Precision Pro also offers riders data display flexibility.

"Specialized chose 4iiii's Precision power meter technology because of its minimal weight and quality data output," stated Simone Toccafondi, Head of Specialized Racing Road, Specialized Bicycling Components. "Our choice was further enforced by 4iiii's history in sport monitoring innovation and its highly responsive technical client support. This partnership between Specialized and 4iiii is a reflection of our mutual commitment to deliver the best products and latest technologies to the world's strongest riders. We look forward to further developing the technology to enhance rider performance."

"We are happy to partner with 4iiii for this new race season," shared Patrick Lefevere, CEO of Team Etixx - Quick-Step. "4iiii's history is relatively new but well established in the world of cycling. We're delighted they're making their debut in the professional cycling world with us. We want to welcome them and hope it is just the beginning of a fruitful and lasting collaboration."

4iiii introduced its left side Precision power meter to the market last year with a factory-install program, allowing bike enthusiasts to add power to their existing cranks. A left crank purchase option is also available. The company remains committed to provide a commercially available, dual-sided Precision power meter.

Since entering the market in 2012, 4iiii has gained an enviable reputation for developing new and standard-setting sports monitoring products. With Precision, the company introduced a new level in lightweight power meters at an industry-leading price point. The company's other industry firsts include: Viiiiva, the first ANT+ and Bluetooth Smart heart rate monitor that bridges and stores activity logs while offering a convenient tap to pair feature; and Sportiiii-the industry's first eye-wear mounted data feed with audio and visual prompts.

"This collaboration with the Etixx - Quick-Step and Specialized will add to 4iiii's on-going development of game-changing sport and wellness devices. It's exciting," concluded Fyfe.

About 4iiii Innovations
4iiii Innovations Inc. is a global, Canada-based leader in providing innovative wearable technologies to OEM and retail markets. 4iiii entered the market in 2012 and brings an integrated portfolio of technology that raises sport monitoring to be more effective in keeping athletes smarter, faster and safer.

The Precision power meter, Viiiiva heart rate monitor, Sportiiii heads-up display as well as the 4iiii and Cliiiimb apps - are designed to advance the athletic performances of fitness enthusiasts to professional athletes. Our products have a fresh approach to displaying relevant performance information to the user and support both ANT+ and apps - are designed to advance the athletic performances of fitness enthusiasts to professional athletes. Our products have a fresh approach to displaying relevant performance information to the user and support both ANT+ and Bluetooth Smart wireless communications.

In addition, some 4iiii products have open APIs, which support the development of a full ecosystem of targeted solutions to meet specific customer or market needs. The company was founded by Kip Fyfe and Victoria Brilz. The pair disrupted the sports tech sector by introducing the world's first accurate speed and distance monitor technology in 2000 and later, in 2003, the ANT+ communication protocol as part of their previous start-up.

For more information, visit www.4iiii.com.