January 30/16 15:01 pm - Cyclocross World Championships: Day 1 Delivers True Cyclocross Conditions

Posted by Editoress on 01/30/16

Day 1 of the 2016 Cyclo-cross World Championships in Zolder, Belgium, delivered the complete Belgian experience - heavy rain, mud and cold winds - all designed to push riders to their extremes as they battled the elements and their fellow competitors.

This coverage brought to you by Giordana: Ride Through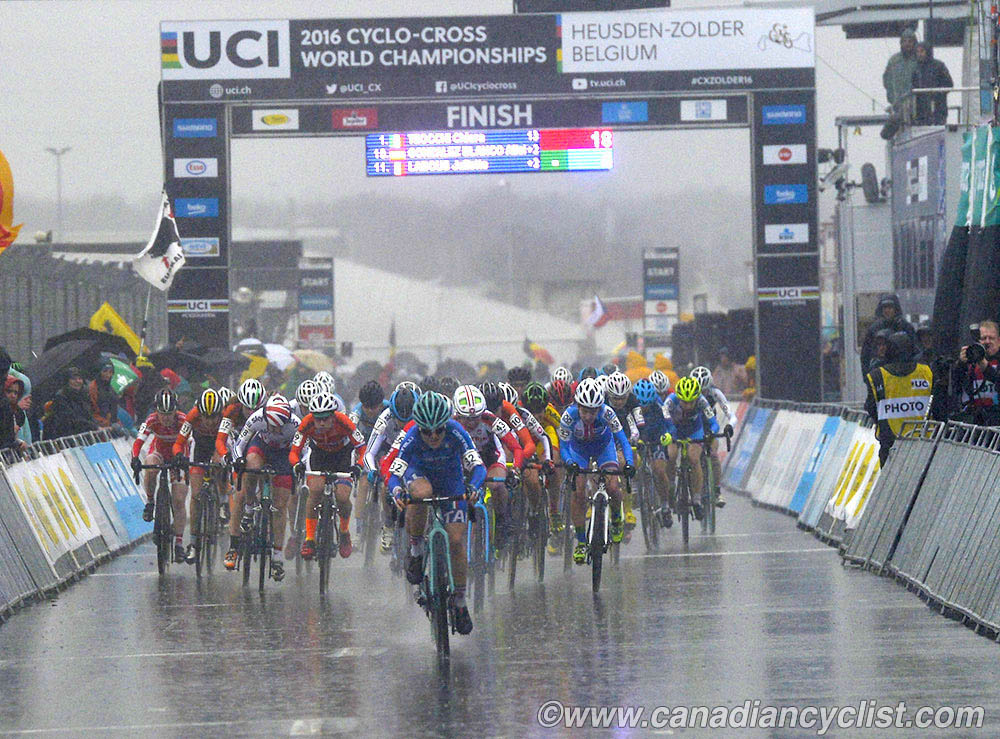 Mical Dyck was the top Canadian rider for the day, finishing in 16th place in the Elite women's race. While a strong result, for Dyck it was ultimately disappointing, since she was looking for a top-15 after finishing 12th last year. Thalita De Jonge (Netherlands) took the title ahead of Caroline Mani (France), while local favourite Sanne Cant (Belgium) could only manage third.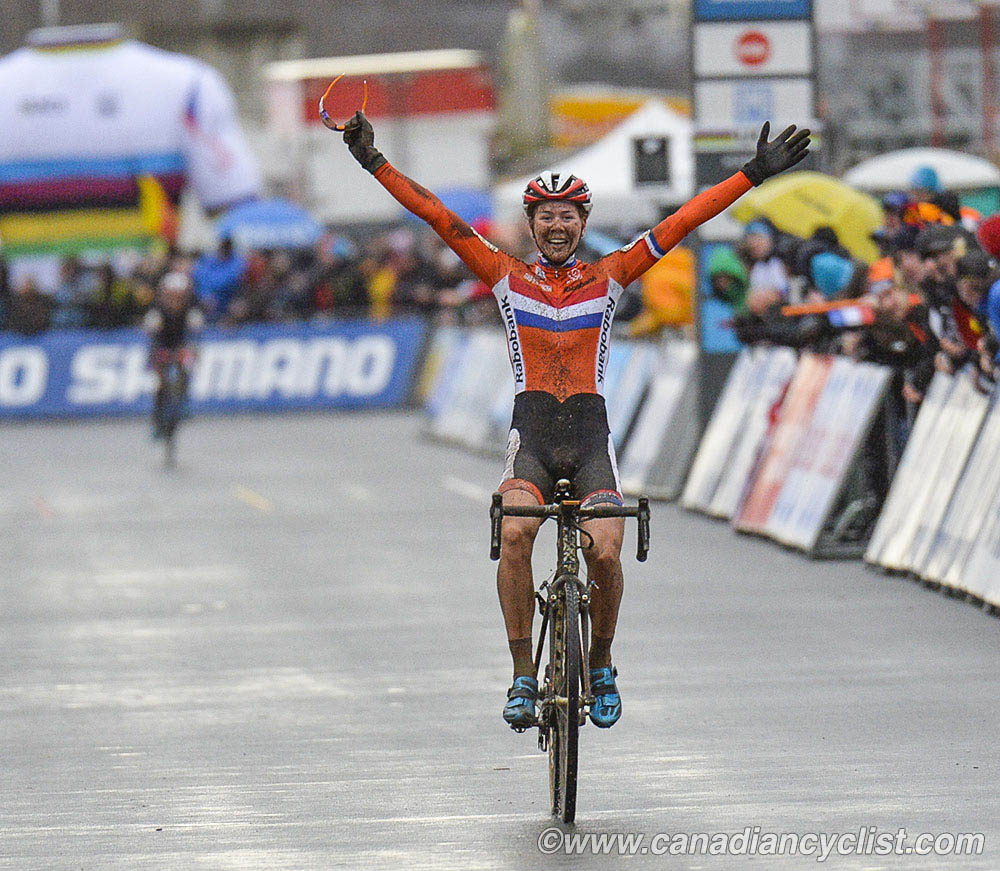 Thalita De Jonge winning the Elite women's race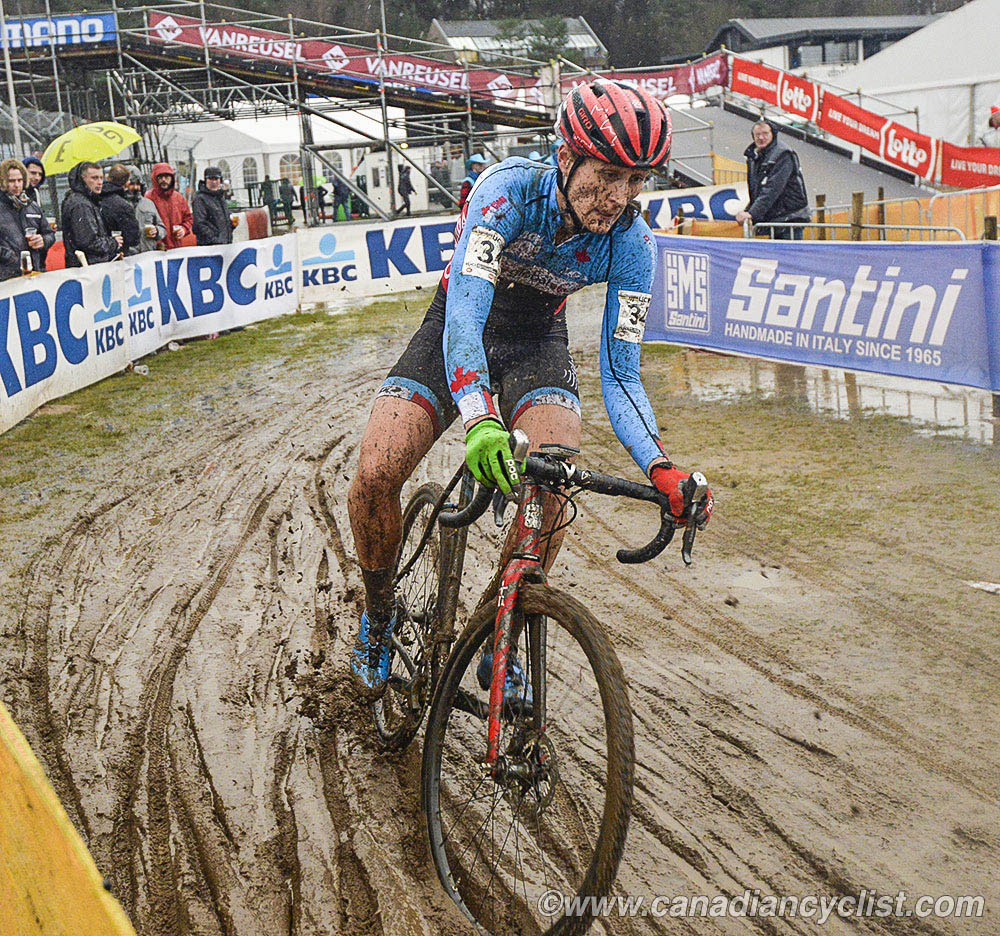 Mical Dyck
"I definitely wanted to do better," admitted Dyck, "but I rode really solid, stayed upright, had a clean race and rode as hard as I could. Everyone else was going just as fast. It's a really strong field, so that was awesome to see. The ground was completely saturated, with massive puddles in places where there was nothing [in training] the day before. The downhills were a lot slipperier and what use to be a ride up became a run up. It was fun, and I'm happy with my ride."

In the Junior men's race, Canada's Brody Sanderson was on track for a top-40 result until a crash on the last lap in a descent dropped him back to finish 52nd, just behind team mate Gunnar Holmgren in 47th. Sanderson was checked out by the medical staff for a shoulder injury, but at this time appears to have suffered no serious injury. Quinton Disera, Canada's third entrant in the race, suffered mechanical problems on the first lap, losing ground on the field, but managed to finish on the same lap as the leaders, in 62nd place. Jens Dekker (Netherlands), the pre-race favourite easily took the rainbow jersey, ahead of French riders Mickael Crispin and Thomas Bonnet.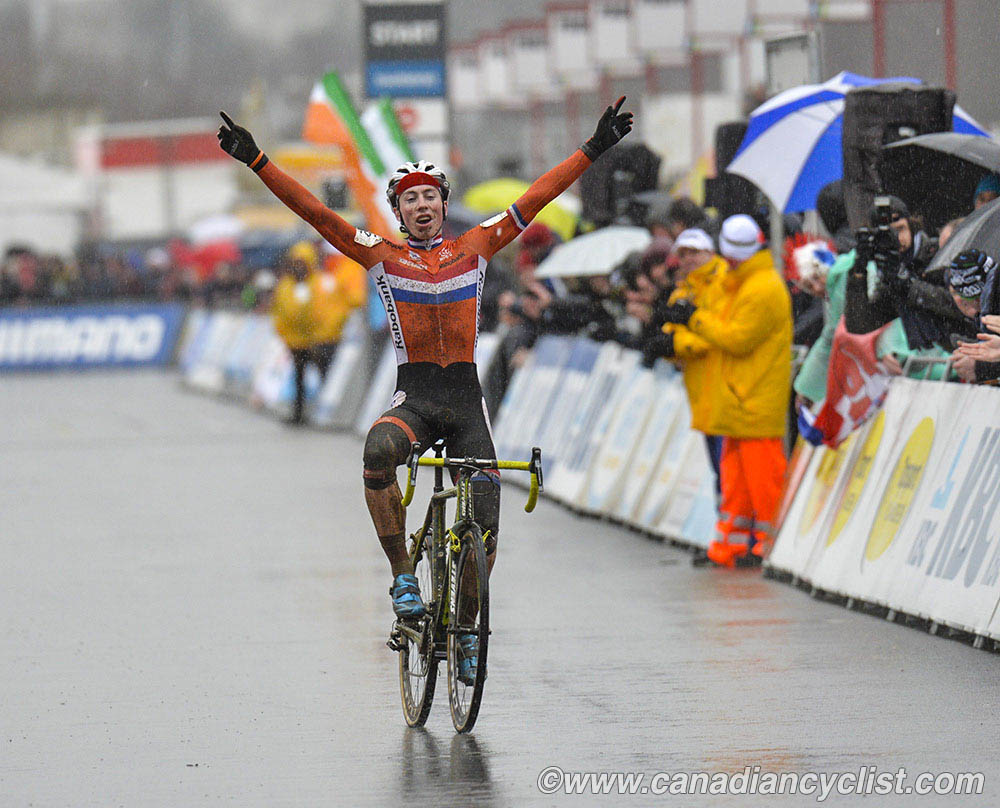 Jens Dekker (Netherlands), the pre-race favourite easily took the rainbow jersey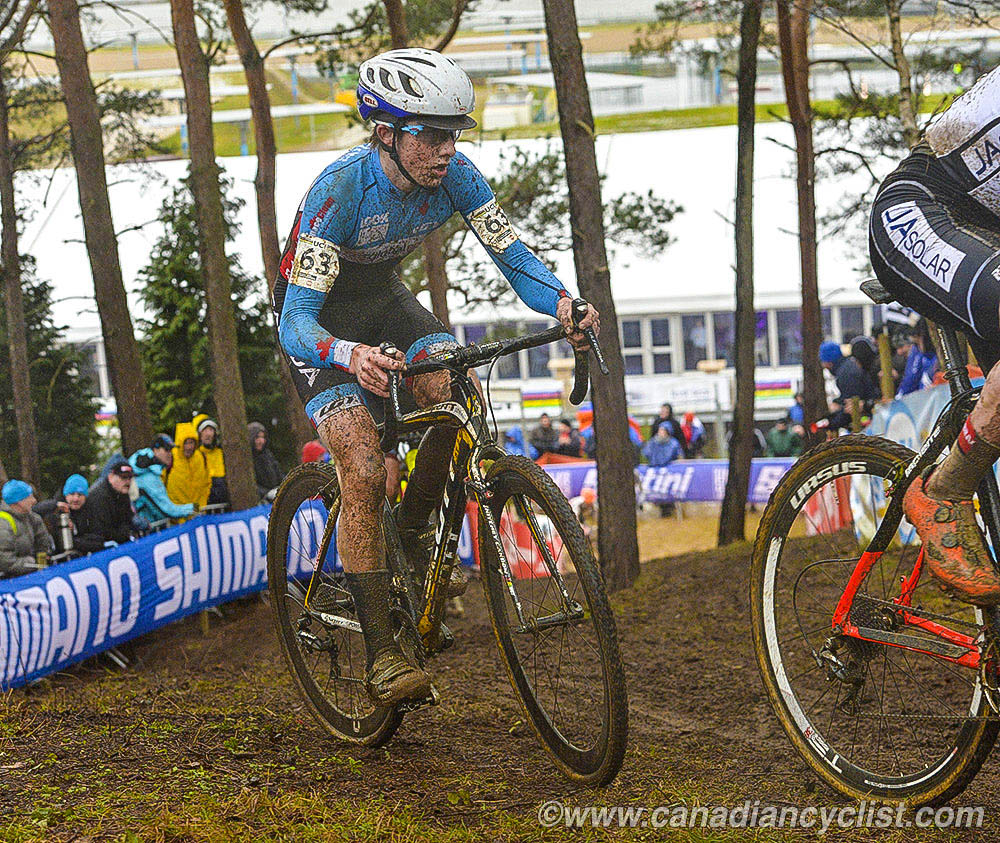 Brody Sanderson
"On the last lap, I was going down the final downhill," explained Sanderson, "and I just slipped out a little bit, went into a rut, went over the bars and slammed into the ground pretty hard. I was actually top-40 before my crash, which was a goal for this race, but all-in-all I'm super stoked for my result. The atmosphere is so different from North America, because there are so many starters in every race. I'm so pleased with this project."

The Under-23 women, a category racing for the first time at the Cyclo-cross world championships, faced the worst conditions of the day, with driving rain putting sections of the course underwater. Despite being among the youngest riders in the race (Junior-aged, but racing against Under-23 riders), Canadians Ruby West and Maggie Coles-Lyster both finished on the same lap as the leaders, with Canadian champion West finishing 33rd (10th among the Junior riders) and Coles-Lyster 41st. Evie Richards (Great Britain) took the inaugural title, ahead of Nikola Noskova (Czech Republic) and Maud Kaptheijns (Netherlands).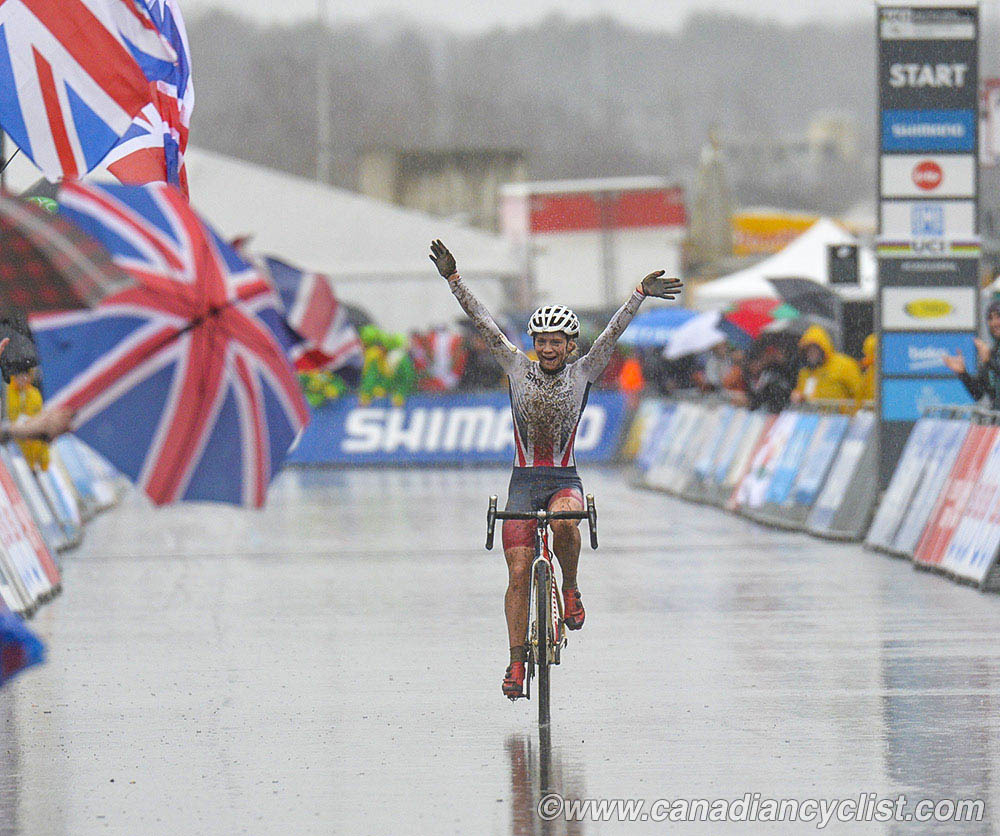 Evie Richards (Great Britain) took the inaugural title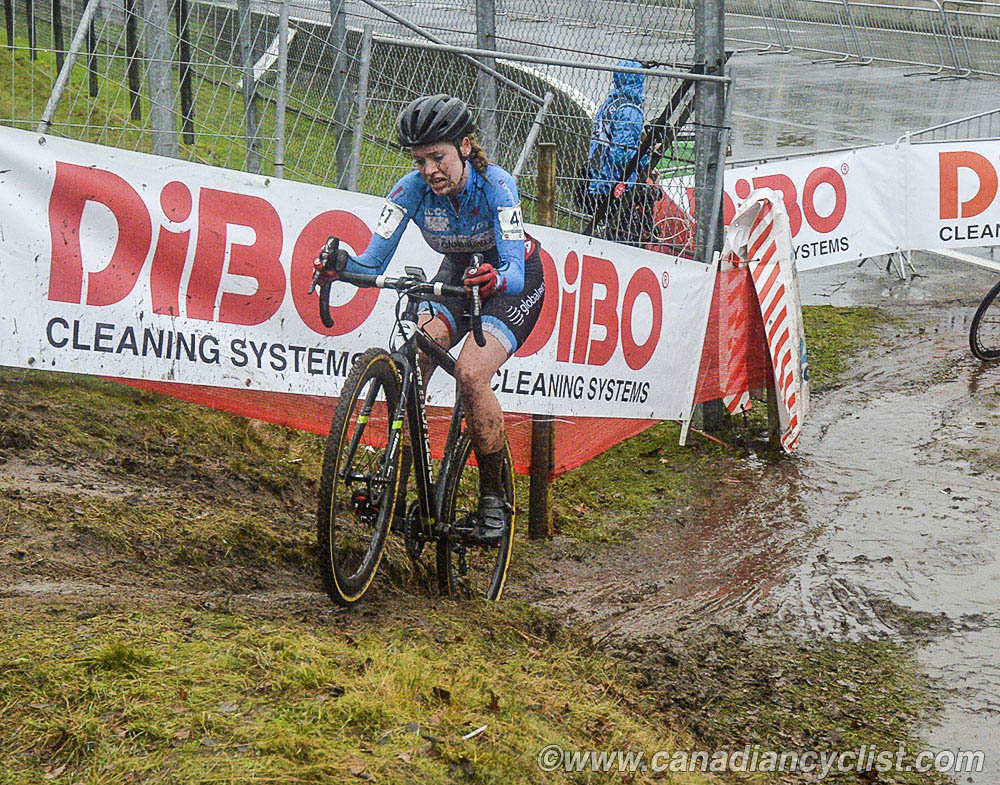 Ruby West
Interviews: Mical Dyck and Brody Sanderson
Results