February 12/16 9:11 am - Hugo Barrette Interview

Posted by Editor on 02/12/16

Canadian track rider Hugo Barrette has had a rollercoaster of a year. He won three medals last summer at the Pan Am Games - gold in the Sprint and Team Sprint, and bronze in the Keirin. He followed that up at the Track Nationals in October by sweeping the men's sprint events.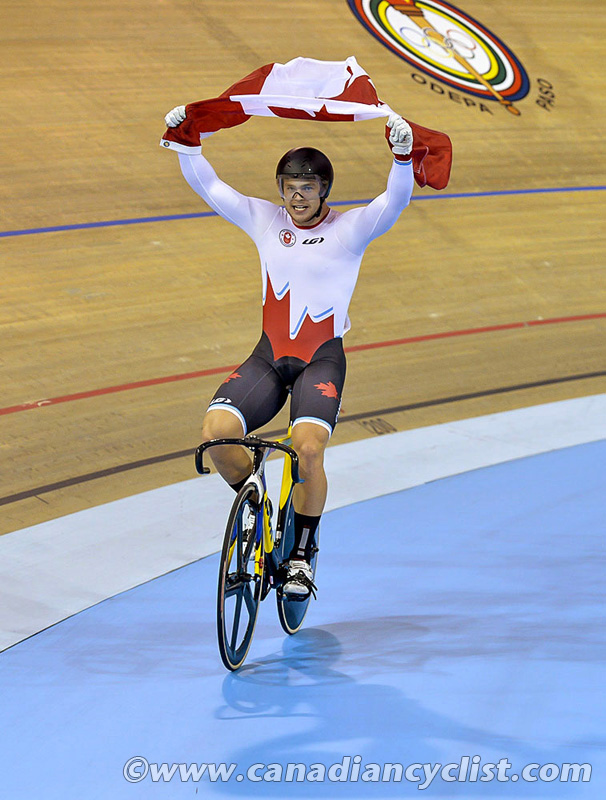 2015 Pan Am Games - celebration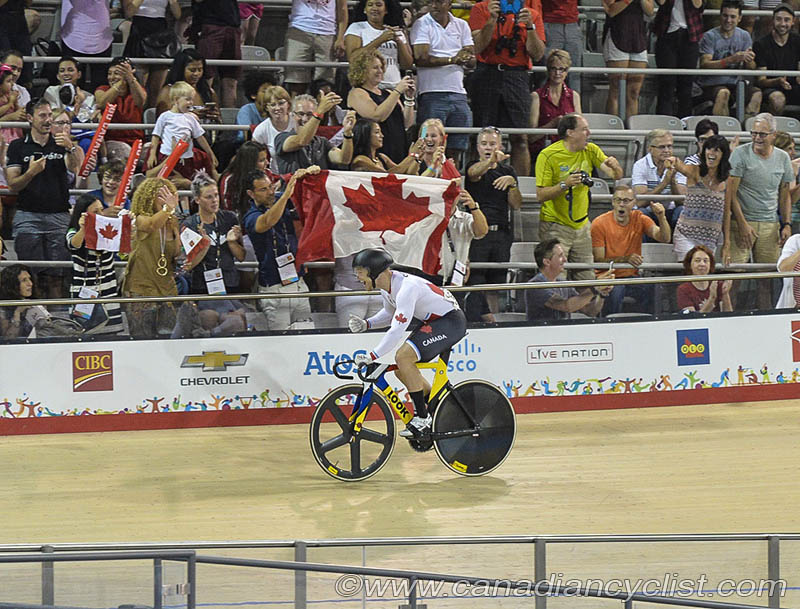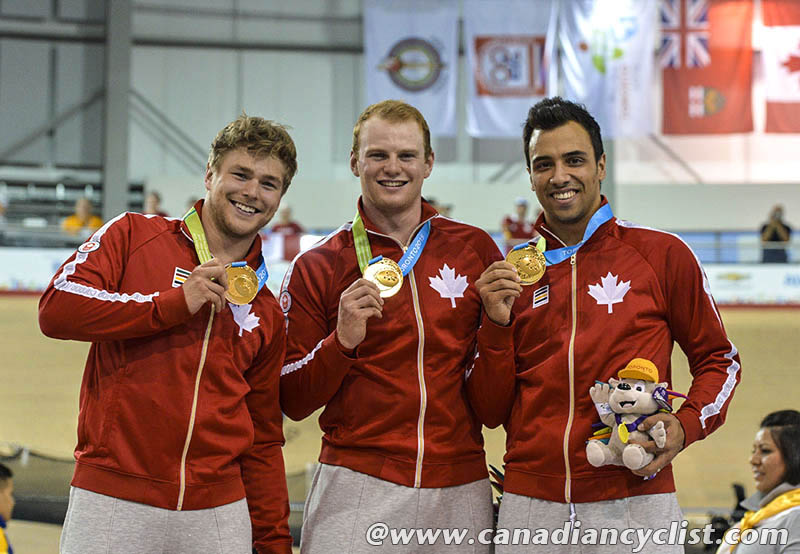 2015 Pan Am Games Men's Team Sprint gold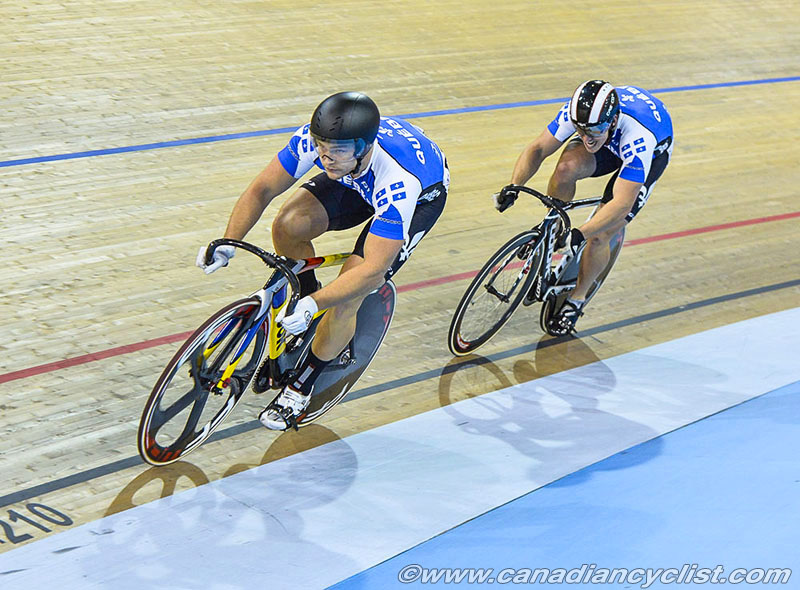 Track Nationals: Gold medal ride against Archambault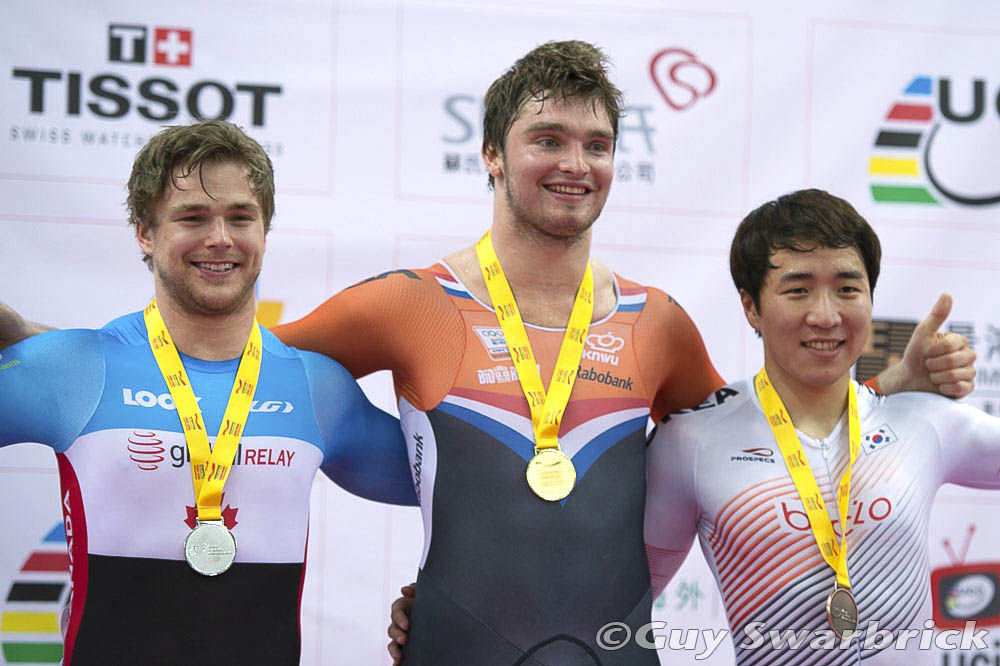 Silver medal in the Keirin at Track World Cup #3, Hong Kong
Then, at the end of October, Hugo had a horrific crash in training before the start of the opening round of the World Cup in Cali, Colombia. He broke his back and suffered significant facial injuries. Remarkably, he returned to competition by the next round of the World Cup in early December, and in the final round, last month in Hong Kong, took the silver medal in the Keirin.

We spoke with Hugo in Milton at the Mattamy National Cycling Centre, where he is training twice a day as he prepares for the world championships early next month in London, UK.

Canadian Cyclist: We are only a few weeks out from the Worlds. How are you doing with your preparation?

Hugo Barrette: It's a lot of training, tough training that Erin [Hartwell, National Sprint Coach] like to put me through [laughs]. We've been working on it for the last six months, so we have a good idea of what works for me. Maybe a few changes here and there, but we've got a pretty solid plan that we have used for many events now.

We used it for Pan Am Games and for Hong Kong, and it worked, so we keep to what we know. The basics of the plan is a tremendous amount of work; hard, really hard work. So when you show up to the line, you know you've done absolutely everything you could possibly do to be the best prepared.

For me, it means I come up to the line stress-free, because I know that I have done everything I could possibly do to be the best prepared. I can't control what the other riders are going to do, but I know I've done the best of my ability.

So, considering where I've come from ... I had a crash, broke my back ... it means I had a chance to train a lot for Hong Kong. But there's a lot still to do. I'm quite close to what I was doing in the past, but there has been so much stress to get back fast to where I was.

There is still some stuff that I haven't had a chance to work on since my crash, so that I can fine tune my riding. Now I finally have the chance to do it, so I'm pretty pleased about it. I love hard work, so this is a good month for me to be able to train every day, twice a day ... that's what I love to do.

Since the crash I've just enjoyed that much more to be able to train, and be here in Milton on a daily basis, with great staff around me. I appreciate it, and I think it's going to make me stronger along the line. It makes me push the hardest I can every day, because I know I've got this amazing opportunity. It hangs by a thread and I know I could be done any day, so that's how I prepare.

CC: That's the physical side, but both the Sprint and Keirin have a huge tactical component. How have you been preparing for that?

HB: Yes, that's true. For the Keirin I've been fortunate to be around great Keirin riders. I've never had a problem there; I know where I stand, and what are my weaknesses and my strengths. As long as I know this, I can be confident in any race.

As far as the Match Sprint goes, there is still a lot of work to do. Erin and I are working on it ... we've proven that I've definitely got the motor to win races, but technically I still need some fine tuning, and we're trying our best to work on this.

Obviously, with the mishap, it's all about getting back to the best of my capabilities physiologically. So, tactically at this point in my career it about is developing my second sense. I know how to react when a situation happens; I've done some many races that I know how to react in a situation. So now it is about getting as fast as I can and once I get to that point we can think about how I can improve tactically.

CC: You have referred to the crash a couple of times - how much did it take out of you?

HB: The hardest part was the two and a half weeks in the hospital bed, not moving. No matter whether ypu had a bad injury or not, after two weeks of not moving your body is not going to want to come on full blast.

But I still came back pretty quick. I just wanted to get back to where I was [before the crash], and I knew that was going to be tough. But with not even two weeks of training leading into New Zealand [World Cup #2], I went in and did pretty decent. That really gave me wings, because it meant maybe the mountain wasn't that high. It was still really a hard path to be on, but it's part of the game; it happens to everyone.

To me, it is all about staying focussed and doing the best I can on a daily basis. The body is a mysterious thing. You don't necessarily know what's going to happen, but thanks to the support of everyone, I was able to come back quick to my feet and get my confidence back, leading into the world championships.

CC: We could see the cuts and scrapes on your face, but there was a lot more.

HB: Yes, two broken vertebrae, a subluxation of the neck, ripped off most of my lip completely and I had a concussion, bit I didn't have that much of a concussion. I was really lucky. Looking back at some images, you can't even see my face because there was so much blood. But there was a deep cut near my hair[line], and anytime that happens there is going to be a lot of blood. So it appeared like it was this really bad crash - and it was - but it looked like I was almost about to die, which I wasn't. So I was really lucky in my fall, I guess didn't hit my head that hard ... my neck took most of it, which is not the best thing, but I got lucky in the way I landed. My back took most of the shock, but my head was well protected, which was the main thing.

So I surprised everyone when I came back to Milton and straight away getting on my bike. One week after getting back on my bike I could do efforts ... I had pains here and there, of course, but as far as the brain goes, I was okay; no dizziness, no headaches. I was really fortunate in that aspect.

CC: And then you came back for Hong Kong and took a silver medal; that's a pretty amazing comeback!

HB: It was all last minute. My shape improved so much every week. I took a little rest before Hong Kong and flew in three days before. But I knew I could win; on the day of the race I finally felt like my old self, which really gave me a boost of confidence. Then I rode the best way I could; everything fell into place and was perfect on that day. I was really happy to be back on track.

CC: Track Worlds are next, which are also important because they are the main qualifier for Rio. Is the focus in London going to be the Keirin?

HB: Main focus is going to be the Keirin, and I'm confident in the Keirin. But I've shown in the past that I can do well in the Sprint. In Hong Kong it didn't go as good as it could have. I had so much emotion in me after the Keirin that the day after, for the Sprint, I had barely slept and wasn't at 100%.

I'm looking really to perform as well in the Sprint as in the Keirin. I just want to do the best I am capable. I have done the work, so we will just have to see what happens.

CC: So what is the situation for Rio?

HB: The spot for the Keirin is qualified. Of course I have not been selected yet, because the selection is later, after Worlds, but there is a Keirin spot for Canada.

As far as the Sprint ... it was always going to be a tight battle with Njisane [Phillip of Trinidad]. There are only two spots in the Americas for Sprinters. [Hernando] Puerta [Colombia] took the lead last year by a big margin, so it was between me and Njisane for the second spot. Kudos to him; he's had a great season so far. I think I could have given him a fair battle if I hadn't of crashed, but the crash put me in a spot where the number of points to catch him is too much. It's not impossible, but it is going to be extremely difficult.

With that said ... I'm going to Worlds not thinking about the Olympics. I'm thinking about doing the best I can at the world championships. It's still an enormous race. It's exciting because it is in the Olympic velodrome. This is the last big race before we go to Rio. So, it's going to be special. It is an amazing place to race, so I'm pretty excited and looking forward to showing what I can do.