March 29/16 9:47 am - Sad News

Posted by Editor on 03/29/16

We have learned that former cycling coach Colin Hearth has passed away at his home in Cuba; the suspected cause is a stroke.

Hearth was a coach and founding member with the St Catharines Cycling Club for many years, particularly during the glory days of the late 1970s and early 1980s. He was an early coach of Canadian stars such as Gord Singleton, Steve Bauer and Karen Strong (who later became his wife for a number of years). He was inducted into the St Catharines Sports Hall of Fame in 2003.
From 1992 to 1994, Hearth served as president of the Ontario Cycling Association. He was also a director of Canadian Cycling Association for 17 years, a national Junior coach, a national track and road coach and founded the Garden City Wheelers, Fenwick Cycling Club and Fonthill Cycling Club. During his stint with the St. Catharines club, Hearth coached Steve Bauer, Karen Strong and Gord Singleton to 9 of the 13 medals won by Canada at the world championships and Olympics between 1984 to 1994.

Steve Bauer said to us by e-mail: "Colin was my coach when I joined St. Catharines CC in 1975. He was up in Canada periodically and last summer we last saw him in good spirits and health. We visited the velodrome and Dean [my son] and I rode [with him]."

There is word that a memorial service will be held and we will provide more information as it becomes available.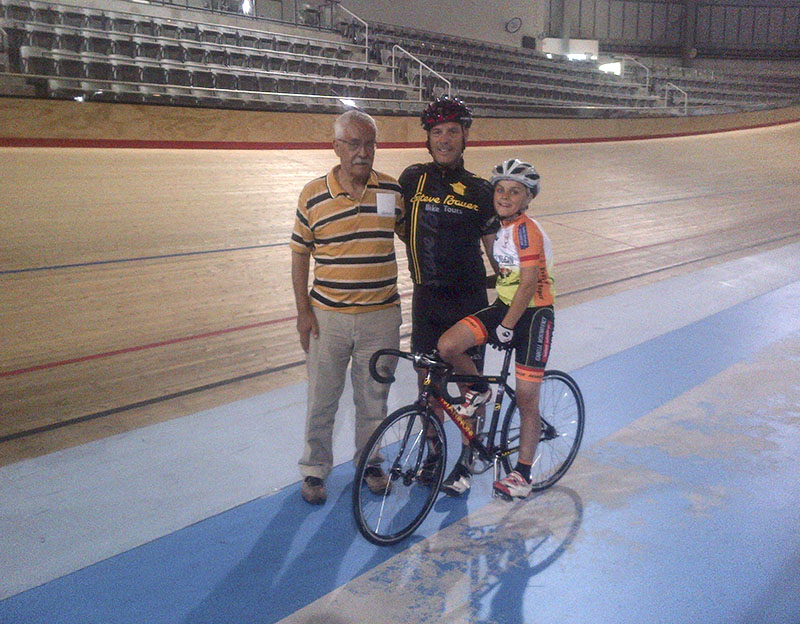 August 28th, 2015 - Collin, Steve and Dean at the Milton velodrome (photo courtesy Steve Bauer)