April 7/16 12:22 pm - Sad News

Posted by Editor on 04/7/16

We are sorry to report that Maurice Jeffries passed away last Friday (April 1st), at the age of 85. Maurice was instrumental in the start of what might be considered the modern era of Canadian cycling.

Maurice arrived in Canada from England in 1955, and brought his passion for cycling with him. In the mid-1960s he became the Canadian national track coach, and worked with athletes such as Jocelyn Lovell and Ron Hayman, when the team won four medals at the Commonwealth Games in 1970, and followed that up in subsequent years with medals at other international events, including the Pan Am Games. He also coached the Canadian team at the 1972 Olympic Games in Munich.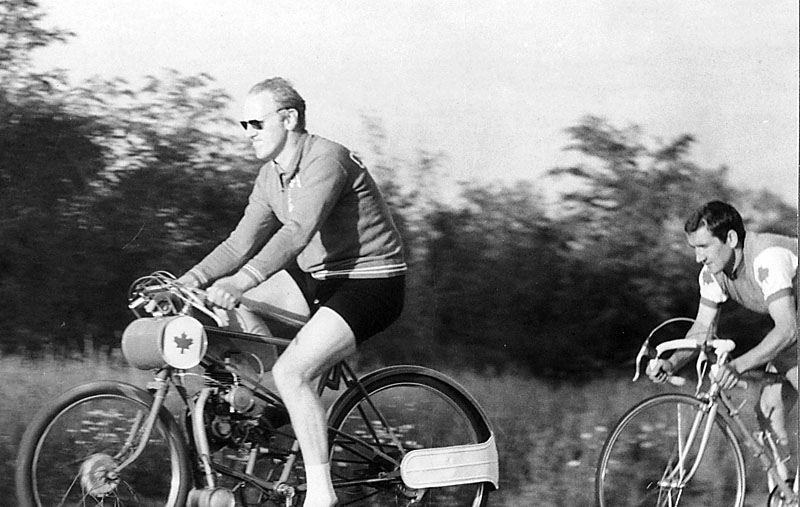 Canadian coach Maurice Jeffries motorpacing Bill Fletcher ca. 1974 (photo Maurice Jeffries)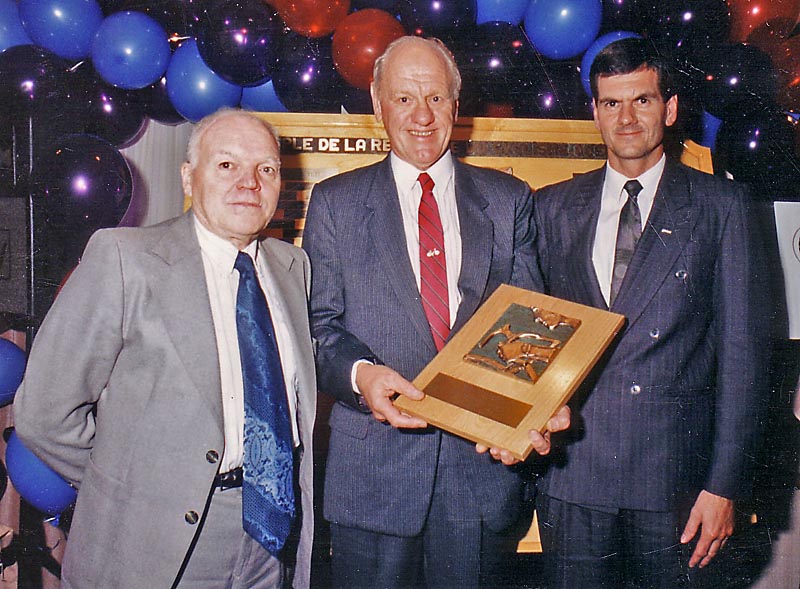 Maurice Jeffries (centre) was inducted to the FQSC Hall of Fame in 1991 (photo FQSC)
Subsequently, Maurice became Technical Director for the Canadian Cycling Association, and was the Technical Director for the 1974 Road World Championships in Montreal, and for the 1976 Olympics. He was also an international commissaire, working many major international events, including the 1978 Commonwealth Games, Junior Worlds (1978 and 1980) and the Los Angeles (1984) and Atlanta (1996) Olympics. He continued to work as an Anti-doping Inspector for the UCI after his retirement from officiating up until 2008.

Maurice never lost his interest in the sport, and I would regularly get e-mails from him with little bits of news, historical information or corrections. For example, when Guillaume Boivin and Taylor Phinney tied for bronze in the Under-23 Men's Road Race at the Worlds in Geelong, Australia (2010), and we were speculating as to whether this was a first, Maurice fired back that, no, it had previously happened in 1973...

Louise Lalonde, one of Canada's top commissaires, commented to us via e-mail: "I knew Maurice since 1982 and he was my mentor as commissaire. We worked together at many events. He was one of the UCI teachers when I took my UCI course in Colorado Springs to become national UCI in 1984, and then again in Colorado Springs in 1986 for the International UCI course."
Ron Hayman, a member of the 1972 Olympic team and a road pro with 7/11 also remembers Maurice:

"Maurice Jeffries was national coach when I first made the Canadian track team. It was my last year of high school."

"I remember instantly liking him. He was a father figure to us. He always had a twinkle in his eye and often wore an almost a mischievous smirk. He was not verbose, and did not delve into the fine details of training or preparation. But he surrounded us with people who could help, and he arranged and managed an amazing project in Denmark, as final prep for the Munich Olympics. There we competed three times a week at hugely popular evening track meets."

"The meal times were always interesting; especially when Maurice shared with us his passion for sailing, his work and other interests. I am forever grateful that he saw enough in me to select me to the Canadian team at age 17."

"He was a true gentleman, and an important personality in evolution of Canadian cycling."

A Celebration of Life for Maurice will be held on Saturday, May 7th, at 2 pm, at St. James Church, 642 Main Road, Hudson, Quebec.