December 8/16 16:31 pm - Emily Batty Interview - A Life of Mountain Biking

Posted by Editor on 12/8/16

The 2016 season is arguably the best of pro Trek Factory Team mountain biker Emily Batty's career, with a bronze medal at the world championships, fourth at the Olympics, her second Elite national title and third place overall in the season-long World Cup series, including two podiums. We spoke with Emily at the Trek Store Toronto about her season, where she was helping to present bikes to members of the Jane and Finch Boys and Girls Club, in conjunction with the My First Wheels program. [See our interview with My First Wheels founder Lenni Eubanks]

Canadian Cyclist: When I started going through all your results, it was clear that you have had a good year; possibly your best year.

EB: Thank you. Definitely, it has been my best year, but it's hard to remember all the good things when you finish without quite a medal at the Olympics. We were writing down all the results for the year and when I looked at it, it was surprising to me looking at the list ... it was a pretty successful year. I'm proud of it, and the most important part for me was being on point when we wanted to be; to focus on certain events and having that be successful. It is important that knowing what we do to perform at a certain event we have mastered now, and it's now a matter of getting better.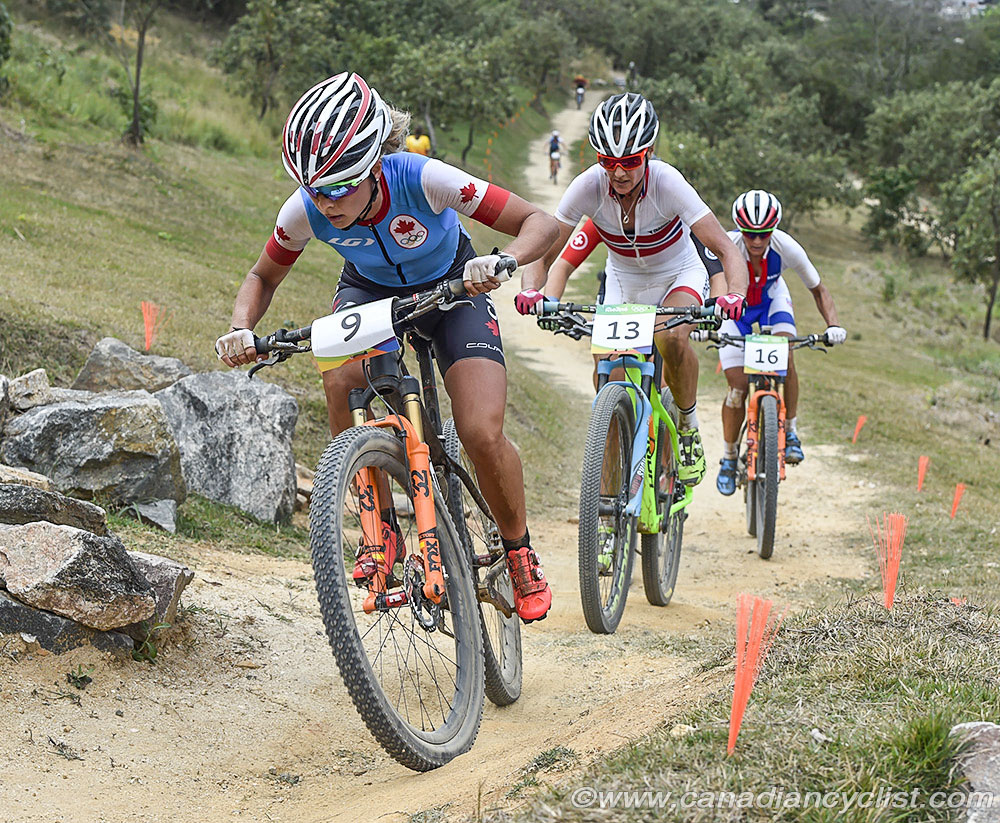 Emily leading Gunn-Rita Dahle Flesjaa and Katerina Nash in Rio
CC: Fourth at any race is fabulous, however, fourth at the Olympics ... Alison Sydor said to me in Athens in 2004, when she finished fourth, that it's the worst place to finish.

EB: I was pretty gutted ... I was talking to a man who said his team had come over to his place to watch the race and when I came across the line in fourth, the whole room went silent. And I thought that having that feedback come makes it feel that much more real. Hearing it makes me relive it ... in a World Cup fourth is great, but you don't get a medal for fourth at the Olympics. Even watching [Catharine] Pendrel take eight years to come back [from fourth in Beijing] and finally get a medal, it's hard not to think that the opportunity is going to be hard to get back.
Finishing 4th
But I want it, and I'm so fit that it will take a poor day not to do it next time. I want to be so strong for the next time. So I'm definitely going to be going for Tokyo 2020, and who knows after that? Because I'll only be 32 in Tokyo, and anything is possible.

CC: But you did win a bronze medal at Worlds; your first Elite world championship medal

EB: Yes, that was a good race. Normally, that's the biggest race of the year and the one we focus on most. Being an Olympic year, it didn't maybe get as much attention. So Worlds wasn't the main focus of the year, but to have a bronze medal for the first time, and a month out from Rio was pretty surreal. And to have the drama leading into the medal [Batty moved into the bronze medal position on the last lap when Maja Wloszczowska of Poland flatted, and then outsprinted Wloszczowska for the bronze], it was so exciting. To me, it was about having a flawless race and keeping the pressure on the whole time. That was a strong performance.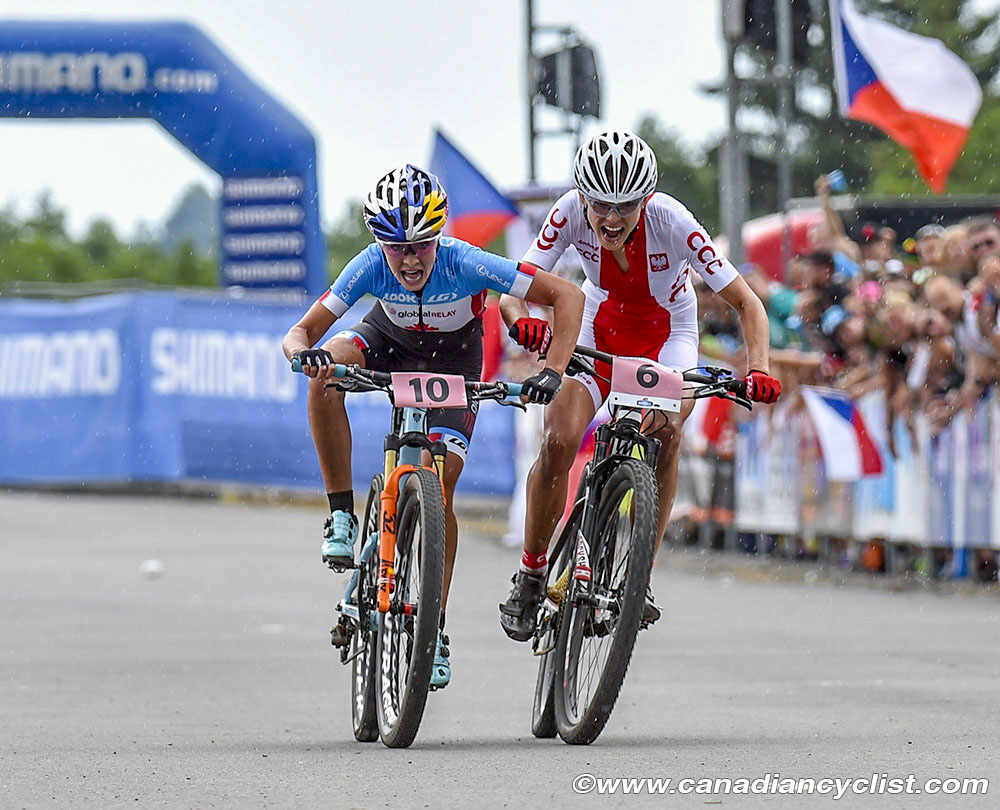 MTB World Championships - Sprint for 3rd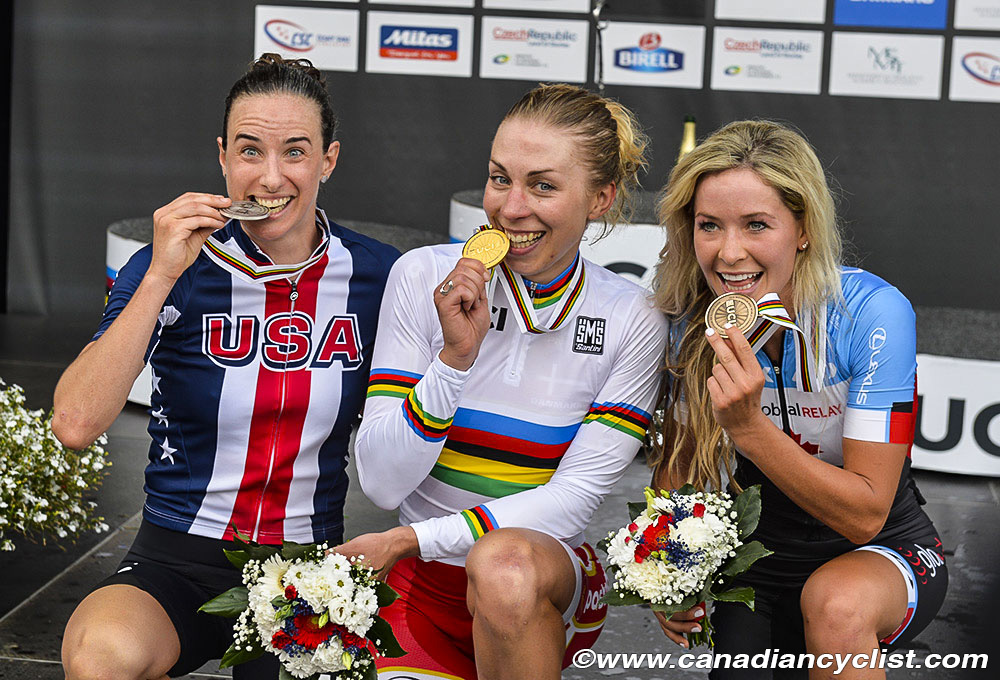 Bronze medal at Worlds
CC: I look back at my photos, and it was a real sprint, something you don't see so much in mountain biking. You had your elbows out so Maja couldn't slipstream around you and had to go wider.

EB: I race with my elbows out all the time, that's just my trademark, my style. She had 29er wheels and I was on 27.5. All week we had been pushing Shimano because they said that there was potentially a 46 [tooth] cassette option and that allowed me to run a 34 tooth chainring. If the cog hadn't shown up then I would have been running a 42 cassette and would have had to use a 32 tooth chainring. I would have been wound out on that sprint and I wouldn't have gotten the sprint over Maja by a few inches. Definitely that gear ratio allowed me to maintain that power for that long stadium sprint. On those bigger wheels she had a slight advantage and when she started to come around me ... it was like a sprinter's moment and I've never had anything that exciting in a race before.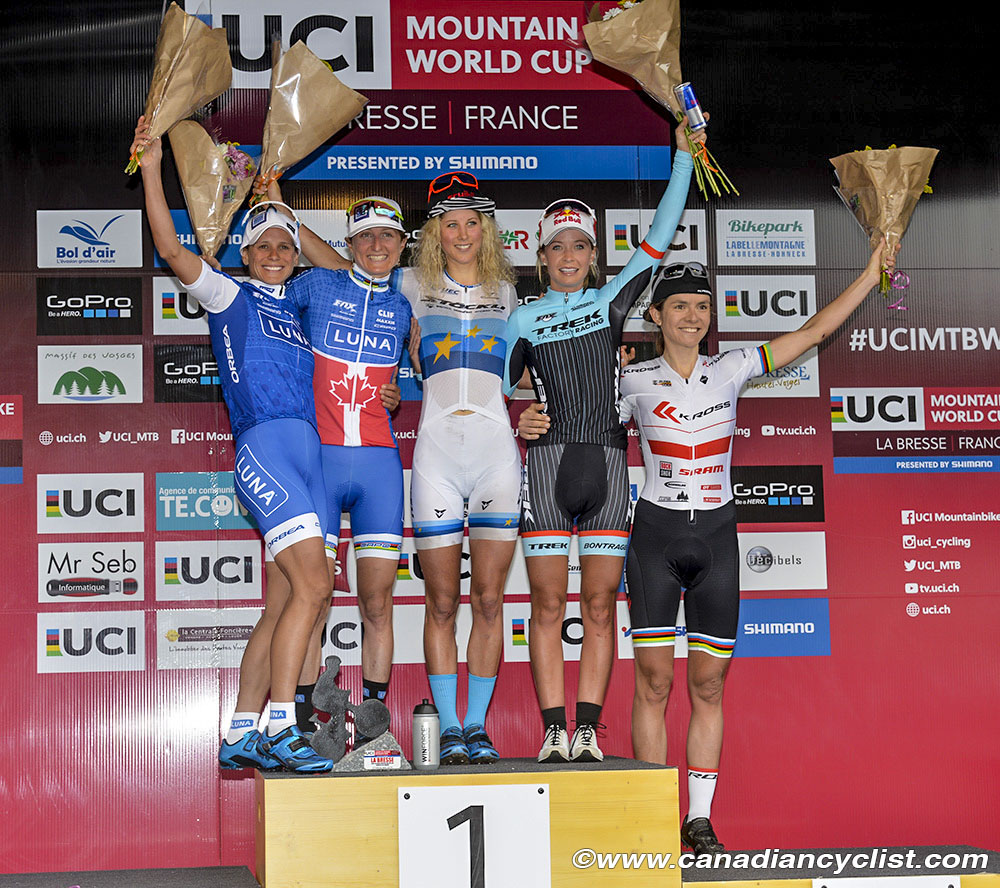 World Cup La Bresse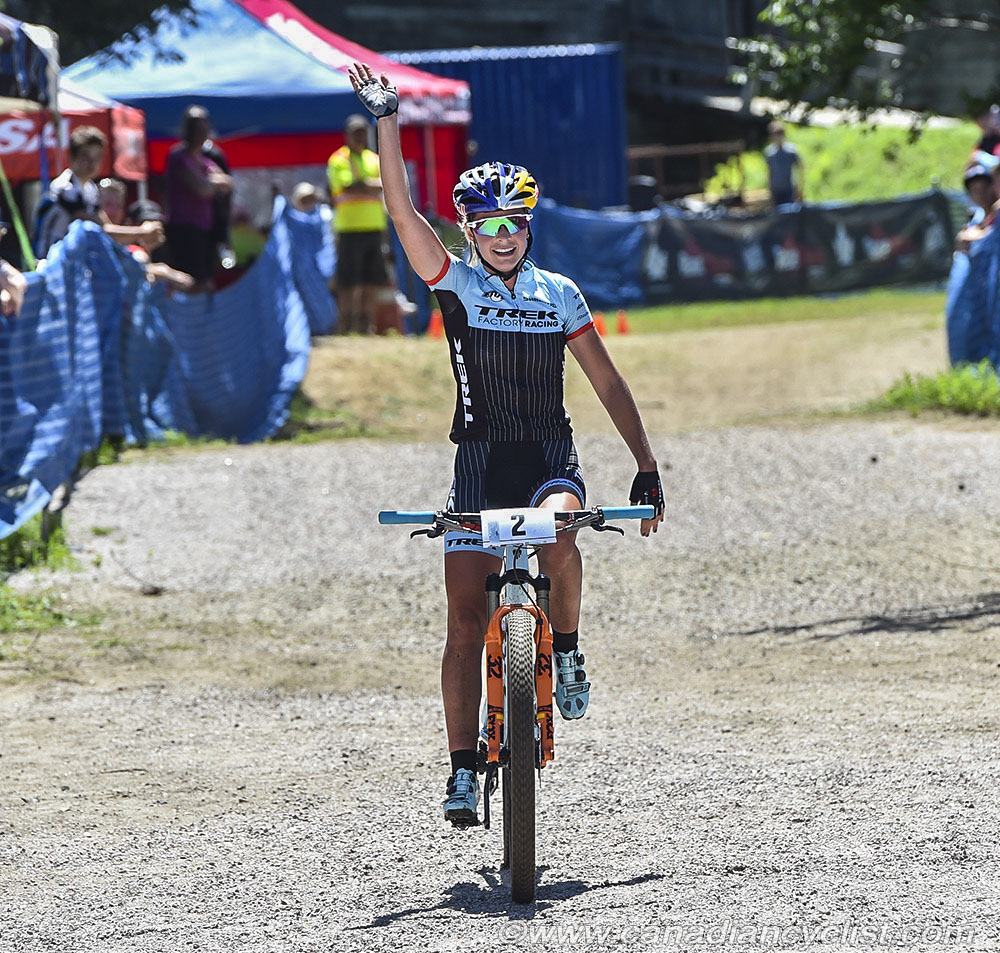 National Champion
CC: You don't talk about I'm preparing, it's more We are preparing ...

EB: In my opinion, I'm just the person that rides the bike, but in my world, if you could follow me around, you would realize how much work my husband Adam puts into it. He's also my coach, he's my manager, so when I say 'we', the core of we is definitely Adam and me. I feel like I'm just the person who gets to ride the bike; he never gets the recognition. I don't ever see it as an I.

I'm very fortunate and I don't take it for granted. Adam does more work than anyone can imagine. So when I say 'we', it just comes naturally. I put in the hours on the bike, but it's his heart and soul too.

CC: Your career arc has been different other top Canadian women mountain bikers, like Alison Sydor and Catharine Pendrel. A lot of them started their careers in their mid- to late 20s, but I remember you racing when you were 13.

EB: I don't remember a life without cycling in my family. It is the core of me. It's a sport you can never perfect because it is always evolving; it's a never-ending road. I have been lucky enough to have been doing it for most of my life ... I never gave it much thought, but most of our women have started later, which is interesting.

But I was lucky enough to have brothers that were into it and I was involved in all the disciplines when I was younger, and we were involved in many other sports. I think one of the most common things among successful athletes is that they never specialized too early and, while I've been in cycling my whole life, I never specialized until I was in my mid-teens. Racing the road, racing cyclo-cross and racing cross-country; I was able to do them all until I decided which one I wanted to focus on.

I always had more friends in mountain biking and it just seemed more fun as a kid. The road was fun because you had a group to work in and there were a lot of tactics, but when you are little there is more opportunity in mountain bike because you can challenge yourself anywhere. But the big thing for me was that my friends were in mountain biking

CC: So you are heading to Tucson [Arizona] for your usual winter camp shortly, but next year the World Cup season starts later than usual, so how is the season planned?

EB: It's the start of a new Olympic quadrennial, so I took a lot more time off this Fall than I normally do. I was busy, and only actually at home for a few days. We went to Killarney [Provincial Park in Northern Ontario] with my brother and his girlfriend; canoeing and portaging and hiking. And my family went to the Adirondack Mountains where we did five or six days of four to five hour hikes every day, and to Mexico with Adam's family ... just taking time to appreciate the people who are in our lives.

So we will drive down [to Tucson], stopping at the Trek factory [in Madison, Wisconsin] before carrying on down to Arizona, where we will put a few months in. Knowing that I took more time off, it's nice having that extra time [before the start of the season] to train. We'll be in Tucson until the end of January and then go to Santa Monica and put some time in California, and we might go up to Victoria before the [Bear Mountain] Canada Cup.

CC: Of course you want to do well all season, but there are usually some events you focus on - have you decided what your priorities are for 2017?

EB: The World Cup schedule is out, of course, and there are some that I particularly want to do well at. Mont-Ste-Anne [Quebec] is going to be one and world championships will be another. I always want podiums, but my goal is to win a World Cup, because I have yet to do that.

We are going to continue with the Ambitions [video] series and we want to bring people along on for the journey of what it's going to take to get that last percentage to win a World Cup.

But world championships is going to be the ultimate goal for 2017.