March 10/17 9:57 am - OpenRoad Lexus Richmond Joins H&R Block Pro Cycling Team as Sponsor

Posted by Editoress on 03/10/17

It is with great excitement that the H&R Block Pro Cycling Team welcomes OpenRoad Lexus Richmond as the team's official vehicle partner. The team will be driving the Lexus NX and RX, F-sport models, at all major professional cycling events across Canada and the United States. Having Lexus associated with the team continues the M1Project's mandate to have global brands associated with the team. Lexus fits the team's mandate perfectly; marketing to a sophisticated audience that appreciates a luxury car with sport performance and versatile capabilities.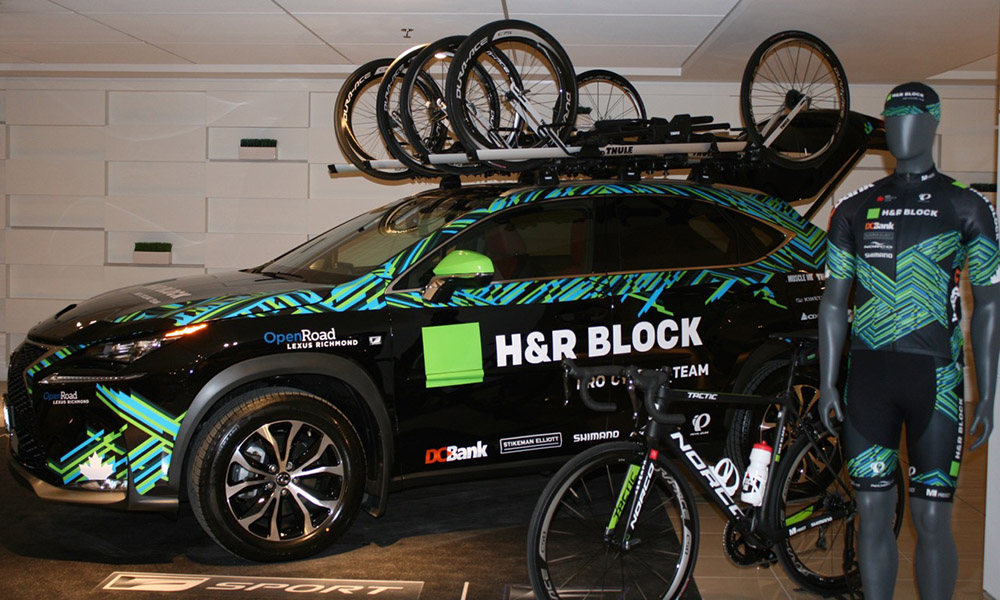 OpenRoad Lexus Richmond was introduced to the team by Cycling Canada. Lexus Canada is a partner of the national team and it made sense that there would be a natural progression to also be associated with one of Canada's most prominent professional cycling teams. "A professional cycling team provides a unique marketing platform", said team owner, Mark Ernsting. "I recognized very quickly that Mr. Schaab understood and recognized the potential that our team would be able to provide to his dealership, as the team will be able to open up a new clientele reach that will appreciate and value the Lexus brand."

"We're huge fans of cycling at OpenRoad," said Jeremy Schaab, General Manager of OpenRoad Lexus Richmond. "Many of our staff and customers are passionate cyclists, so to be able to engage with the local cycling community in a meaningful way by supporting a regional team is a very exciting opportunity for us."

OpenRoad Lexus Richmond dealer support for H&R Block Pro Cycling will provide tremendous value to both OpenRoad Lexus Richmond and the team, and continues to showcase how the Lexus Canada partnership with Cycling Canada Cyclisme is both of fantastic value and cultural fit and how this partnership extends to the larger Lexus and cycling in Canada ecosystems," explains John Tolkamp, President of Cycling Canada Cyclisme.

Cycling is one of the fastest growing sports and is one of the most cost effective sports marketing platforms currently available. This is a fantastic opportunity for OpenRoad Lexus Richmond to use the team to compliment their current marketing strategies. Clients will be able to experience professional cycling in the comfort and style of a Lexus as VIP guests during team caravan ride-alongs. They will also be able to cheer on the team at home events such as BC Superweek, North America's most prominent professional cycling series, as well as, have the team join in on group rides that will be scheduled from their dealership.

The H&R Block Pro Cycling Team welcomes OpenRoad Lexus Richmond to the team family.