March 24/17 10:59 am - Cycling Canada President John Tolkamp Takes on International Role

Posted by Editoress on 03/24/17

John Tolkamp, President of Cycling Canada, will be taking a sabbatical from corporate life during 2017 to undertake a number of international cycling projects.

Tolkamp, who serves on the UCI Track Commission and was a founding member of the revamped UCI Ethics Commission, explained to us that he will be working with several smaller nations to help them develop their national cycling programs, and will also act as Strategic Advisor and Campaign Manager for UCI President Brian Cookson, as Cookson prepares to run for his second term as the President of the UCI.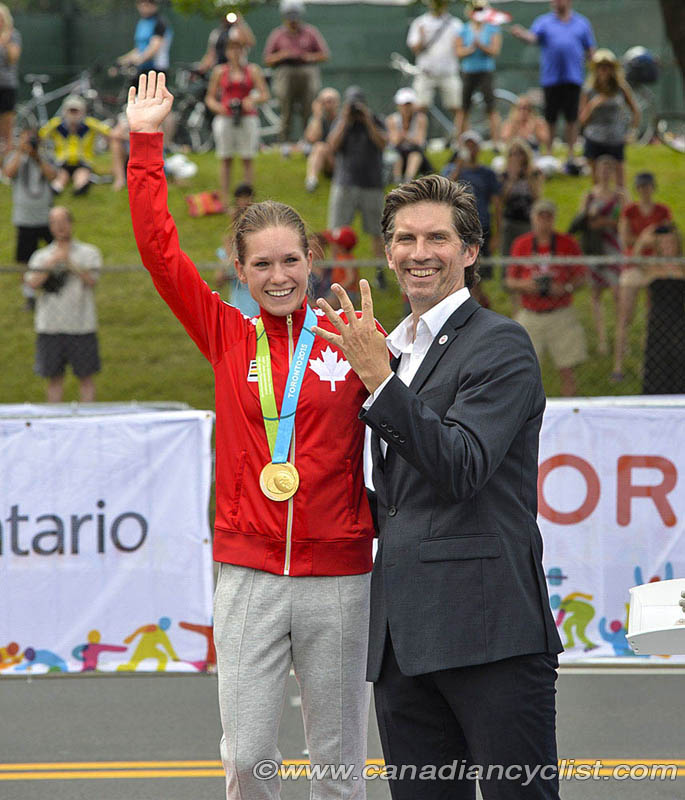 2015 Pan Am Games with Jasmin Duehring (Glaesser)
We spoke to John Tolkamp at his home in Vancouver, where he is preparing to move to Paris, France, for the next six months to take on these new projects.

"Basically, I'm taking this corporate sabbatical for the balance of 2017. I wanted to learn a lot more about the international cycling world and experience more of it, so I began to explore a bunch of different opportunities."

"I had some discussion last year with the UCI when I knew I was going to do this and had some dialogues with a number of different developing cycling nations. They are very interested in what we have done in Canada, so there is an opportunity to share our experience. I've already spent time with Trinidad and Tobago - who have a new track - helping them with strategic planning for their velodrome. There are similar opportunities percolating with other nations, including one possibly in Africa . I'm looking to volunteer my time in that way to help these nations."

"And then, out of the blue, Brian Cookson asked if I would consider taking on this campaign role as strategic advisor and campaign manager. To me, this was very, very interesting. To put it in context; I'm very supportive of Brian and I think he's done an amazing job over the last four years. I've worked with some very large organizations and UCI, while not really large, is complex. It works internationally, it has a large professional component, plus the Olympics and with the variety of disciplines, the multitude of events and world championships, it is very complex. I think Brian has done a fantastic job with his team in terms of turning around the UCI and making some significant change."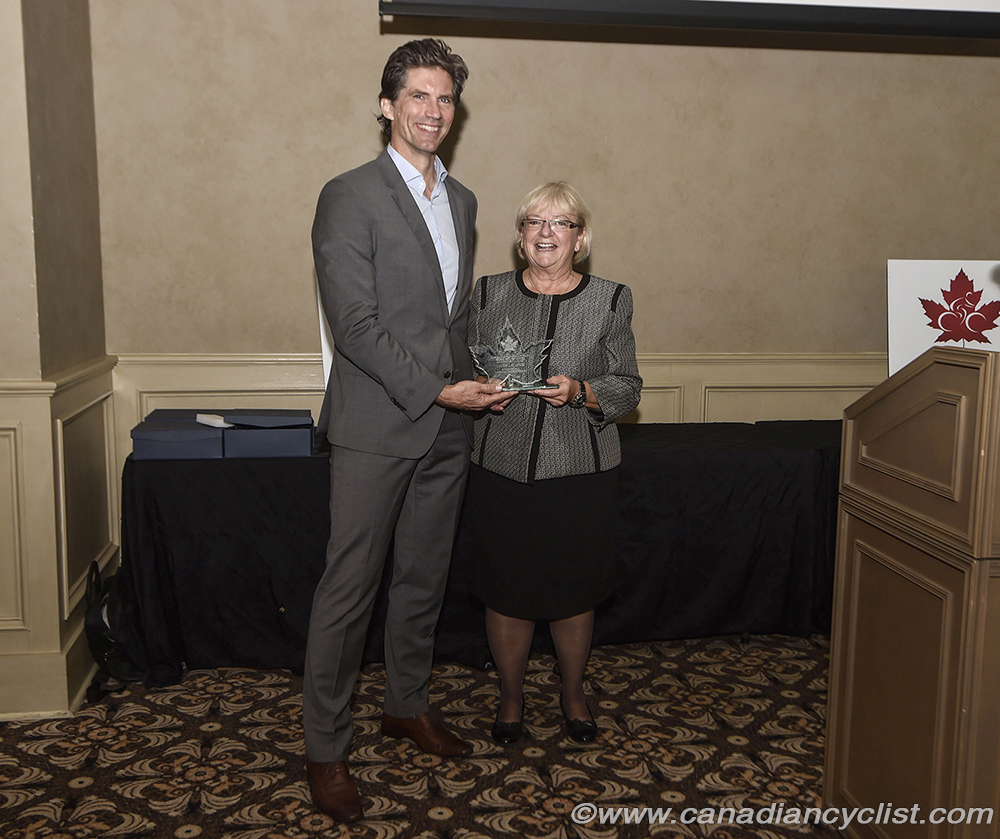 Presenting Louise Lalonde with her Cycling Hall of Fame award
"A lot of people think change can happen a lot faster, but I know from working with large organizations that it is not always that easy, and to change the culture and to change how the UCI responds has been impressive, and I truly believe he is the best person to lead the UCI for the next four years. So, I was definitely supportive of helping him."

"I told Brian that there were a couple of gates I had to pass; I needed the endorsement of the Cycling Canada Board, which we worked through over the Christmas season. The Board was 100% supportive, and I also contacted some key stakeholders, mentors and advisors, who were all very supportive and encouraged me to jump in. As well, I touched base with the UCI Ethics Commission, to ensure that from their perspective there was no conflicts of interest or anything that I needed to be aware of. We did talk about how I was going to approach COPACI [Confederacion Panamericana de Ciclismo; the federation of cycling federations for North, Central and South America, of which Canada is a member]. I did recuse myself from a potential role there, based on the fact that I was going to take on this role with Brian, and I got the sign-off of the Ethics Commission."

With respect to the move to Paris, Tolkamp says, "when I was thinking about what I wanted to do with volunteering my time to international cycling, Europe made the most sense. It is obviously the center of the cycling universe and the closer I was to there, the closer I would be to specific events and key stakeholders. For instance, I have never been to Flanders or Paris-Roubaix. I have plans to go to those events now. I am also planning to join a Wounded Warriors cycling tour which starts in the UK and culminates with the 100th anniversary celebration at Vimy ridge - what a powerful experience that will be. And being central gives me good access to a lot of other countries and a lot of the cycling world, be it federations or events."

"My French language skills are very limited and I've always wanted to improve my French! So I started thinking the best place to base myself was France. It is central for access to the rest of Europe and good connections back to Canada, since I'll be regularly traveling back. So I've found an apartment in central Paris, and will be bringing along my mountain bike and my road bike, and already started scouting out the cycling routes!"

"So I'll be exploring a whole new world of cycling and of cycling administration and countries, as well as helping Brian."

"Taking a break like this is something I've never done. I went right from high school to university, to grad school, to married, to kids, to a career ... so I've had an almost 30 year long career and I've never had an opportunity to do something like this, and now my kids are grown, and I have the personal and financial flexibility to check out of corporate life for a period. I'm not the kind of guy to sit on a beach; I wanted to learn something and I'm passionate about the cycling world, so I am very fortunate to have been presented a great opportunity for me to follow a passion, give back and open up a whole new world of adventures"

"I think it is important to mention that I am continuing on as President of Cycling Canada; the Board and staff are 100% supportive and from a logistical perspective Paris is not that much further from the Ottawa [Cycling Canada] office than Vancouver. I'll still be attending the same meetings and conducting business as normal, just from a different geographical location."

"And it's not just about my own personal opportunity here; it's a great opportunity to learn and understand the international cycling world that will help our understanding. There are things that I will learn about other organizations and other countries, about how they do things that will allow me to possibly bring some best practices back to Canada. It also helps raise our position and level of international influence in the world, which could be beneficial and helpful to our objectives and our strategic plan."

"My plan is fully to come back to Canada; I'm coming back in the Fall. I'm up for re-election and I'd love to have another four year mandate as President of Cycling Canada. We are on the cusp of some significant growth, an inflection point, I believe. We have brought Pierre [Lafontaine, the new CEO of Cycling Canada] on board and I think we are positioned for success and I'd like nothing more than to be an integral part of what will be a key and exciting time for cycling in Canada".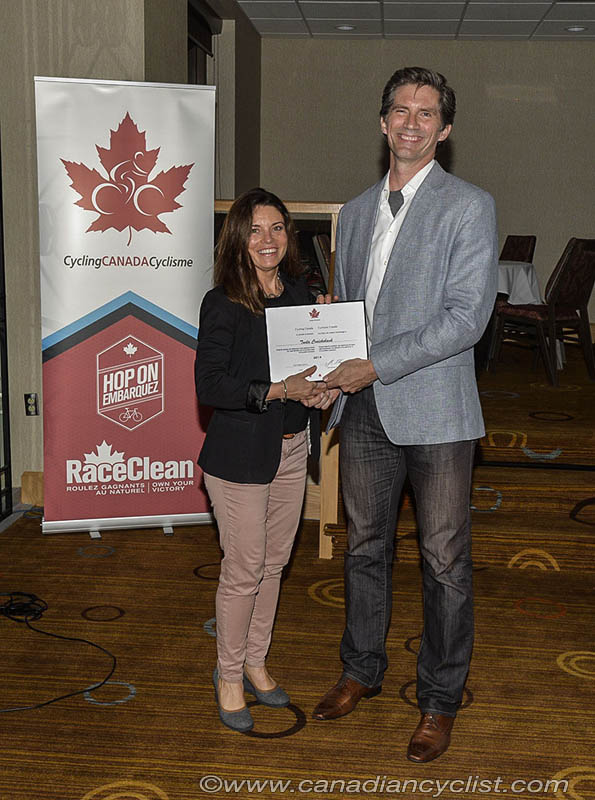 Presenting Twila Cruickshank with 5 years of service award