May 13/17 7:31 am - Canada Opens Para-Cycling World Cup with 7 Medals

Posted by joe on 05/13/17

Team Canada had an exceptional start to the first Para-cycling Road World Cup with 7 medals on Friday, the first day of competition in Maniago, Italy, during the individual time trial competitions. Canadian athletes won one gold, three silver and three bronze medals.

"It was a good day," agreed Sebastien Travers, national Para-cycling head coach. "Coming here, the goal was to evaluate where we stand against the international field, since this is the first year of the [Olympic] quad. So we came with our athletes not 100% ready, but it paid off with some good results."

Michael Sametz of Calgary, AB, won the only Canadian gold medal of the day in the Men's C5 category, beating Sergey Ustinov of Russia by over one minute.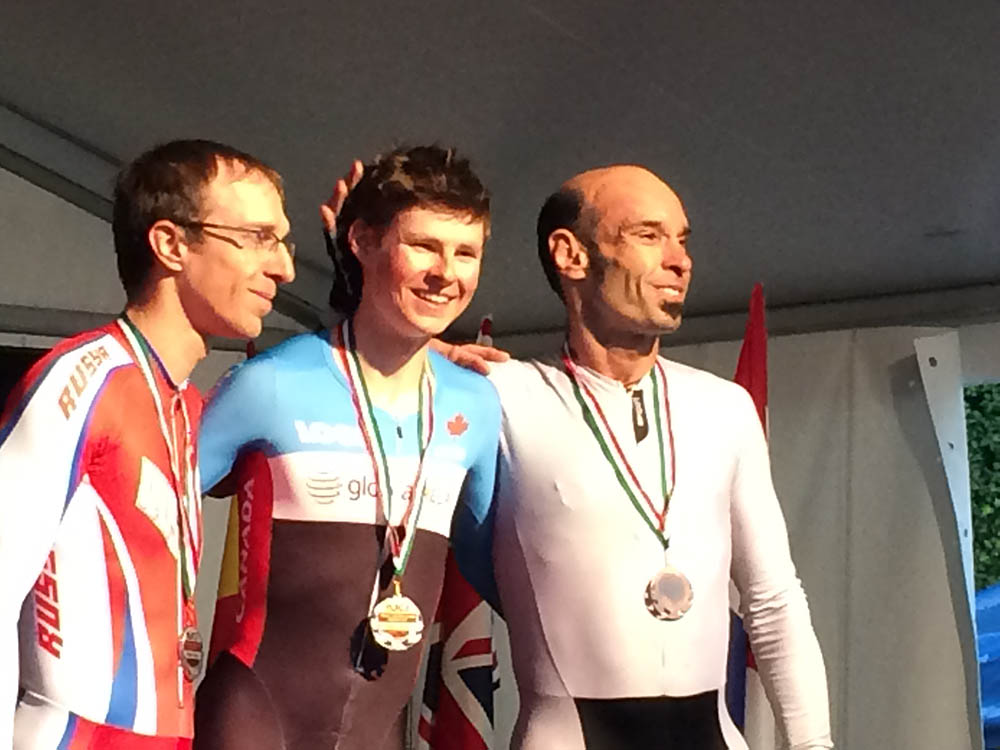 "It was a good ride and a personal best for me," said Sametz. "I hit all the metrics I wanted to hit, so it was pretty awesome."

Silver medals were won by Marie-Claude Molnar of St-Hubert, QC, in the Women's C4 category, Tristen Chernove of Cranbrook, BC, in Men's C2, and by the Women's Tandem team of Robbi Weldon (Ottawa, ON) and her pilot Audrey Lemieux (Montreal, QC).
"The time trial was a long one and a hard course," commented Weldon. "We had a fantastic race with great prep leading into it at a training camp in California. It's a great start to the season."

"It was a good ride for the most part," said Chernove. "What I was trying to execute happened, although I did drop my chain with about 200 metres to go and that cost me a bit of time. I think I was in first when the chain came off and I had to push the bike, but that's bike racing. I felt really good on the bike and it's nice to be on the podium."
Bronze medals were won by Nicole Clermont (St Denis de Brompton, QC) in Women's C5, Charles Moreau (Victoriaville, BC) in Men's H3 and the Women's Tandem team of Shawna Ryan (Saskatoon, SK) and her pilot Joanie Caron (Rimouski, QC).

"I'm really happy with the result," said Moreau. "It's difficult to have specific expectations at the beginning of the year, not knowing where the other riders are in their preparation. But I was quite close to first and second, by only a few seconds, so I'm really quite happy."

In other competition, reigning Women's T1 world champion Shelley Gautier of Toronto, ON, finished second in her category, but a silver medal was not awarded since there were only two athletes. The Men's Tandem team of Daniel Chalifour (Mont-Laurier, QC) and pilot Jean-Michel Lachance (Quebec, QC) finished eighth and Alex Hyndman (Morpeth, ON) was 15th in Men's H3 after a crash.

Racing continues over the weekend with the road race events.

Results