December 10/18 10:27 am - Tour of California Announces 2019 Host Cities

Posted by Editoress on 12/10/18

The Amgen Tour of California organizers have announced the 13 Host Cities selected for the 14th edition of America's premier professional cycling stage race set for May 12-18, 2019. Throughout seven stages over seven days, the world's elite cyclists will contest more than 750 miles of roadways, highways and coastlines from Sacramento to Pasadena.

The Amgen Tour of California Women's Race empowered with SRAM, showcasing the world's best women cyclists, will run concurrently May 16-18, covering upwards of 180 miles over three stages. Owned and presented by AEG, both races conclude with same-day finishes in Pasadena, a veteran overall finish city.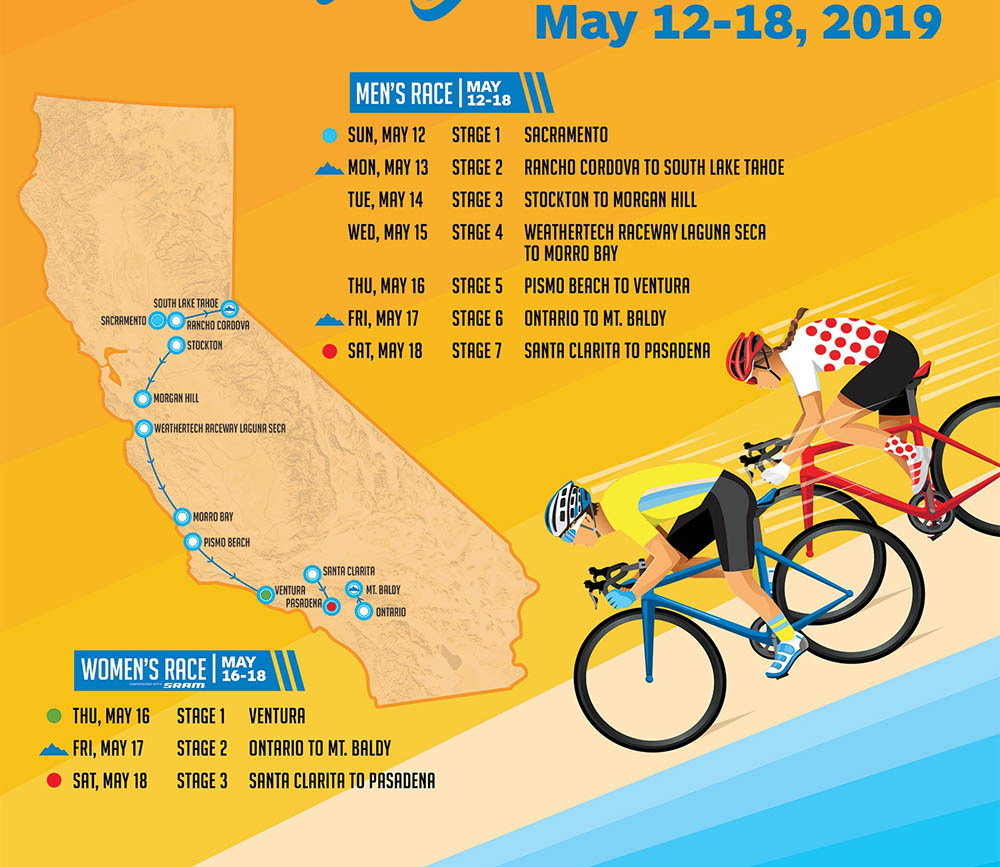 The annual Amgen Tour of California carries the distinction of being the only U.S. men's and women's races on the UCI WorldTour calendar and have helped launch some of today's best known and most decorated international cyclists as well as continuing to attract the most talented competitors and teams in the world. With seven new courses between them, the event's legacy as an international platform for both men's and women's racing will hold special significance this year as Olympic hopefuls gear up for Tokyo 2020.

2019 Race Schedule

Men
Sunday, May 12 - Stage 1: Sacramento
Monday, May 13 - Stage 2: Rancho Cordova to South Lake Tahoe
Tuesday, May 14 - Stage 3: Stockton to Morgan Hill
Wednesday, May 15 - Stage 4: WeatherTech Raceway Laguna Seca to Morro Bay
Thursday, May 16 - Stage: 5 Pismo Beach to Ventura
Friday, May 17 - Stage 6: Ontario to Mt. Baldy
Saturday, May 18 - Stage 7: Santa Clarita to Pasadena

Women
Thursday, May 16 - Stage 1: Ventura
Friday, May 17 - Stage 2: Ontario to Mt. Baldy
Saturday, May 18 - Stage 3: Santa Clarita to Pasadena

**Courses subject to change

Host City information and a highlight video are available at www.amgentourofcalifornia.com.

This year's course will highlight the distinct beauty of Northern, Central and Southern California. The 2019 Host Cities include the return of fan and race team favorites, long-time veterans like Sacramento, Santa Clarita and Pasadena, and a first-time start in Rancho Cordova.

The 2019 Amgen Tour of California will cover a variety of terrain, showcasing many of California's most well-known and iconic settings and landmarks, and allowing different types of specialists in the peloton to shine throughout the week. Several fast and flat sections on tap in Sacramento, Morgan Hill and Pasadena will cater to sprinters (not to mention a start overlooking the famous WeatherTech Raceway Laguna Seca motor speedway).

Climbers will also face challenges in South Lake Tahoe, the Diablo Mountain Range outside Stockton where they will reach an elevation of 4,625 feet, and on multiple climbs between Pismo Beach and Ventura. Fans and teams alike will count down to the men's and women's Queen Stages from Ontario to Mt. Baldy, which will feature a grueling 26-mile fan-favorite climb to the summit finish, a day that will shake up the leader board and can make or break the quest for the overall victory.

A traditional stage for the Amgen Tour of California, the final race day for both the men and women is one that highlights the beauty of long-time race partners: Santa Clarita and Pasadena. Past overall finishes in Pasadena have consistently been dramatic and exciting, with fans from across Southern California lining up to cheer on the fast-and-furious sprint finishes to determine the ultimate champions.

"The Amgen Tour of California continues to serve as an international postcard for the state, showcasing the beauty and diversity of California - and the 2019 host cities certainly reflect that," said Kristin Klein, president of the Amgen Tour of California and executive vice president of AEG Sports. "We look forward to hosting another truly dynamic and engaging race, which will feature an all-star peloton, continuing the tradition of delivering one of the most exciting sporting events in the country."