February 28/19 20:52 pm - First Canadian BMX Freestyle Titles Awarded

Posted by Editoress on 02/28/19

The first ever Canadian BMX Freestyle Championships took place on Wednesday, February 27th, at the Joyride 150 venue in Markham, Ontario. BMX Freestyle is the latest cycling discipline to be added to the Olympic program, and will take place in Tokyo for the first time in 2020.

"We are very excited to crown our first ever Canadian Champions in the BMX Freestyle discipline. The crew at Joyride 150 organized a top quality event, attracting some of the World's top riders amongst Canada's best. We are looking forward to continuing our work within the discipline of freestyle BMX, and are already looking forward to our next UCI event this weekend at the Toronto XJam."

Jaden Chipman of New Lowell, Ontario won the men's title, while Stephanie Nychka of Calgary took the women's. Chipman represented Canada at the inaugural world championships, in Chengdu, China, in 2017, while Nychka is a newcomer to the sport, coming from mountain biking.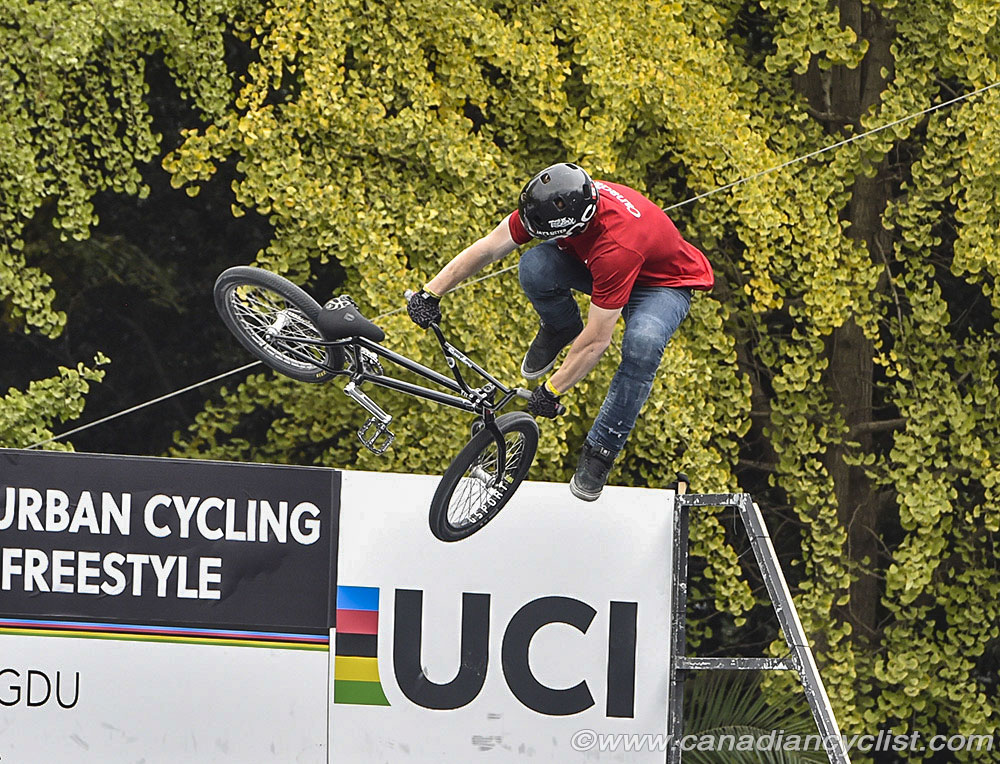 Jaden Chipman, competing at the 2017 Urban World Championships in Chengdu, China
"It feels unreal," said Chipman, "I've never been on the podium before with all these guys. I've been putting in a lot of work over the winter, and I guess it shows. It's very special, such a huge honour to be the first Canadian Freestyle champion. I've been looking to the riders I was on deck with ever since I started riding. I've only been riding six years, so it's come pretty quick; I just can't believe, they are all so good. I'm planning on going to all the FISE World Cup events and wearing the jersey."

Nychka said "I'm really, really happy. I started riding BMX about a year and a half ago, and looking back at my progression, I'm so happy with this result. We need to get more women riding, and Joyride itself is a great place for everyone to come.
Pro/Elite Women
1 Stephanie Nychka
2 Sarah Dinel
3 Kierstyn Williams

Pro/Elite Men
1 Jaden Chipman
2 Darcy Peters
3 Mike Varga
4 Drew Bezanson
5 Dylan Morrison
6 Brandon Webster
7 Mateja Ilic
8 Gavin Ingram
9 Travis Kozie
10 Nick Russell