December 14/19 13:19 pm - Track World Cup Bribane: One Medal after 2 Days of Racing

Posted by Editoress on 12/14/19

Canada won one medal in Brisbane, Australia, on the first two days of competition of Round 5 of the Track World Cup; a bronze medal for the women's Team Pursuit.

The women's squad of Ariane Bonhomme, Jasmin Duehring, Annie Foreman-Mackey and Georgia Simmerling qualified fourth with a time of 4:20.097, and raced against top qualifier New Zealand in the next round. Canada lost to New Zealand, but did set the fourth fastest time to qualify for the bronze medal race. Racing against perennial rivals United States, Canada finished 4.031 seconds ahead to win bronze for the second World Cup in a row.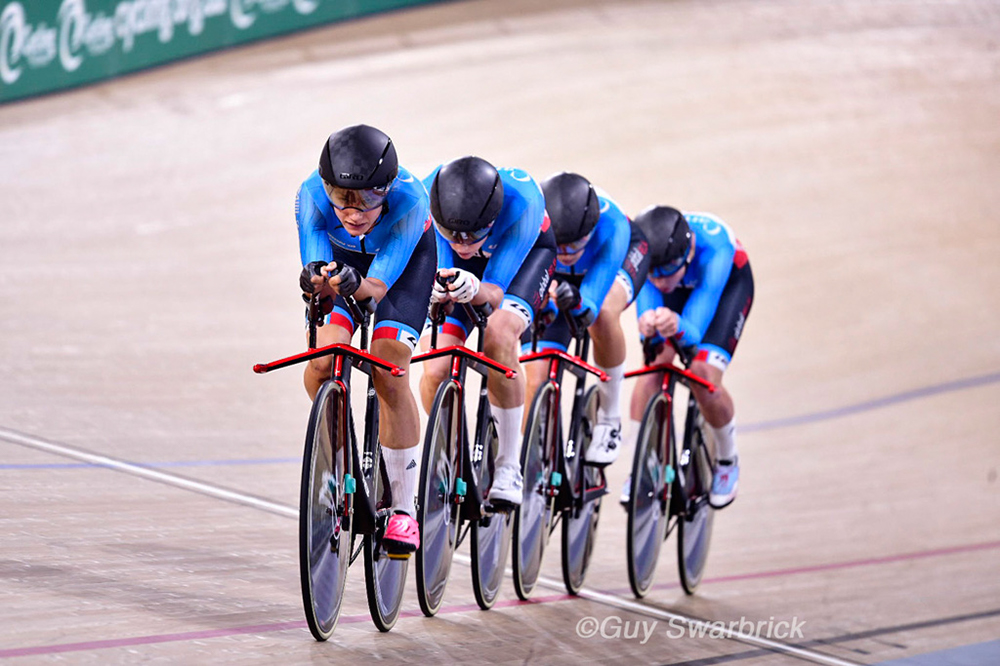 Jasmin Duehring at the front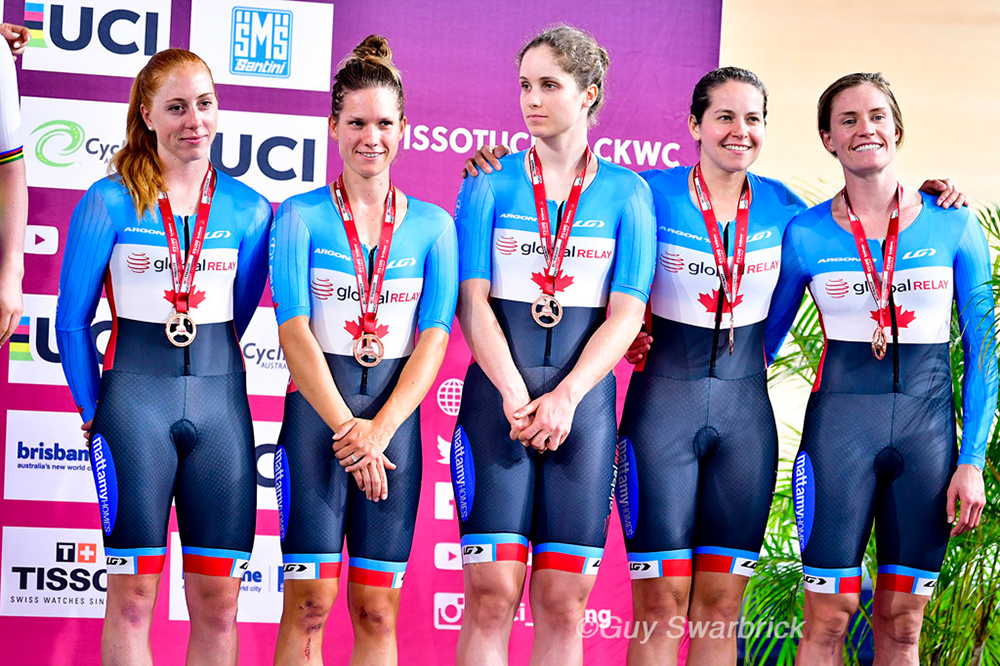 "It has been a whirlwind week racing back to back World Cups, each with three rides in one day," said Annie Foreman-Mackey. "We are starting to see glimpses of what is possible for this team, but the pieces have yet to all come together on the day. We're motivated to put our heads down, train hard, and grow as a team leading into the 2020 World Championships."

In the men's Team Pursuit, the Canadian squad of Derek Gee, Vincent de Haitre, Adam Jamieson and Jay Lamoureux set the sixth fastest qualifying time of 3:54.689, making it to the next round. In Round 1, Canada was nearly a second faster then in qualifying, beating Russia, however, their time was the sixth fastest; not fast enough to make it to the medal round. The team finished sixth overall.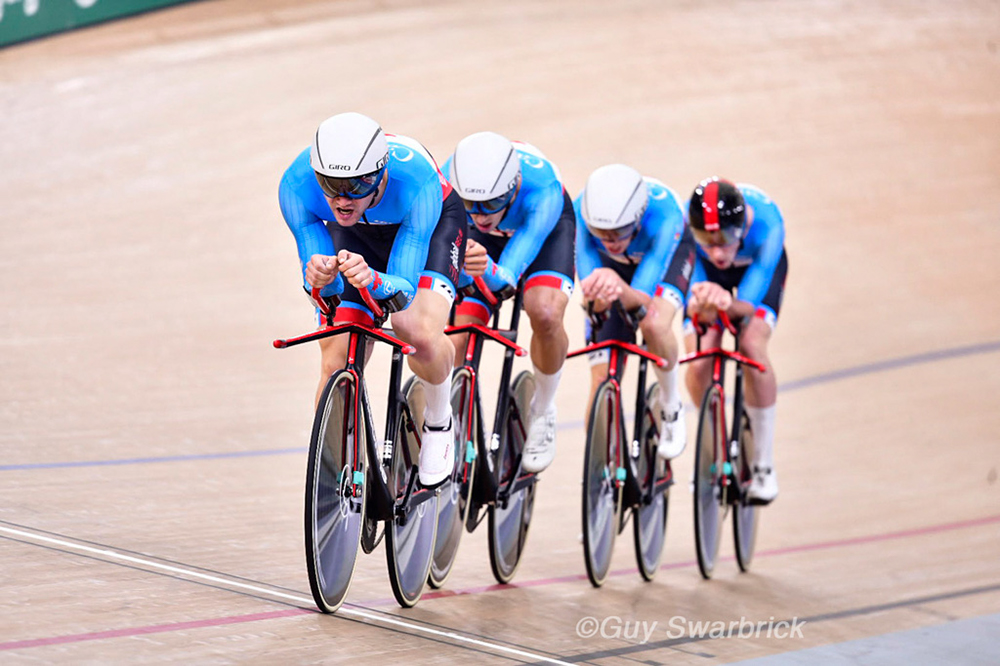 Vincent de Haitre leading men's Team Pursuit squad
In women's Sprint competition, Kelsey Mitchell qualified third with a time of 10.601 seconds, and Lauriane Genest was fifth, with a time of 10.612 seconds. Mitchell, who won bronze and silver medals in the last two World Cups, was knocked out this time in a one-eighth final photofinish when she went up against Great Britain's Katy Marchant. Genest won her one-eighth final, but was knocked out in two straight rides by Anastasiia Voinova of Russia, who won the bronze medal.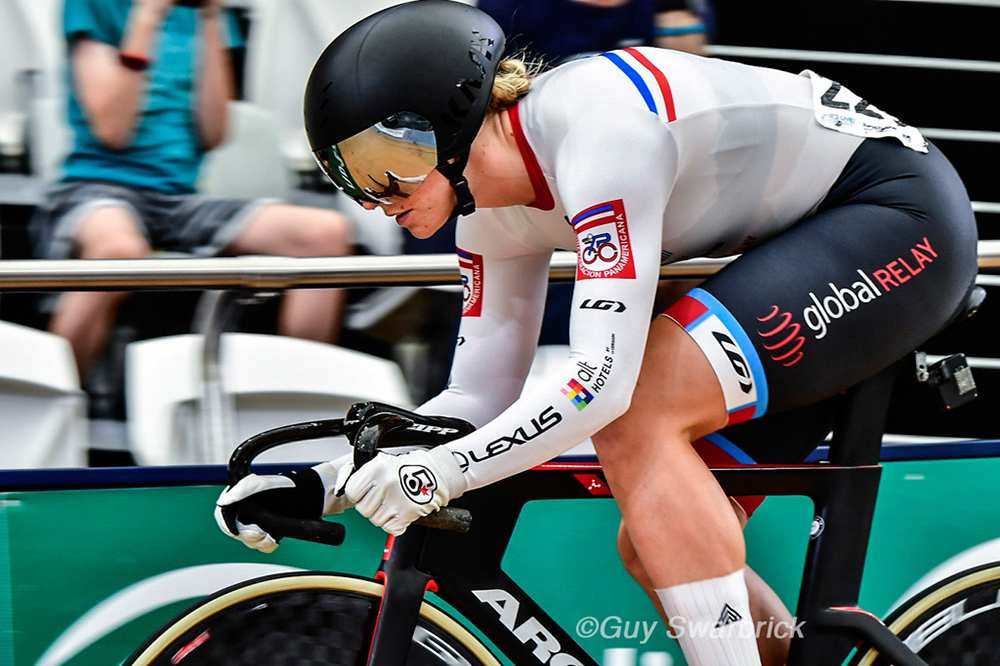 Kelsey Mitchell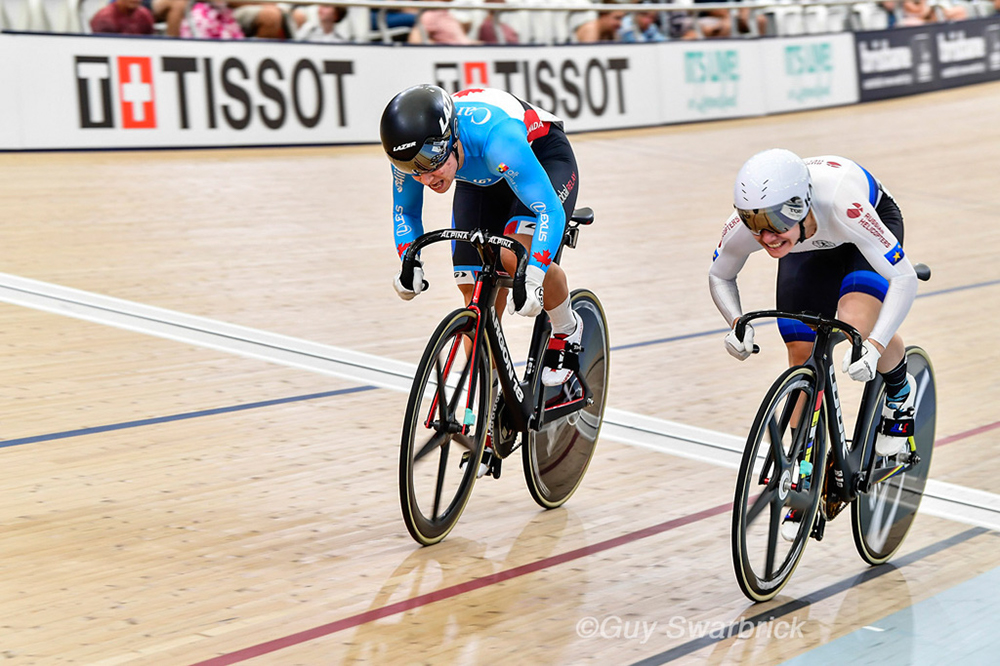 1/4 Final: Lauriane Genest vs Anastasiia Voinova
In the men's Keirin, Hugo Barrette finished second in his first round heat to move directly to the second round, while Joel Archambault had to go through the Repechage round to move on to the second round. Neither Canadian qualified for the medal final, with Barrette eventually finishing tenth overall and Archambault 12th.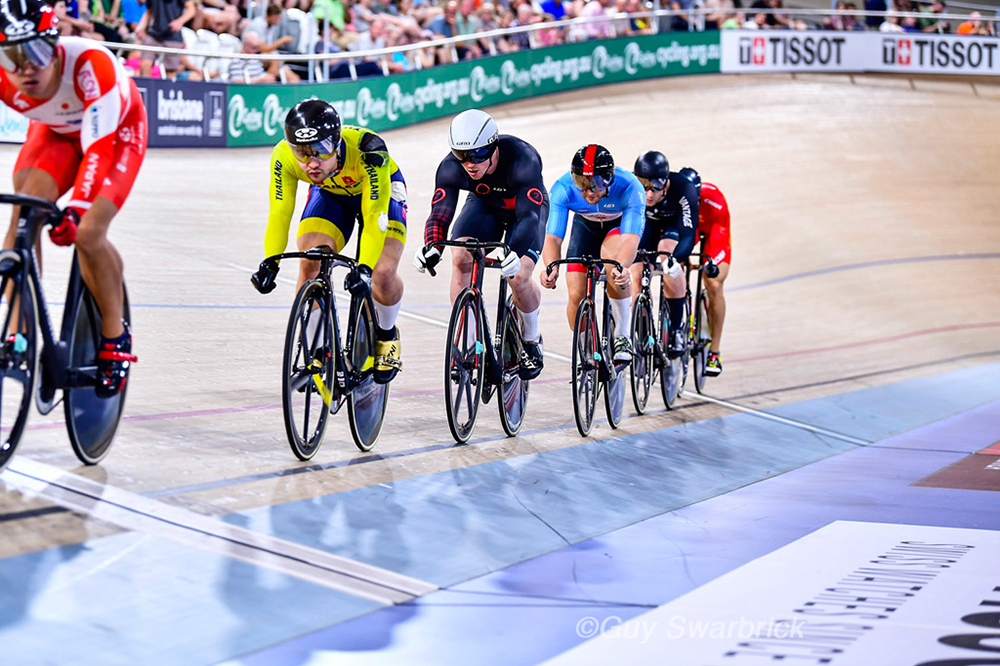 Canadian champion Derek Gee struggled in the men's Omnium, finishing 18th overall. He was 19th in the opening Scratch Race, eight in the Tempo Race, 20th in the Elimination Race and 11th in the Points Race.
Day 1 Photo Gallery
Day 2 Photo Gallery

Track World Cup Brisbane: Day 1 results
Track World Cup Brisbane: Day 2 results