December 30/19 8:43 am - Rochette, Woods & Mitchell Top 2019 Canadian Cyclist Awards

Posted by Editoress on 12/30/19

Showing the depth of cycling in Canada, the winners in the 2019 Canadian Cyclist of the Year Awards came from cyclo-cross, road and track disciplines.

Maghalie Rochette became the first-ever cyclo-cross rider to be named a Canadian Cyclist of the Year, winning the women's award. Rochette and track rider Kelsey Mitchell were neck-and-neck through the ten days of voting, swapping the lead three times before Rochette won. Both scored 40% of first place votes, but Rochette was higher in second place votes ... by 1.5%. The athlete from St-Jerome, Quebec, made the decision this season to focus fully on cyclo-cross instead of splitting her efforts on 'cross and mountain biking, and it paid off, as she became the first Canadian rider to win a Cyclo-cross World Cup. After seven of ten rounds, she has a first, a fifth and tenth place in the World Cup and, despite skipping one round, is sixth in the overall standings. She also won both the national and Continental championship titles, and is ranked fifth in the world. Maghalie did race one major mountain bike race - the inaugural E-MTB world championships, winning the silver medal.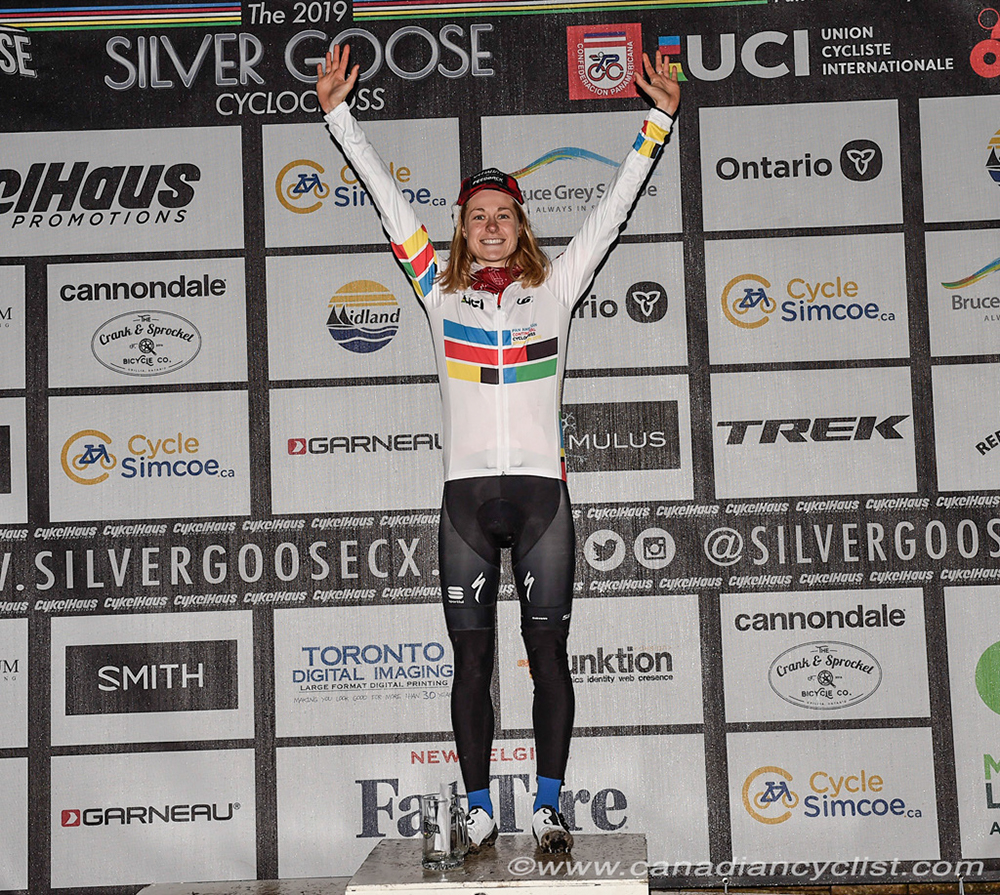 2019 Pan Am Championships


"It's a cool honour to win the 2019 Canadian Cyclist female athlete of the year," said Maghalie from Europe. "It's been a good year for me. David [Gagnon] and I tried a different strategy with less MTB racing and more focused training for cyclo-cross and it seemed to be working for me. What I'm the most happy about is that I was able to consistently bring my best self at races. Sometimes I was tired from training, but most of the time I could still use 100% of what I had on the day, and that is a good feeling. I've been working on that for years, and although it is still a challenge, I've been able to do it more this year, and that translated in more consistent racing, and many of my best results to date."

"The season is not over for me yet and I still have some big goals I want to achieve, but if I look back at 2019, I'm super happy of how it went. I'd like to thank everyone for their support throughout the season. Thanks to my sponsors, thanks to my team, thanks to David, and thanks to all the fan(s) who watch and cheer from home and who took the tike to vote!"

Professional road rider Mike Woods successfully repeated as the male Canadian Cyclist of the Year - his third straight year winning. Woods dominated the voting, with 54% of first place votes. Mountain biker Peter Disera was a distant second, with 22%. Late in the season, the Gatineau, Quebec, rider won the UCI 1.HC Milano-Torino one day race, outsprinting Alejandro Valverde, and a few days later was fifth at the classic Lombardia WorldTour race. He was also top-ten at the WorldTour Liege-Bastogne-Liege (5th), Clasica San Sebastian (9th) and GPC Montreal (8th). At the Tour de France he finished seventh on Stage 18 and 32nd overall, won a stage of the Herald Sun Tour at the start of the season (second overall) and is ranked 23rd in the world.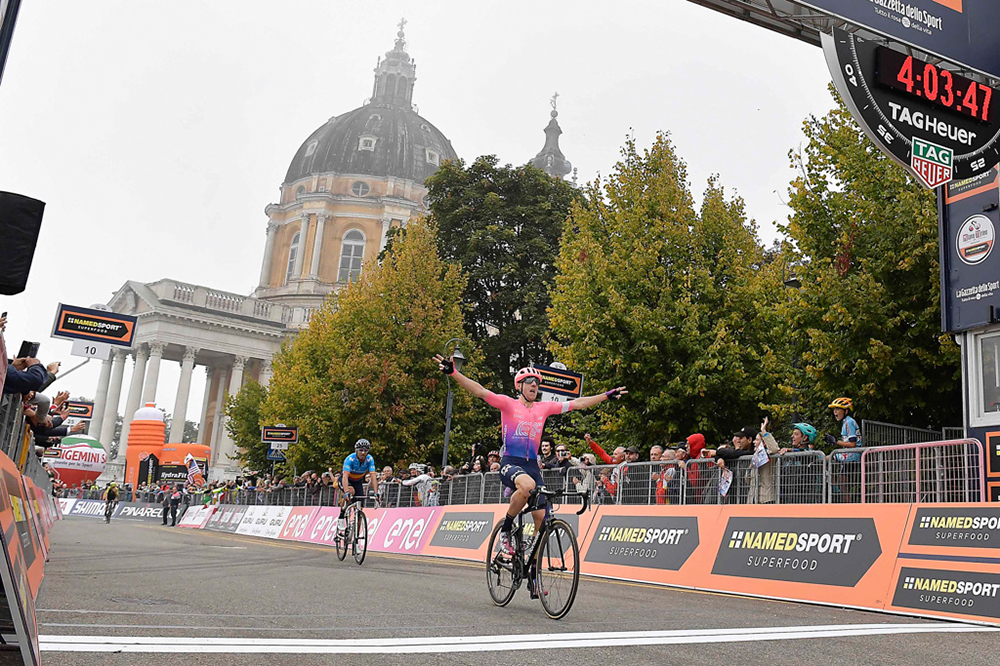 "It is a great honour to be named the 2019 Male Canadian Cyclist of the year," says Woods. "I realize that this is an Award voted on by fans throughout the country and for that reason I feel very lucky, and grateful, to have been chosen as this year's recipient."

The award for Best Individual Performance went to a newcomer to cycling - track sprinter Kelsey Mitchell of Sherwood Park, Alberta, who set a world record of 10.154 seconds for the Flying 200 metre time trial on her way to becoming the Continental Champion. Mitchell took 19% of first place votes, compared to Mike Woods' 16.5% for his win at Milano-Torino.





Mitchell also won the Roger Sumner Award for Best Newcomer. The Roger Sumner Award is named after Dr Roger Sumner, who passed away in December of 2000 after being struck by a car while riding his bike. An admired coach and respected competitor, Roger participated in numerous competitions as a true ambassador to cycling. Roger was particularly involved in encouraging the development of new riders. He was a mentor for many great Canadian cyclists, including Jocelyn Lovell, Alex Stieda, Sara Neil, Ron Hayman and Brian Walton. This award is only presented if we feel that there has been a suitable break-through performance by a Canadian rider. Kelsey had an astounding year; her first as an elite cyclist. In addition to her world record and Continental Sprint title, she won silver and bronze medals at the World Cup, won gold and silver medals at the Pan Am Games, was Continental Champion in the Team Sprint [with Lauriane Genest], and is ranked seventh in the world for the Sprint.

"I am thrilled to have won the Best Individual Performance Award and honoured to receive the Roger Sumner Award for Best Newcomer," says Mitchell. "There are some very talented cyclists across Canada and I was excited to even have my name along side them. Representing Canada has been a dream of mine for a long time, and I am so grateful for the opportunities 2019 has brought me. I can't wait to bring this momentum into 2020 and bring some more hardware back home to Canada!"


Para announcement to follow