April 17/12 9:51 am - Local Retailer Expands in Dieppe, New Brunswick

Posted by Editoress on 04/17/12

The Economic Development Corporation of the City of Dieppe (EDCCD) is proud to announce the expansion of Mike's Bike Shop in the Dieppe Business and Technology Park. The expansion will take place on Englehart Street on a 2.56 acres lot that is being acquired from the City of Dieppe. Plans are to have the new 14 000 square foot building completed and fully functional by the end of July 2012.

The City's Economic Development Corporation (EDCCD) has been working closely with the retailer for the past 2 years to facilitate their expansion in Dieppe. This expansion is expected to add 14 new jobs in the Dieppe economy.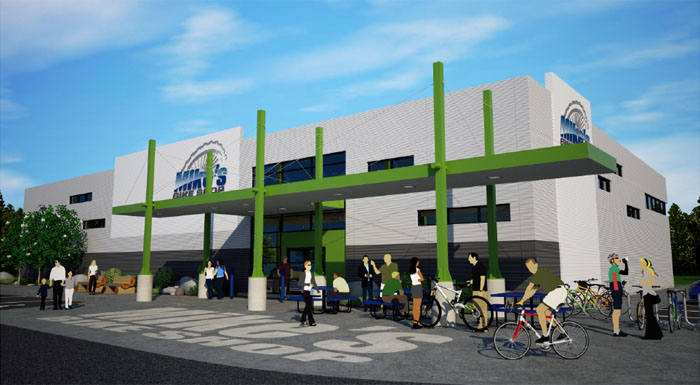 "The EDCCD is proud to have worked with the retailer and to have helped them find a suitable site for their expansion. The new location will help them to not only better serve their local market, but to allow the company to grow their market regionally." says Pierre Dupuis, General Manager of the EDCCD. "It is very rewarding to see that working with a local entrepreneur like Mike's Bike Shop, who has operated in Dieppe for the past 20 years, resulted in them investing in a major expansion like this."

"This is really exciting news," Dieppe Mayor Jean LeBlanc said, "The announcement today is a confirmation that the local economy is strong. It also demonstrates that development and expansion of new and existing businesses in our municipality often starts by having our development corporation work closely with local entrepreneurs. Their decision to expand is proof that Dieppe continues to have a top-ranked business climate where local businesses can thrive and grow."

Rick Snyder President of Mike's Bike Shop thanks the EDCCD for making this expansion possible. Particularly, he credits EDCCD General Manager Pierre Dupuis: "He jumped in and made sure that this expansion would happen seamlessly. The Development Corporation was a partner in this expansion, their willingness to help throughout the process shows their commitment to helping local entrepreneurs expand and succeed."

"The vision for our new store is to continue to grow as THE destination for cyclists and outdoor enthusiasts who are looking for a much broader product offering under one roof. Our staff's product knowledge, and industry leading brands like Trek and Giant bicycles combined with an outstanding retail showroom experience will provide our new and existing customers with an incomparable shopping destination," says Snyder.