December 12/19 7:50 am - 2019 Taiwan Bike Industry Tour - The Heart of the Bike Industry

Posted by Editor on 12/12/19

If you own a high quality bike built by recognized brand - especially if it has carbon fibre frame - there is a very good chance that it originated in Taiwan. Home to two of the largest bike companies in the world - Giant and Merida - Taiwan provides the building expertise for brands ranging from Specialized, Trek, Colnago, Pinarello, Kona, Scott, Argon 18 ... you name it. The country is also home to known parts brands, such as Tektro, RST and X-Fusion, and is the manufacturing and assembly location for many off-shore component brands, including SRAM, Specialized, Bontrager and many others - probably at least a portion of the bike you ride came from this island nation; most likely from the Taichung region in the south central area. Taiwan is also host to one of the largest bike industry trade shows in the world, Taipei Cycle, which will take place on March 4-7 in 2020, as well as Taichung Bike Week (for manufacturers), which takes place each fall in Taichung City.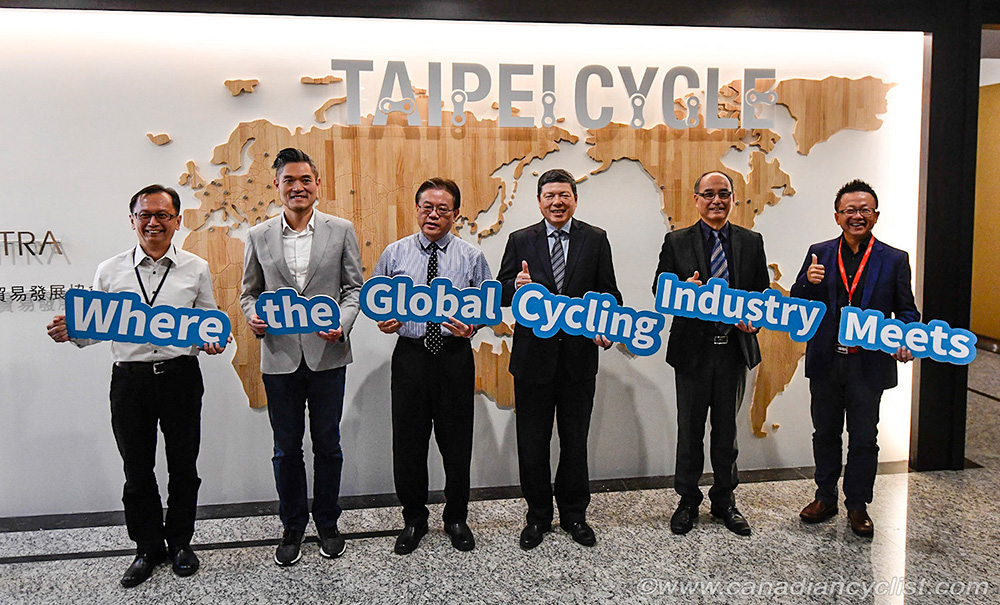 Members of the Taiwanese government and bike industry came to meet journalists
Canadian Cyclist was the only Canadian publication to be included among 22 journalists from around the world for a week-long visit earlier this fall, hosted by TAITRA - the Taiwan External Trade Development Council. We met with members of the government departments of trade and tourism, and visited a broad variety of manufacturers for a detailed look at where the bikes and parts come from that appear on bikes.

When I first became involved with the industry side of cycling, Taiwan was primarily a manufacturer of low end bikes, mostly for the mass market. That has changed completely, and now Taiwan is the number one manufacturer in the world for carbon composite bikes, and has moved from mass market (which has gone to China, Vietnam and other low cost producers) to the Specialty Bicycle Retailer market.

These days, there is a good chance that your bike may have been designed in the U.S., Canada or Europe, but manufactured in Taiwan and, increasingly, the designing is done in Taiwan as well. The Taiwanese bike industry has moved from being an OEM (Original Equipment Manufacturer, producing other companies' products for them) to OBM (Own Brand Manufacturer) and, most recently, to ODM - Original Design and Manufacturer. This latter category means that not only are they making products under both their own names and those of clients, but they are now, in many cases, designing those products.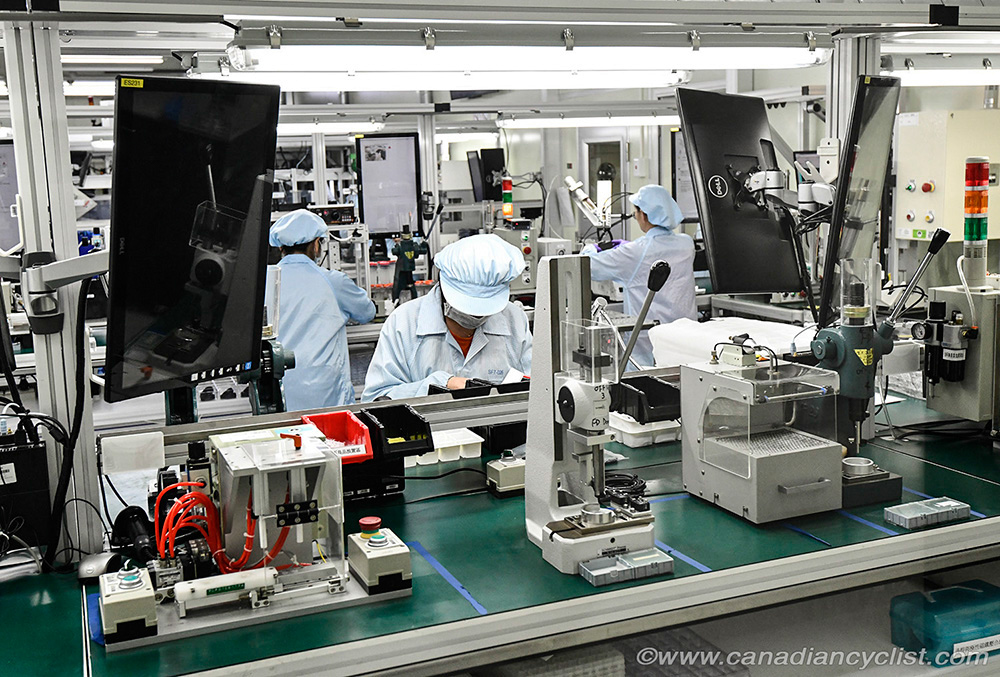 Workers in the clean room for eTap derailleurs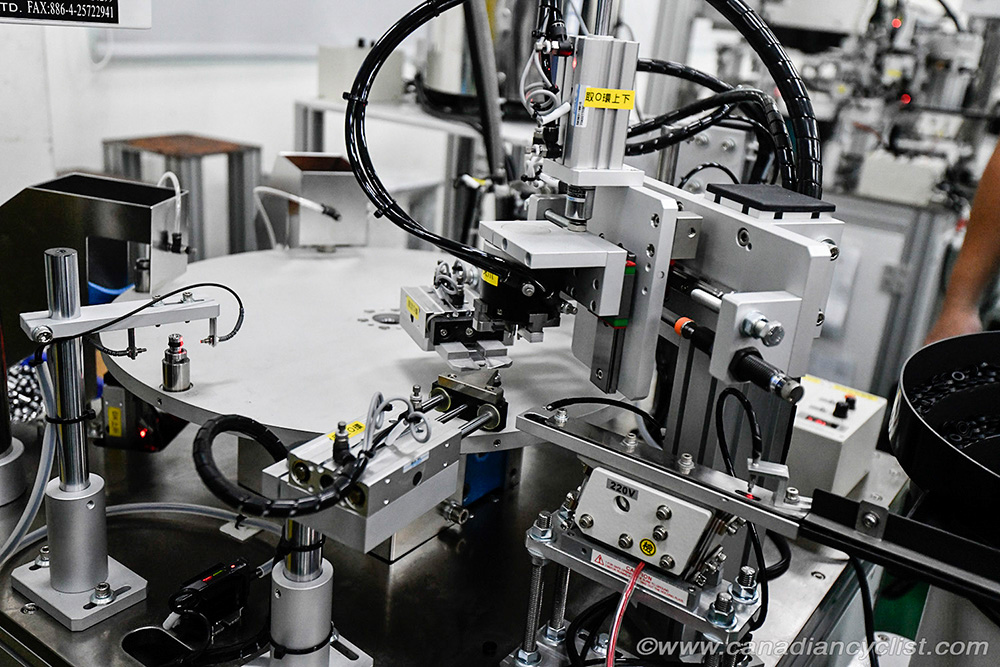 Automated manufacturing at Tektro
The transition is a textbook example of an economy and society transforming itself - when I first visited Taiwan roughly 25 years ago, the levels of pollution and safety standards were certainly subpar to those which we would expect to see in North America or Europe. On this trip, we visited production facilities with Clean Room manufacturing, state-of-the-art 11-arm CNC machining capabilities, huge 3D printers and in-house design studios.

So far in 2019 (January to September), Canada is the tenth largest market for Taiwanese bikes in units at 37,630, but the seventh largest by dollar value, at $37.03 million (U.S. $). In the growing electric bike (e-bike) category, Canada doesn't crack the top-10 for number of units (11th, at roughly 7,000), but is ninth in dollar value, at $12.2 million (U.S. $).

While North America has been slow to accept the e-bike category, it has pretty much overtaken the regular pedal bike in Europe, and the Taiwanese has industry has invested heavily; both for the export and domestic markets.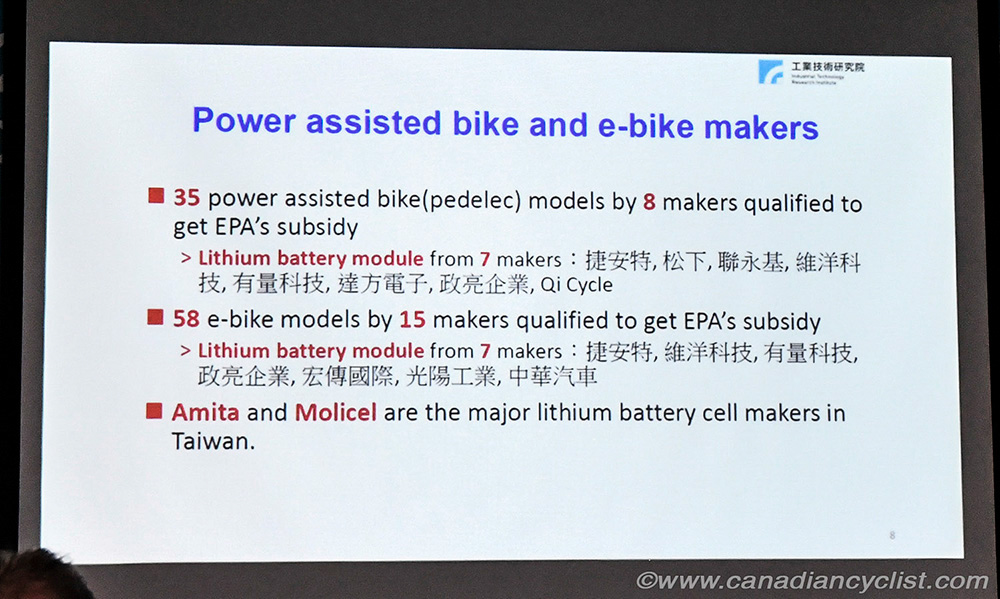 The Taiwanese government provides subsidies to encourage the growth of the eBike sector
The Taiwanese bike industry is heavily export oriented, but there is increasing domestic demand, and the government has responded with increased resources, including bike routes and paths. On one of my visits roughly a decade ago, we were proudly shown the first dedicated bike path of roughly six kilometres; now there are nearly 2700 kilometres, including a round the island system, and the Ministry of Tourism has declared 2021 as the Year of Cycle Tourism. The bike path network has been integrated into the high speed rail network, and the local university has solar powered electric bikes. In the Taichung area, an estimated $170 million (US) is being invested in cycling infrastructure. I started to feel like it was I who came from a less technologically advanced country...

We wish to thank TAITRA and the Taiwanese bike companies that opened their doors to us for making this report possible.

Watch for our individual factory visit reports.