December 19/09 12:59 pm - Specialized Command Post

Posted by Editoress on 12/19/09

Specialized Command Post Review by Mike Badyk

If you've been following our Reviews Section you likely saw Chad's report on the Crank Brother's Joplin telescoping seatpost (August 22/09). While he was riding the Joplin I was trying to use the new Specialized Command Post. More on the trying part in just a bit.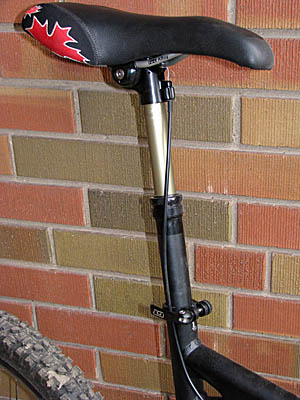 The Command Post is an air sprung, 3-position, on-the-fly adjustable telescoping seat post. That's a bit of a mouthful but it really summarizes what this piece of kit is all about. Unlike Chad, I'm old enough to remember using a Hite-Rite back in the 80's. I also remember abandoning it before too long because it was far from convenient. It served its purpose, but you had to get off the bike to make it work since you had to undo your seat QR every time you wanted to go up or down. I remember some of my riding buddies rigged up cable releases using an old thumb shift lever. But, overall, they just weren't that convenient and we moved on.

With the advent of all-mountain and freeride bikes, the need to raise and lower your seat post while riding to suit the terrain has returned, and several companies are offering similar products. Not to be left out, and to continue to offer quality in-house branded components, Specialized debuted their own version at the 2010 Product Press Launch in Utah in late June. One of the bikes I rode there (a lot!) was the 2010 Specialized Enduro, which will come equipped with the Command Post when it hits the stores anytime soon. Since we were doing a lot of riding in the mountains, the Command Post was in a lowered position most of the time because we were descending. Where I ended up using it to great effect was raising the seat back up to do climbs. It functioned well from the couple of days I spent with it.

The Command Post provides you with 100mm of total travel. There is an air valve on the bottom of the post that permits you to alter the internal air spring (which makes the post pop up to its maximum height). It comes set from the factory at 25psi. I haven't altered that. Depress the lever on the handle bar and force your weight down and the post will drop either half way or all the way down. It takes a bit of practice to hit the middle position but you adjust quickly. To get the post back up, depress the lever and slowly raise your weight off the seat and it comes back up. It has worked well through all the testing I've done with it.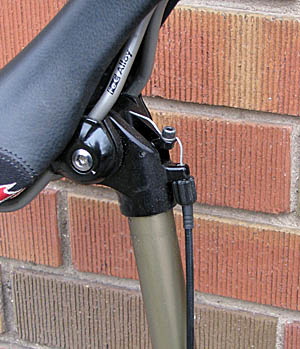 The total length of the post is 380mm, so under most applications you can leave a lot of post tucked inside the frame. The seat post clamp is well made and easy to use. It is also very good at allowing you to set the saddle level quickly, easily, and precisely. If you needed to tighten the cable there is a barrel adjuster just below the cable fixing bolt. You need to tip the nose of the saddle up to affix the cable. The handlebar lever is a little tiny alloy thing. It can be made to work either right or left-handed. The cable and casing are standard issue, although it is a gear cable rather than a brake cable. I used the seat QR to keep the cable in place thanks to a tip from the folks at Specialized.

You do pay a bit of a weight penalty with the Command Post. The post alone weighs in at 520 grams. To give you an idea of what that means: my regular post (alloy) with a DH/Freeride saddle weighs 662 grams. The Command Post with the same saddle, the cable and the lever weighs in at 960 grams. That's just about a 300-gram penalty to the Command Post. However, if it is taken into the context of where it is going to be used - ie, not for XC racing - then I guess the penalty isn't all that bad. It serves its purpose and it does it well.

If there is a drawback to the Command Post it is that at present it only comes in one size - 30.9mm. And it goes to figure that not one of my bikes has a diameter anywhere near that. This is the source of my "tried" to use it comment. Both of my all mountain bikes use 31.6mm posts. It wouldn't seem like a big thing to go and buy a shim, but at least here in Mississauga it was virtually impossible to find one that worked. I have to admit some frustration in this context. I finally had to resort to some bits of pop can to fashion a shim (I used a Diet Coke can to save weight!). It's okay but if you come down too hard on the post to lower it, the post slips in the frame. Really tightening the seat QR has helped, but there are, of course, the inherent risks that come with doing that.

Hopefully Specialized will release some other post sizes in the future. They've obviously designed it to work with their bikes, but I think many riders would appreciate something like the Command Post. It's finished well and it works well. It is perhaps a bit too early to know a suggested retail on the post but we should know soon. Look for the Command Post at your friendly local Specialized dealer. More info is, of course, found at www.specialized.com.