May 15/12 19:53 pm - Fyxation Accela Folding Tire

Posted by Editoress on 05/15/12

Fyxation is a new company (founded in 2009) out of Milwaukee, Wisconsin who has realized that there is a niche in the bicycle market for urban riders, including fixed gear aficionados. They offer a small number of products done very well and are continuing to design and market more products moving forward.

One of Fyxation's first products was a tire designed to meet the needs of commuters and couriers called the Session. It continues to be one of their best sellers. The Accela is the newest tire and is designed to be a fast rolling tire, but with the added feature of Fyxation's Street Guard puncture protection system. This is an internal belt below the tread designed to block debris that might give you a flat. The Accela is available in 700c in both 23 and 28 widths, and in wire and folding versions. Our test tire was a folding 700x28c.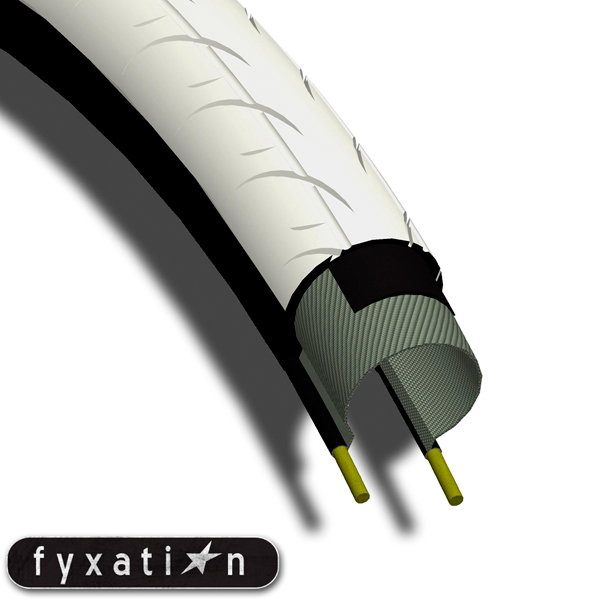 Our test tire came in with a weight of 315 grams. It isn't the lightest and I guess it isn't designed that way. It's not a racing tire after all. It is engineered for the daily commute or long training rides. There aren't a lot of road tires out there with flat protection either.

Installation was very straight forward, with a nice even tread. The Accela is are basic black, which always is fine in my books. You can also get them in white.

As befits most Canadian cities in spring, the roads in Mississauga are a maze of potholes and cracks, even with the non-winter we experienced. I've got a couple of hundred kilometres on the Accela's and so far no flats. They are also wearing quite well. The big thing I noticed is that they deliver a very smooth ride. They were much less punishing than the racing tires that are typically on my bike. My usual road ride takes me about 15 kilometres to get to rural roads west of Mississauga. These tires make a lot more sense for the normally rough roads around here than the aforementioned racing tires. The added bonus is that you've got a degree of flat protection built into the Accela's too.

Suggested retail price on the Accela Folding is $36.95 USD, which I have to consider a great deal. As above, check out www.fyxation.com to find your nearest Canadian retailer or order them online through their web site.

Mike Badyk